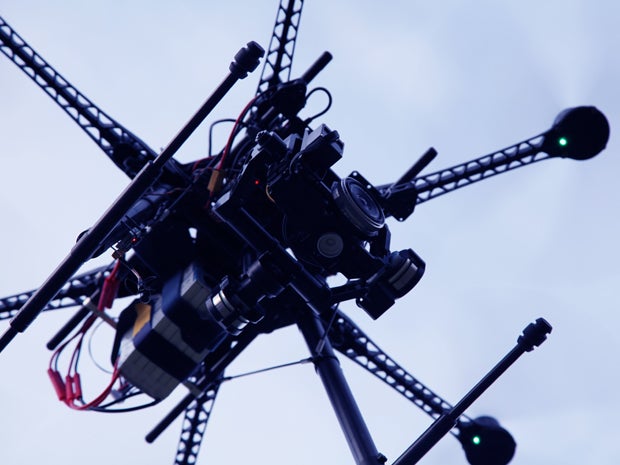 Drones: A big industry waiting to be born
(MoneyWatch) Once the Federal Aviation Administration sorts out the rules governing unmanned civilian aircraft, the market for commercial drones will soar, according to a new report by a pair of aerospace analysts.
Darryl Jenkins, a long time airline analyst, and Bijan Vasigh, a professor of economics at Embry-Riddle Aeronautical University in Daytona Beach, Fla., prepared the report for the Association of Unmanned Vehicle Systems International, an industry trade group.
They say the market for commercial and non-military drones will top $13.5 billion within three years, and will grow to more than $80 billion between 2015 and 2025, during which more than 100,000 well-paying jobs will be created. They predict national tax revenue of $482 million by 2025.
The analysts describe a "transformative technology" in fields ranging from farming, oil and gas exploration, law enforcement and even freight transport that is waiting for regulatory clearance.
"The main inhibitor of commercial and civil development of the (unmanned aircraft sector) is the lack of a regulatory structure," they wrote. "Every year integration is delayed, the United States loses more than $10 billion in potential economic impact."
The authors used interviews, comparable sales in other countries and studies of the rates of adoption of other new technologies, among other techniques, to arrive at their predictions. They cite several assumptions that must occur before the industry really takes off: In addition to new regulations from the FAA that would provide sufficient certainty, they assume a GDP growth of 3 percent a year, the ability to get insurance, sufficient capital available to small companies and purchasers, and that the number of jobs lost in traditional sectors requiring pilots in the air will be made up in the new industry.
The possibilities, as the authors see it, are tantalizing: A farmer saves money and uses less pesticide because drones provide precision application, creating environmental and economic benefits.
In what might come as no surprise to those in the aerospace industry, the new jobs will be most heavily concentrated in states that already have a large aerospace presence: California comes in first, then Washington, Texas, Florida and Arizona.
Thanks for reading CBS NEWS.
Create your free account or log in
for more features.