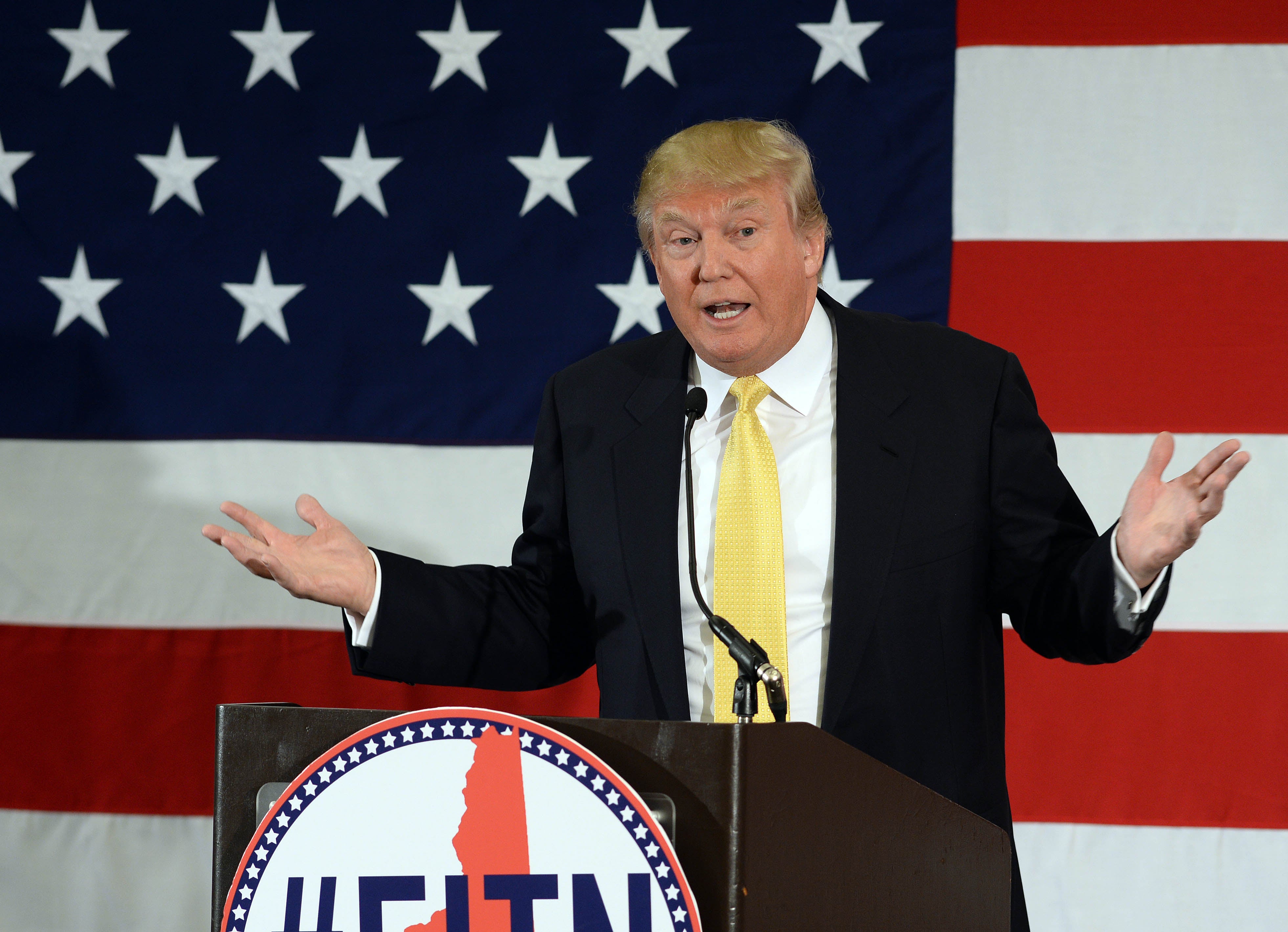 Donald Trump: Will he or won't he run for president in 2016?
My fellow Americans, our long national nightmare is over. Or maybe it's just beginning.
By Tuesday afternoon, the country will know whether Donald Trump is really running for president in 2016, or whether he's just head-faking the political press (again).
Trump, a billionaire real estate developer and reality television star, has been here before: in 2011, he repeatedly teased the prospect of a presidential bid before releasing a statement saying, "I have decided not to pursue the office of the Presidency," even though, he continued, "I maintain the strong conviction that if I were to run, I would be able to win the primary and ultimately, the general election." Trump had concluded that "business is my greatest passion and I am not ready to leave the private sector."
He ultimately endorsed the eventual GOP nominee Mitt Romney. Trump's pursuit of a presidential bid went further than previous White House flirtations in 2008, 2004, and 2000, though the outcome was the same.
Could this time be different? It's hard to say, but there are some signs this latest enterprise is more than just a gag. He's hiring staffers in early primary and caucus states, he's kept a busy schedule on the conservative speaking circuit, he formed an exploratory committee in March, and he unveiled a new website in April.
"I am more serious about this than I've ever been before," he told the Washington Post in February.
The rest of us will find out just how serious Trump is on Tuesday around 11 a.m., when he's scheduled to announce his plans during a speech at Trump Tower (where else?) in Manhattan.
Here are three reasons Trump might decide to run for president - and three reasons he might not.
Reasons Trump might run
He thinks the country is a mess, and only he can fix it Amid the braggadocio and the artifice, Trump genuinely believes he'd be a good president.
In his view, America has become a laughingstock under President Obama. We're not respected abroad, we can't get anything done at home, and the professional political class in both parties isn't doing anything about it.
"Washington is broken and our country is in serious trouble and total disarray," he said in January at the Iowa Freedom Summit. "Politicians are all talk and no action. And it's constant - it never ends."
The only cure for what ails America, Trump argues, is Trump.
"Others claim they can make America great again, but only one knows The Art of The Deal," Trump tweeted in April. "It's time for an outsider."
He continued in the same vein on Monday, hyping Tuesday's big announcement:
He has the money to finance a bid himself if necessary
One of the most time-consuming parts of the modern presidential campaign is the fundraising - candidates have to spend endless hours wooing donors in order to build the massive campaign architecture it takes to win the White House.
If Trump runs, he won't need anyone else's money - he could simply finance his bid using his own massive personal wealth.
His exact net worth is difficult to pin down, given the complex ownership structure of some of his businesses and assets. In 2009, Trump unsuccessfully sued an author who had the temerity to claim that his net worth was a mere $150-250 million, far less than his boasting would suggest. Forbes magazine estimated him to be worth $4.1 billion this month. In his 2011 book, "Time to Get Tough," Trump claimed his net worth was just over $7 billion. And the Washington Post reported Monday that Trump will estimate his assets at $9 billion in a release to be sent after his speech on Tuesday.
Whatever the precise number, it's safe to say Trump is more than comfortably wealthy - and he's not shy about touting that.
"I'm the most successful person ever to run for president," he told the Des Moines Register earlier this month. "I have a Gucci store that's worth more money than Romney."
For what it's worth, the Register crunched the numbers and determined that the 45,000-square foot Gucci store at Trump Tower is, in fact, valued higher than Romney's net worth.
He wants to keep his name in the news
Some people run for president because they think they have a real shot at winning. Others run for president as a publicity stunt. (We're not naming names, but you know who you are.)
If nothing else, Trump may conclude that nurturing his personal brand is reason enough to throw his hat in the ring.
The truth is there's little downside to running for president as a vanity project - you get to travel the country, speaking to voters, raising your profile, and growing your list of Twitter followers (@realDonaldTrump had 2.96 million followers, as of Monday evening). If your bid happens to catch fire, you can even emerge from an unsuccessful campaign with some political capital to spend.
Reasons Trump might not run
He's not likely to win
Some candidates, like former Hewlett-Packard CEO Carly Fiorina, do poorly in polls because people don't know enough about them to say whether or not they'd want to vote for them. But for Trump, it's not that people don't know him - they do know him, and many just don't like him.
"Donald Trump has the worst standing among GOP voters - with just 20 percent holding a favorable opinion of him compared to a majority of 55 percent who have an unfavorable view," read a press release from Monmouth University about their latest poll of the Republican voters nationwide, which was released Monday.
Things are even worse for Trump in Iowa, so it's unlikely he could build momentum off the first group of Republican voters in the way former Pennsylvania Sen. Rick Santorum did in 2012. Just 27 percent of likely Republican caucusgoers said they had a favorable opinion of Trump in a Des Moines Register/Bloomberg Politics Iowa Poll released last month. More than six in 10 voters - 63 percent, to be precise - said they held an unfavorable view.
He has a day job to keep him busy
Trump hasn't been a career politician whose career options tend to be limited to lobbying, teaching or another political campaign. He's a billionaire developer who is constantly building his business and has a successfully reality TV gig as the host of first "The Apprentice" and then "Celebrity Apprentice."
When he toyed with the idea of running in 2012 bid, some assumed he was just trying to raise interest in "Celebrity Apprentice," and strengthen his hand in negotiations with NBC, which was then deciding whether to continue the show.
And when he announced he wasn't running, he cited his television show as a primary reason, according to Deadline: "After getting so many calls from [top NBC executives], I've decided that we are going to continue onward with "Celebrity Apprentice." I will not be running for president, much as I'd like to."
One bit of evidence this time around is the fact that "Celebrity Apprentice" was renewed for a 15th season back in February.
Trump told the Washington Post in February that he had delayed signing on for another season of the show because he was weighing a political career, but the network has yet to announce anyone is waiting in the wings to be Trump's understudy.
He doesn't want people to think he's a clown
It's not just large swaths of the Republican base who don't like Trump. Conservative publications haven't shown him much love, either. Take Jonah Goldberg at the National Review, who penned a lengthy piece after Trump attempted to shame him on Twitter. Goldberg's offense? He likened Trump's Twitter style to that of a 14-year-old girl.
.@JonahNRO You stated that I started "relentlessly tweeting like a 14-year-old girl..." Horrible insult to women. Resign now or later!

— Donald J. Trump (@realDonaldTrump) April 21, 2015
"Arguing with Trump is sort of like dressing up an adorable toddler in a Viking outfit and listening to it say that he will raid my village and slaughter all in his path. It's cute. It's funny. Maybe it's even vaguely disturbing if he goes on too long," Goldberg wrote. "But, just as with Trump's ranting, the one thing you don't do is take it seriously."
Trump has rarely been one to let public commentary about himself roll off his back while he focuses his attention on more important things. He has a documented history of printing out copies of articles reporters have written about them, marking them up with handwritten notes, and sending them back to the reporters. And that's to say nothing of his presence on Twitter. Despite a busy business and television career, Trump has sent nearly 26,000 missives since he joined Twitter in 2009. On Monday he tweeted a taunt about Jeb Bush on the day he announced he was running.
While defensive instincts are important for a presidential candidate, it's hard to see Trump having the time to play his own press secretary if he mounts a presidential campaign -- and gets the accompanying increase in press coverage.
"Face the Nation" host John Dickerson and CBS News Associate Producer Donald Judd contributed to this story.
Thanks for reading CBS NEWS.
Create your free account or log in
for more features.