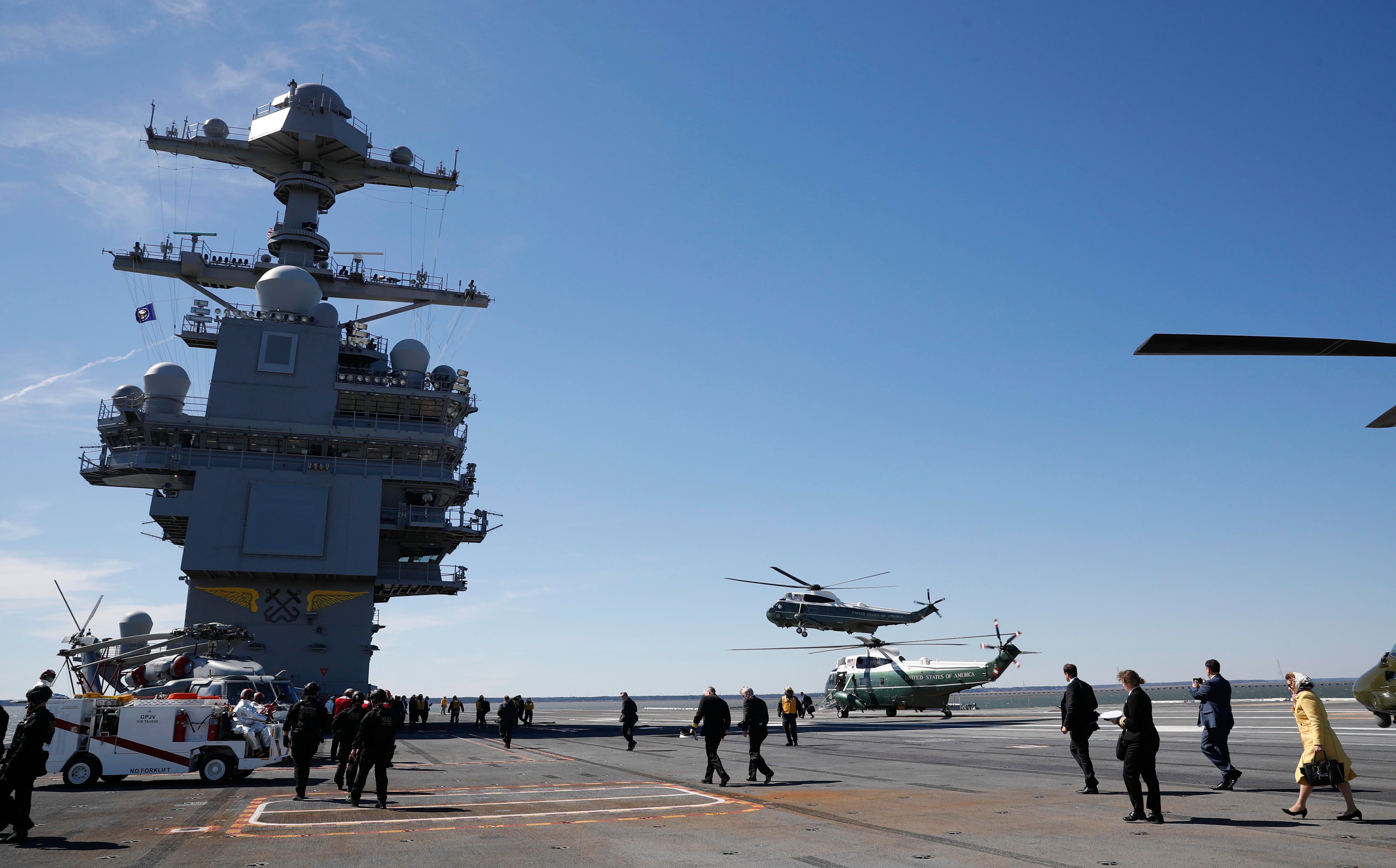 Donald Trump speaks in Newport News - live blog
President Donald Trump traveled to Newport News, Va., on Thursday afternoon to pitch his plans for a substantial increase in the defense budget. He spoke aboard the U.S.S. Gerald Ford, a soon-to-be-commissioned Navy warship that cost almost $13 billion and faced delays in its construction. Mr. Trump has proposed adding $54 billion to the Pentagon's budget this year, an increase of approximately 10 percent.
Here's a live blog of the event.
2:43 p.m. ET With that, Mr. Trump wrapped up his remarks at the relatively short event, waving to the crowd as he left.
2:42 p.m. ET Mr. Trump finished his speech by talking about the greatness of the American military.
"Our Navy is great, our Navy is great, our people are great," he said. "Our republic will meet any challenge, defeat any danger, face any threat and always seek true and lasting piece."
2:39 p.m. ET Mr. Trump spoke about his speech to Congress Tuesday night, explaining how additional defense spending will help the military.
"On Tuesday in an address to a joint session of Congress I asked Congress to eliminate the defense sequester," he said, as well as to support his request for additional defense funding.
"By eliminating the sequester and the uncertainty it creates, we will make it easier for the navy to plan for the future and thus control costs and get the best deal for the taxpayer," he continued. "Which of course is very important, right?"
2:36 p.m. ET Mr. Trump said new warships like the U.S.S. Gerald Ford will help "project American power in distant lands."
"Hopefully it's power we don't have to use," he continued, "but if we do they're in big, big trouble."
2:32 p.m. ET Mr. Trump referenced his plans for additional defense spending, saying the U.S. military will have "the finest equipment."
"We will have the finest equipment in the world: planes, ships and everything else," he said. "...We will give our military the tools you need to prevent war and if required to fight war and do only one thing, you know what that is? Win. We're going to start winning again."
2:29 p.m. ET After being introduced by Susan Ford Bales, daughter of former President Gerald Ford and sponsor of the ship, Mr. Trump began his speech by paying tribute to the U.S. Navy.
"American sailors are the best war-fighting sailors anywhere in the world and it's not even close," he said, calling the ship a "fitting tribute" to Ford.
2:22 p.m. ET Mr. Trump has arrived for his speech.
Thanks for reading CBS NEWS.
Create your free account or log in
for more features.