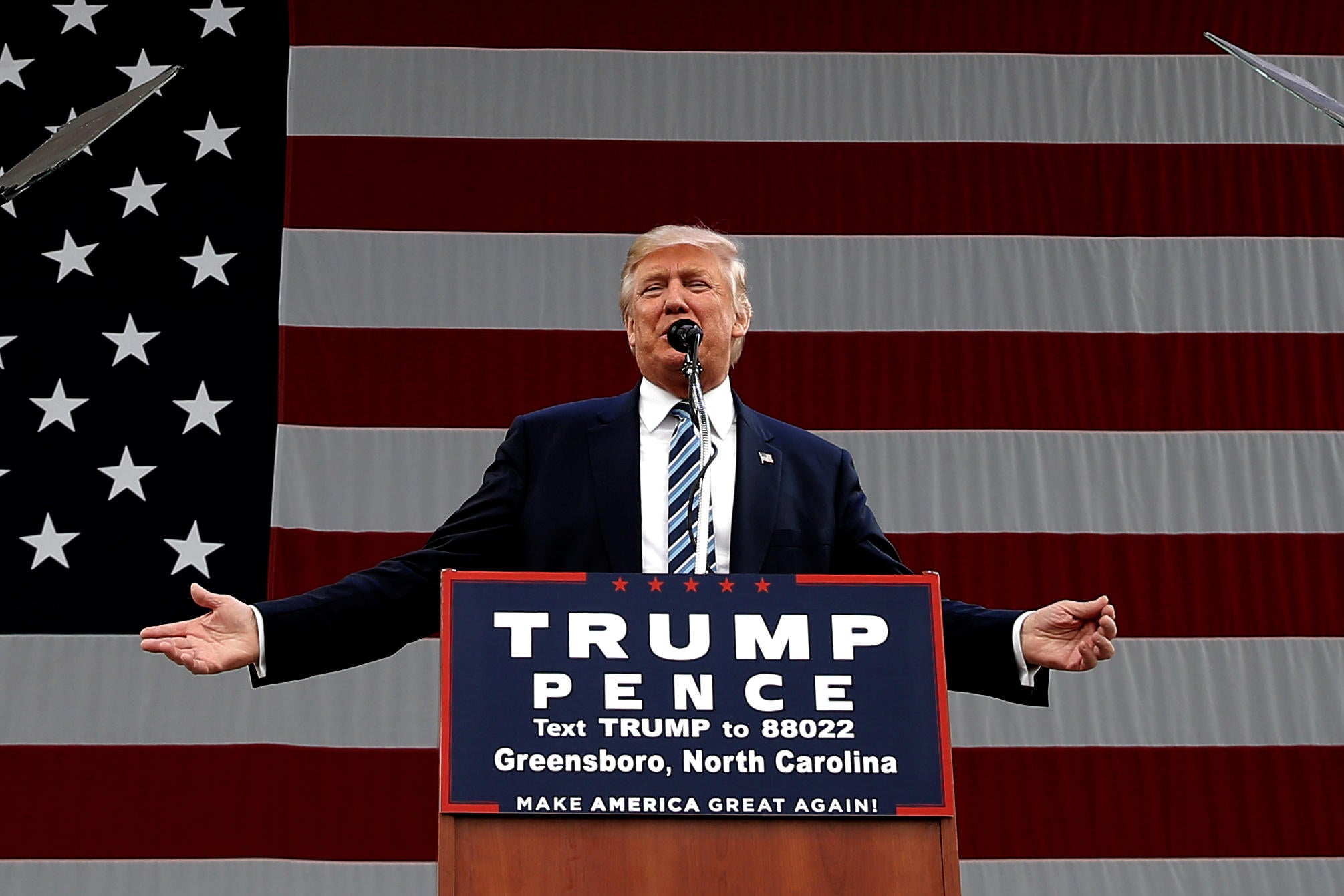 Donald Trump on accuser: "She would not be my first choice"
Republican presidential nominee Donald Trump on Thursday dismissed numerous allegations that he had groped and otherwise sexually harassed women while insulting the appearance of one prominent accuser.
Trump also said that the news media and Hillary Clinton's campaign have conspired against him. He singled out Mexican billionaire Carlos Slim, a major stakeholder in The New York Times, as someone who was working to derail his campaign.
"The largest shareholder in the Times is Carlos Slim, now Carlos Slim as you know comes from Mexico," Trump said at a rally in North Carolina. "He's given many millions to the Clintons and their initiatives, so Carlos Slim, largest donor, a banker from Mexico. Reporters at The New York Times, they're not journalists, they're corporate lobbyists for Carlos Slim and for Hillary Clinton."
"We're going to let foreign corporations and their CEOs decide the outcomes—can't do this, we can't let this happen, we are not going to let it happen, where they decide the outcome of our elections," he added. "They can't do it and we're not going to let it happen."
Trump also spoke specifically about allegations leveled against him by a writer for People Magazine. The writer, Natasha Stoynoff, says that Trump pushed her against the wall and forcibly kissed her in 2005.
"She is a liar," Trump said of Stoynoff. "She's writing a story, check out her Facebook page, you'll understand." Trump had previously denied the account, and his wife Melania Trump has threatened to sue People Magazine over the report.
Trump also had harsh words for Jessica Leeds, who told The New York Times earlier this week that, while seated next to the businessman on a commercial flight in the 1980s, he began to grope her.
"She would not be my first choice," Trump said of Leeds, who is now 74.
"The whole thing is one big fix," Trump said of the accusations after wondering aloud if the women making the allegations were being paid. "It's one big fix. It's one big ugly lie. It's one big fix. The press can't write the kind of things they write which are lies, lies, lies."
Trump also insinuated President Obama could face similar accusations.
"I'll tell you what, he better be careful," Trump said. "Because they could say it about anybody."
Thanks for reading CBS NEWS.
Create your free account or log in
for more features.