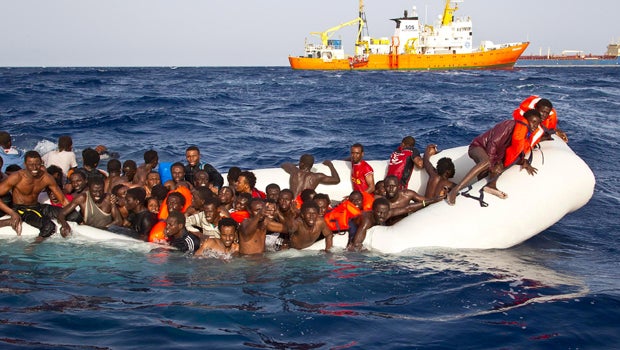 After Trump tweets, how is immigration really affecting Europe?
In a number of tweets earlier this week, U.S. President Donald Trump claimed Europe was an example of how immigrants represent a danger to Western society, falsely stating that rising immigration has led to higher levels of crime in Germany. In fact, crime rates in that country are the lowest they have been in decades.
But while the president's statements about how immigration is affecting Germany were false, the issue of migrants and how to deal with the huge influx of them is driving a wedge between some decades-old European Union allies.
"It's been one of the biggest crises that the European Union has faced in a decade where there have been several crises in a row," John Springford, Deputy Director of the Centre for European Reform, tells CBS News.
The European Union is a borderless travel zone, meaning that once someone enters, he or she is able to move between EU countries freely. This "freedom of movement" allows citizens of EU member states to live and work in any EU country they please, but it also means once migrants cross over the bloc's external border, they are relatively free to move anywhere within the Eurozone.
"For a lot of people on the right, this is a hugely problematic issue," Springford says.
In 2015, huge numbers of asylum seekers and migrants began undertaking the risky Mediterranean Sea crossing, fleeing conflict and economic uncertainty in Africa and the Middle East, to reach European soil. Traveling in unsafe, often inflatable boats, those who survive the journey come ashore in southern Europe's coastal countries, mainly Greece, Italy and Spain.
Whether other countries within the bloc should be allowed to close their borders to the migrants once they've enter the border-free zone has been a major point of contention between EU powers, in addition to how the 28 member states should help alleviate the disproportionate burden placed on the frontline members.
Springford says the number of asylum seekers who have arrived over the last several years -- between 1.5 and 2 million -- should be relatively "easy to absorb" given the European Union population of about 500 million.
"But if we think about it on a political level, it's much more difficult, because a lot of populist politicians have been using the migration issue and using popular frustration about the number of migrants who are coming across, and demanding change, and making it the number-one issue facing society," he says.
Frustration over migration has been a rallying cry for members of Europe's right wing, and far-right governments have been elected in Hungary, Poland, the Czech Republic, and most recently Italy.
The tensions between EU member states over the issue were highlighted last week when a ship called the Aquarius, operated by humanitarian groups including Doctors Without Borders, was left without a port at which to dock. The vessel had saved hundreds of people, including pregnant women and children, from dangerous, overloaded dinghies on the Mediterranean. As it made its way towards the southern coast of Italy, Italian authorities ordered it to stop 35 nautical miles from shore. The Italians did not provide an alternative location for the ship to dock, leaving the boat, and its passengers, stranded at sea. The boat was eventually given permission to come to shore in Spain.
Meanwhile, German Chancellor Angela Merkel, who has steadfastly promoted an open-door arrangement for refugees in her country, is facing a potential crisis this week after her own Interior Minister, Horst Seehofer -- under pressure from his right-wing base -- demanded a tougher government stance on immigration.
Seehofer threatened to unilaterally order Germany's police forces to start turning away anyone who reached the country's borders who had registered or made an asylum claim in another EU nation, CBS News' Anna Noryskiewicz reports. He gave Merkel approximately two weeks to work out a deal with other EU states, and a mini-summit of EU leaders is scheduled Sunday to try and hammer out a solution.
But while Mr. Trump's tweets appear to lend support to those in Germany who would like to see more restrictions on immigration, Springford says they may actually have the opposite effect.
"There's a lot of anti-Donald Trump feeling among the German electorate," Springford tells CBS News. "So it may actually make Germans more steadfast in their determination to keep Europe's borders open and to try and reach a deal on immigration that does not involve just slamming the border shut."
Thanks for reading CBS NEWS.
Create your free account or log in
for more features.