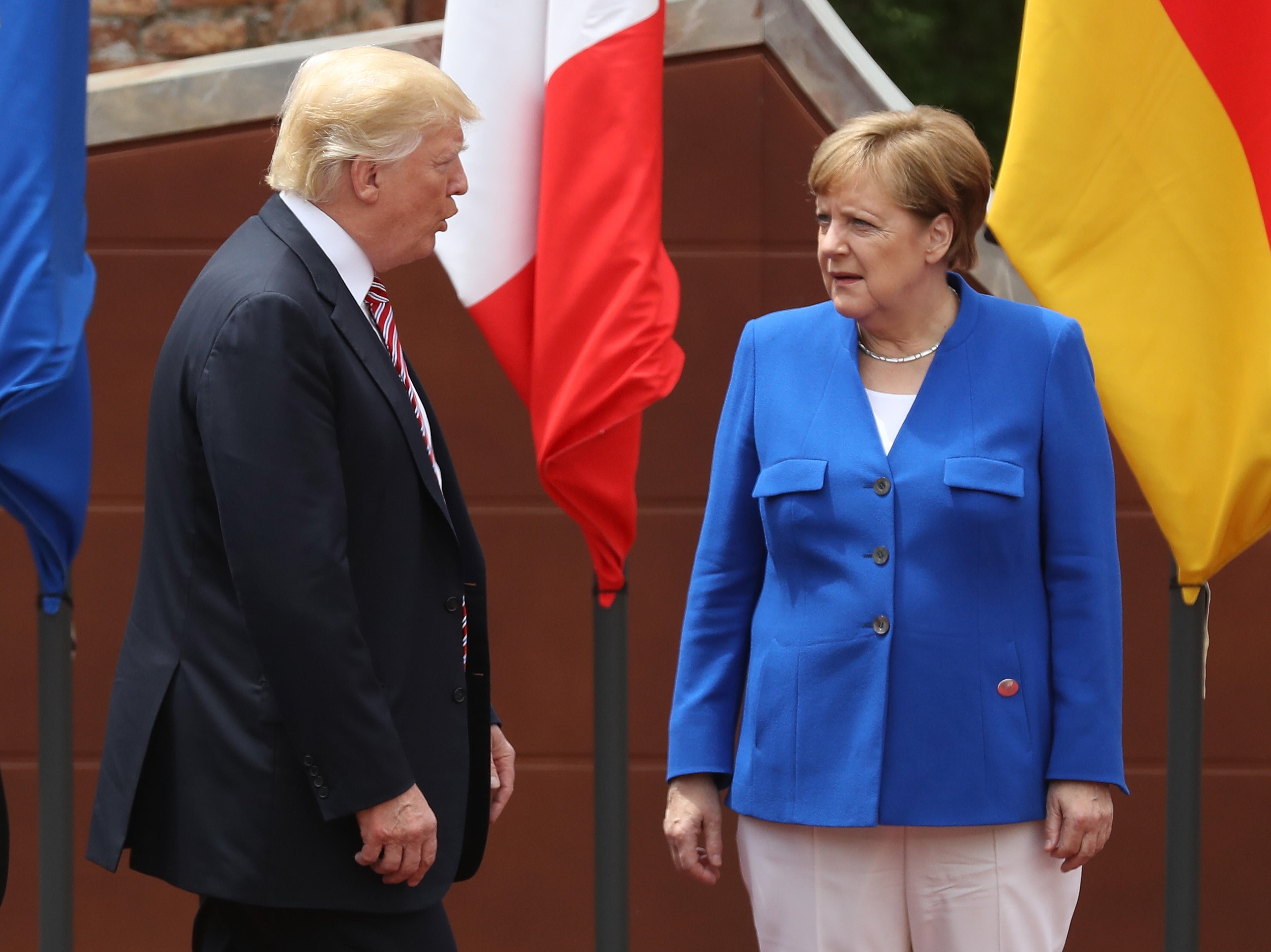 Trump says crime in Germany is way up, but it's actually down
President Trump tweeted Monday morning that "Crime in Germany is way up" because of immigration to the country. And while it's true that German Chancellor Angela Merkel's coalition government is in danger due to objections to her immigration policy, it's not true that crime in Germany is "way up." In fact, it's been falling.
Here's a closer look at what Mr. Trump has said, and what's actually happening in Germany.
German crime on the rise? No
President Trump tweeted: "The people of Germany are turning against their leadership as migration is rocking the already tenuous Berlin coalition. Crime in Germany is way up. Big mistake made all over Europe in allowing millions of people in who have so strongly and violently changed their culture!"
The facts: Here's what Mr. Trump got right: Angela Merkel's coalition is fragile, and may soon unravel due to her immigration policies. In a follow-up tweet, Mr. Trump made the subtext of his argument clearer, which is that the U.S. needs tough immigration laws to avoid such problems.
The president then revisited the theme with another tweet on Tuesday, this time claiming crime was "up 10% plus" in Germany, but that "officials do not want to report these crimes." He didn't offer a source for his statistics.
Leaving aside the fact that Germany has vastly different immigration patterns than the U.S. and a shorter history of welcoming immigrants, Mr. Trump's claim that crime is up in Germany is objectively false. Crime actually fell in 2017 by 9.6 percent in Germany, with violent crime falling 2.4 percent, according to Germany's Federal Criminal Police Office. Also, crimes by non-German suspects fell by 22 percent in 2017. By any measure, Germany has far less violent crime than the U.S.
Merkel's liberal approach to immigration has been controversial in Germany, however, particularly on the right. And the issue has been inflamed recently by the rape and murder of a 14-year-old German girl that authorities believe was carried out by an Iraqi asylum seeker.
The immediate political issue for Merkel involves the right-wing Christian Social Union (CSU), a Bavarian party that is part of a coalition government with her center-right Christian Democrats (CDU). The CSU, led by Interior Minister Horst Seehofer, wants new border controls and had been threatening to mutiny over Merkel's approach to immigration, but on Monday said it would give her two weeks to resolve the impasse.
The situation poses significant political risk for Merkel, who has had a frosty relationship with Mr. Trump since he took office in 2017. But while Mr. Trump may savor the prospect of Merkel's government collapsing, his claim that German crime is on the rise is simply false.
Thanks for reading CBS NEWS.
Create your free account or log in
for more features.