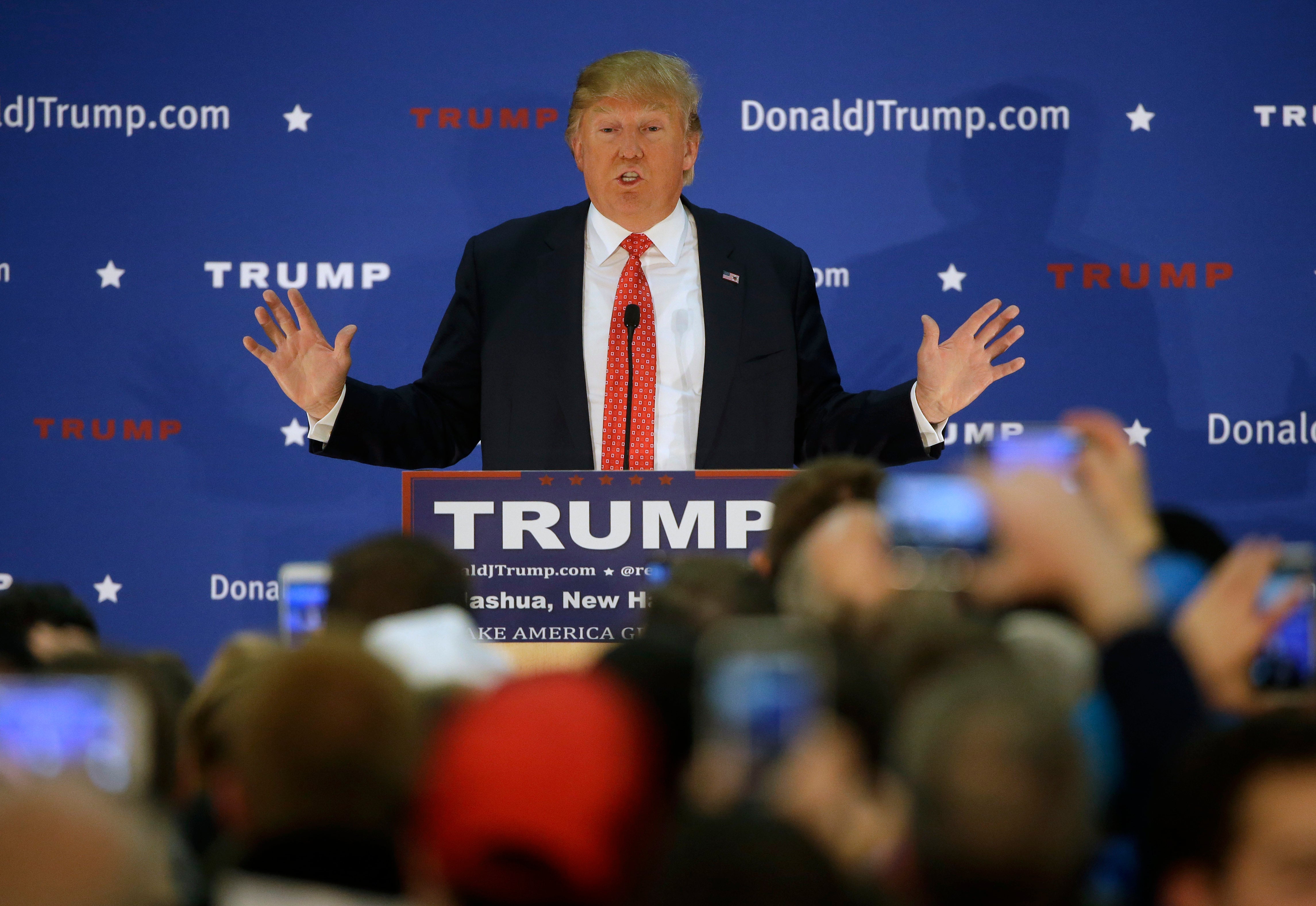 Donald Trump goes after Chris Christie and NH newspaper
NASHUA, New Hampshire -- At a Monday rally here, GOP presidential candidate Donald Trump continued his war of words with New Hampshire's largest newspaper and its publisher. Trump claimed that the New Hampshire Union Leader was "dying" and that it had a terrible track record of picking winning candidates.
Trump was responding to Union Leader publisher Joe McQuaid's scathing front-page editorial, in which he wrote that the very idea that Trump and pundits believe that he will win his party's nomination is "an insult to the intelligence of Republican voters."
He went on to say of the billionaire, "Trump has shown himself to be a crude blowhard with no clear political philosophy and no deeper understanding of the important and serious role of President of the United States than one of the goons he lets rough up protesters in his crowds." And then he compared him to Biff, the buffoonish antagonist in the movie "Back to the Future." (The movie's writer has claimed he did in fact base Biff on Trump.)
Trump fired back at him in an interview on Manchester television station WMUR to call McQuaid "a low life" and a "very dishonest man." Trump also implied that McQuaid was colluding with New Jersey governor Chris Christie, also a presidential candidate. The paper endorsed Christie in November.
And that led Trump to Christie, who has lately seen an uptick in his poll numbers in New Hampshire. Trump said that New Jersey, under Christie's tenure, "had tremendous downgrades, either 9 or 11" and that it's the worst state in the country in terms of "economic development." According to Politifact, the number is actually 8.
Trump also ripped into Christie for embracing President Barack Obama during the final the stretch of the 2012 election, in the aftermath of Hurricane Sandy. According to Trump, Christie was "like a little boy" surveying hurricane damage with the president.
Finally, Trump went on a tear about the George Washington Bridge closures, which had threatened to imperil Christie's campaign before it started. Trump tried to cast doubt Christie's assertion that only his advisers knew about the closures.
"Now, put yourself in a common sense mode," Trump said. "You are with your cabinet. You're with them all the time. They're closing the biggest bridge in the United States. The most traveled on bridge ... in the United States. You're doing that, and you're not telling the governor. And you're with him all the time. ... No, you're having lunch and you don't happen to bring it up."
Trump did not mention the most famous spouse involved in the 2016 race -- former president Bill Clinton, who he has been targeting over the past few days. Earlier, Trump tweeted, referring to former Secretary of State and Democratic front-runner, Hillary Clinton, "If Hillary thinks she can unleash her husband, with his terrible record of women abuse, while playing the women's card on me, she's wrong!"
The Clinton campaign responded with its own statement, saying "Though Donald Trump has pushed around nearly all of his fellow Republicans, Hillary Clinton won't be bullied or distracted by attacks he throws at her and former President Clinton. But when his insults are directed at women, immigrants, Asian-Americans, Muslims, the disabled, or hard-working Americans looking to raise their wages -- Hillary Clinton will stand up to him, as she has from the beginning."
The Clinton campaign even sent out a fundraising letter off of Trump's comments, saying "It's one thing for him to go after Hillary and Bill Clinton -- they can take it. It's another thing for him to attack huge swaths of the American people and an entire religion, like women (whom he's called "pigs" and "dogs"), Mexican immigrants (who he thinks are criminals and rapists), and Muslims, at a time when we need them to help fight ISIS and other extremists."
"I think it's fair game because his wife is campaigning and saying that she would like to make women's rights better," said Gloria Grasso, a 65-year-old retiree from Lexington, Massachusetts. "Her husband was guilty of some of those things and I can't see how she's really for women's rights when she didn't do anything when he was being ..."
Grasso's voice trailed off -- but the implication was clear.
Trump did target the Democratic front-runner by name saying that what she did with her private email server was "criminal" and that the Benghazi attacks in Libya occurred because she was too lazy to answer phone calls.
After his initial speech, Trump walked down a hallway to address an overflow crowd, and he told them that starting in January, he was going to start spending a lot of money -- implying television advertisements were on the way.
Fox News reported earlier Monday that Trump was preparing to spend at least $2 million a week on advertising, "and possibly several times more" than that.
"The press is hearing this for the first time, they're probably gonna go crazy," Trump said. "But we are gonna spend a lot of money over the next four weeks. We don't want to take any chances. We are too close."
Thanks for reading CBS NEWS.
Create your free account or log in
for more features.