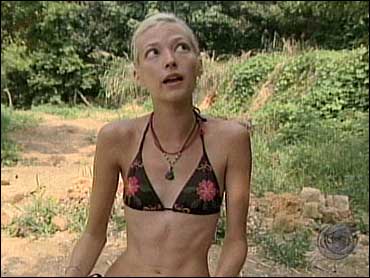 Does "Survivor" Contestant Have Anorexia?
Courtney Yates was thin before she became a contestant on "Survivor" but now she looks downright boney, causing many bloggers and fans to wonder if the 26-year-old Boston native has an eating disorder.
Dr. Sean Kenniff was a contestant on the first season of "Survivor," and lost 32 pounds in 36 days. He said that Yates' drastic weight loss is concerning because she is an extremely thin white woman who happens to model, which he said is an extremely high-risk profession.
Kenniff, who is also a medical reporter for CBS News' Miami affiliate, WFOR-TV, said Yates might be telling the truth when she says her thinness is genetic.
"Go into any gym across the country and people who are dieting," he told The Early Show co-anchor Harry Smith. "You'll find people eating the same foods, same amount of exercise and losing weight to a different degree. It's the same thing when it comes to starvation diets. People's metabolisms differ, people get thin very quickly and others seem to be famine-proof. And we don't know why that is. Everyone gains weight at a different degree and we all lose it to a different degree."
---

Photos: "Survivor: China"

---
What's more, Dr. Kenniff said, is that the contestants on "Survivor" do not eat enough to maintain their weight before they went on the show.

"You need about 2,000 calories a day, 1,800 to 2,200 calories a day to maintain your weight and body function," he said. "My 'Survivor,' we had about two coconut bowls full of rice every day, maybe a can of tuna per person per week in the amount of fish we could catch. So really, it's a deprivation diet, but there's medical staff looking over everybody to make sure nothing happens."

That kind of diet is worrisome, Kenniff said. However, he said that anorexia nervosa is a psychiatric condition.

"So we have to know that she's refusing food. Does she have a distorted body image out there? There's a lot that goes into it," he said. "The people on the island are probably the best judges of her mental state at this time. But it is dangerous. That type of thinness does get dangerous. You have body chemistry abnormalities and it may be risky for someone of her weight."
Thanks for reading CBS NEWS.
Create your free account or log in
for more features.