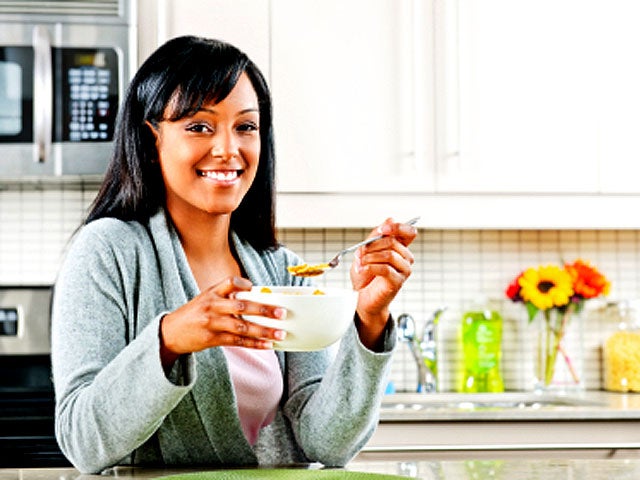 Does skipping breakfast help or hurt your diet?
Can skipping breakfast really ruin your weight-loss plan? Probably not, according to a new study, though experts stress that the value of a nutritious breakfast should not be underestimated, and skipping it regularly may not be a good idea.
Previous studies have offered conflicting advice, with some suggesting that eating breakfast can help people lose weight and others finding the opposite.
In the latest study, a 16-week clinical trial published in the American Journal of Clinical Nutrition, researchers found that eating or skipping breakfast did not affect the study participants' weight loss one way or the other.
"We found it didn't really make a difference," study author David B. Allison, a professor of public health and associate dean for science at the University of Alabama at Birmingham, told CBS News.
However, some researchers say that the findings should be interpreted with caution.
"Long-term, [skipping breakfast] is not the best strategy," Keith Ayoob, an associate clinical professor of pediatrics and director of the Nutrition Clinic at the Children's Evaluation and Rehabilitation Center, Albert Einstein College of Medicine in New York, who was not involved in the study, told CBS News. "You may not want to eat breakfast, but you need all the nutrients that breakfast can provide."
In the study, the researchers examined the effect of eating or skipping breakfast on the weight-loss in 309 healthy overweight and obese people ages 20-65 years. The researchers asked the participants in one group to eat breakfast before 10 a.m. and told people in another group not to consume any calories before 11 a.m.. The third group, which included 44 of the people who had normally skipped breakfast prior to the study and 52 regular breakfast eaters, was not given any instructions regarding eating or skipping breakfast.
The people in the study did not have to follow a strict diet or exercise plan, and the researchers only gave them USDA pamphlets, "Let's Eat for the Health of It," for guidance on healthy nutrition habits.
"Now that we know the general recommendation of 'eat breakfast every day' has no differential impact on weight loss, we can move forward with studying other techniques for improved effectiveness," study author Emily Dhurandhar, an assistant professor in the Department of Health Behavior at the University of Alabama at Birmingham, said in a statement.
"We all ... probably need to be more skeptical of platitudes about obesity," Allison said.
"It's not always just about weight," Ayoob said. "I always encourage people to eat breakfast. I want people to eat a healthy diet and breakfast is often a meal of habit," he added. "Breakfast is a great vehicle meal" for healthy foods such as whole grains, low-fat dairy products and fruit.
One of the study's limitations was in fact the lack of information about what specific foods people ate or drank, not just for breakfast (in the breakfast group), but also later in the day, Dr. Monica Aggarwal, a cardiologist and a member of the Heart Center at Mercy in Baltimore, who was not involved in the study, told CBS News.
"Nutrition studies are very challenging," as it is often hard for researchers to control what exactly study participants are doing or eating, she said. "It's not a controlled intake study," she noted. "I don't think it changes anything I do in my practice."
"What you put into your body" is what really matters, she added, advising that people should eat small meals many times a day in order to maintain or achieve a healthy weight.
Because of breakfast's potential nutritional value, Ayoob recommends always eating it, whether you want to lose weight or not, even if it is just "cereal, milk, and a banana," which only takes a few minutes.
But what if you really don't have time in the morning?
"Change your priorities," Ayoob said. "It's just seven minutes, folks."
Thanks for reading CBS NEWS.
Create your free account or log in
for more features.