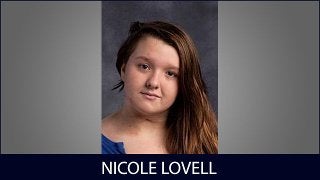 Did slain Va. girl talk to her alleged killer on messaging app?
BLACKSBURG, Va. -- A slain 13-year-old central Virginia girl told friends the day before she vanished last week that she was planning to sneak out and meet someone named "David" she had communicated with over the Kik Messenger app, the Associated Press reports.
Nicole Lovell disappeared after pushing a dresser against her bedroom door and climbing out a window in her Blacksburg, Va., home Jan. 27, officials have said. Her body was found late Saturday afternoon in Surrey County, North Carolina.
18-year-old David Eisenhauer, a Virginia Tech engineering student, is accused of kidnapping and murdering the girl. Hours after Eisenhauer's arrest, another Virginia Tech engineering major also was behind bars. Natalie Keepers is charged with improper disposal of a body.
Commonwealth Attorney Mary Pettitt said at a press conference Tuesday that Nicole likely died Jan. 27, the same day she vanished. Preliminary autopsy results indicated the girl had been stabbed to death, she said.
Pettitt said that Keepers, 19, would also be charged with being an accessory before the fact to the girl's murder - which carries a possible sentence of 20 years to life in prison -- in addition to the charges she already faces for allegedly helping dispose of the girl's body. New court documents indicate Keepers was allegedly involved for weeks before Lovell's death, CBS News' Don Dahler reported.
Stacy Snider, Lovell's neighbor, told the Associated Press the girl had gone sledding the day before she vanished with her 8-year-old twin daughters. After Lovell disappeared, Snider said, her daughters told her that the seventh-grader had showed them a picture of "David," along with a thread of texts they had shared using the Kik Messenger app on her phone.
Nicole had told her girls that she would be sneaking out to meet him that night, Snider told The Associated Press.
That information was shared with police, and Kik Interactive then gave the FBI evidence that the company believes led to the arrests of the suspects, company spokesman Rod McLeod told the AP.
Her father David Lovell told CBS News' Don Dahler that he had never heard of Eisenhauer, but that he "never dreamed" his daughter was allegedly communicating with a Virginia Tech student.
Like others her age, Nicole often posted on Facebook and was active on other social media. Unlike her peers, she had to take medicine every day to keep her transplanted liver from failing, and survived other harrowing health problems earlier in life that left her with a tracheotomy scar in her neck and made her a target of bullies, her mother has said.
The Washington Post reported that the girl posted a selfie Jan. 1 in a Facebook group "Teen Dating and Flirting," with a caption that read, "Cute or nah." The message received more than 300 replies, the paper reported, many of which were spiteful.
David Lovell said he was convinced social media played a role in her death.
"We knew there were some issues with her at one time on these sites, and we addressed them," Lovell told Dahler. "I guess we didn't do enough."
Law enforcement officials say the Kik application can be dangerous in part because parents cannot reliably prevent anonymous strangers from contacting their children if they use it, the Associated Press reports.
Kik made an updated guide for parents available on its website following the arrests of Eisenhauer and Keepers. Kik also pushed out an update to the app and had Apple raise Kik's age-appropriate rating on Monday from 9+ to 12+, closer to its requirement that no one under 13 use the service, terms that are shared by Kik's rivals.
The parents' guide stresses that teens between 13 and 18 need a parent's permission to use Kik, but there's no technical way to enforce that or to prevent a child from entering a false birthdate, McLeod acknowledged.
"A lot of blame has been placed on Kik in the last two days," McLeod said, but he noted that many other social media networks operate the same way. "It's a problem that's spread around the industry," he said.
Friends and relatives are gathering to say goodbye to "Coley," who's been called sweet, energetic, outspoken and friendly - "an angel," according to longtime friend Davy Draper. Both Thursday's funeral and visitation Wednesday night at McCoy Funeral Home in Blacksburg will be private, they said.
The funeral home's online obituary says Nicole was born in Radford, loved to sing and dance, and was a member of Auburn Baptist Church. It includes the family's thanks to law enforcement officials and the community and is accompanied by a portrait of Nicole showing her blue eyes and face framed by long brown hair, superimposed on a background of clouds.
Nicole's mother Tammy Weeks, who carried a plush panda bear toy to a police news conference Tuesday, said her daughter had touched many lives before hers was cut short. She became too overwhelmed with emotion to finish her prepared remarks and had to be ushered away.
Stacy Snider, their neighbor, said Nicole and her mother had a great relationship.
"Tammy spoiled her rotten. Bought her everything she wanted. Everything," she said.
Nicole endured a liver transplant as an infant, leaving her with scars that became fodder for bullies, her mother said. She also was diagnosed with lymphoma, spent six months in a coma after developing a respiratory condition, and contracted a drug-resistant bacterial infection. But she always pulled through.
Snider said she had known Nicole since she was born.
"She was a lovely little girl. Very caring. Very loving. And she wouldn't hurt anybody. And that's probably what got her in trouble, Snider said.
Thanks for reading CBS NEWS.
Create your free account or log in
for more features.