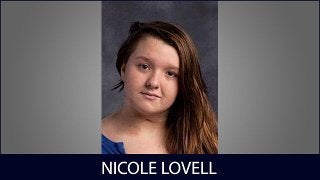 Prosecutor details preliminary cause of death for slain Va. girl
BLACKSBURG, Va. -- A 13-year-old Virginia girl found murdered near a North Carolina road was likely stabbed to death, a prosecutor said Tuesday, citing "very preliminary" autopsy findings.
Nicole Lovell disappeared after pushing a dresser against her bedroom door and climbing out a window in her Blacksburg, Va., home Jan. 27, officials have said. Her body was found late Saturday afternoon in Surrey County, North Carolina.
18-year-old David Eisenhauer, a Virginia Tech engineering student, is accused of kidnapping and murdering the girl. Hours after Eisenhauer's arrest, another Virginia Tech engineering major also was behind bars. Natalie Keepers is charged with improper disposal of a body.
Commonwealth Attorney Mary Pettitt said at a press conference Tuesday that Nicole likely died Jan. 27, the same day she vanished. Pettitt said that Keepers, 19, will be also be charged on Tuesday with being an accessory before the fact to the girl's murder - which carries a possible sentence of 20 years to life in prison -- in addition to the charges she already faces for allegedly helping dispose of the girl's body.
Pettitt said that a "very preliminary" cause of Nicole's death was determined to be stabbing, but that further results of an autopsy would take time. Investigators said they're pursuing about 400 leads in the case generated from public tips.
Tuesday, Nicole's mother gave an emotional statement to the press, saying that her daughter had beaten the odds against a string of serious medical conditions before her murder.
Tammy Weeks said her daughter was diagnosed with a tumor in her liver at 10 months, and fought for her life after undergoing a liver transplant. The child survived and returned home, but at age 4, was diagnosed with non-Hodgkin lymphoma.
"At this point, we almost lost her for the second time," Tammy Weeks said.
She said the child suffered from acute respiratory distress and slipped into a coma for six months, during which time she developed MRSA, a bacterial infection resistant to many common antibiotics. She said the girl was given a "one percent" chance of survival.
"Once again, she beat the odds," Weeks said. After spending eight months in the hospital, she was released and "began to thrive."
Crying, Weeks said her daughter had a "passion for pandas, music, dancing."
"She dreamed of being on 'American Idol' one day," Weeks said. "Her favorite color was blue."
She described the girl as "lovable" and said she "touched many people throughout her short life." Overcome by emotion, Weeks left the podium before she finished reading her statement.
Weeks has told The Washington Post Nicole didn't like going to school because girls called her fat and talked about her transplant scars. "It got so bad I wouldn't send her," Weeks said, but the bullying continued on social media.
"God got her through all that, and she fought through all that, and he took her life," Weeks told the paper.
After his arrest at his dorm Saturday, Eisenhauer allegedly told police, "I believe the truth will set met free," according to newly-released court documents. Eisenhauer and Keepers said little at court appearances Monday, and their lawyers have declined to comment.
Blacksburg police said they have evidence showing Eisenhauer knew the girl before she disappeared.
"Eisenhauer used this relationship to his advantage to abduct the 13-year-old and then kill her. Keepers helped Eisenhauer dispose of Nicole's body," a police statement said.
Nicole's family was concerned about her use of some websites, and said they believe she ultimately met her accused killer on social media.
"We knew there were some issues at one time with her on these sites and we addressed them and I guess we didn't do enough," her father, David Lovell, told CBS News correspondent Don Dahler.
Stacey Snider, a neighbor whose eight-year-old twins played with Nicole, told The Associated Press that before she vanished, Nicole showed her girls Eisenhauer's picture along with a thread of texts they had shared, and said she would be sneaking out that night to meet him.
"She was talking about this boyfriend she had that was 18 and went to college, and his name was David. And showed some text messages off of a Kik and pictures. And that's what the girls told the police officers when they asked."
Snider said she learned all this from her girls only after Nicole vanished. "I would have told her mother. But we didn't know nothing about it until she came up missing, unfortunately," she said.
On campus, state police divers continued to search a pond, and wouldn't say what they hoped to find.
The arrests of the two ambitious and focused students shocked people who knew them in Maryland, where they attended nearby high schools. Neither had prior criminal records, police said.
"We had no reason to think he would be unsuccessful in his goals because he was very focused," said Principal James LeMon at Wilde Lake High School, where Eisenhauer graduated last year.
Eisenhauer, named Boys Indoor Track Performer of the Year by The Baltimore Sun last March, chose Virginia Tech to pursue engineering while competing with the Hokies' top college runners, LeMon said.
Keepers interned at NASA's Goddard Space Flight Center, led science experiments at her church's Bible school and hoped to build a future in aerospace or ocean engineering, her online resume said.
"It's just very, very surprising," said her principal, Marcia Leonard at Hammond High School.
Eisenhauer lived in Ambler Johnston Hall, the same co-ed residence hall where the first two people were killed in the 2007 campus massacre that left 32 dead.
"From what we've heard, he really stayed in his room a lot," said Abbey Workmeister, another freshman who lives in the same dormitory.
Logan Fry, a sophomore who lives on the same floor and also ran track in high school, said Nicole's death and the arrest of her dorm neighbor was frightening.
"Like, it definitely could have been me," she said.
Thanks for reading CBS NEWS.
Create your free account or log in
for more features.