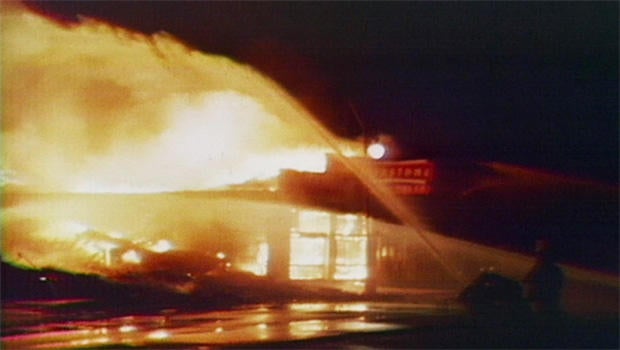 Detroit 1967: When a city erupted
Fifty years have passed since the summer of 1967, which saw urban riots in many large cities, including New York, Newark, N.J., and Detroit. It is Detroit's violence, however, that is the subject of a new film. Michelle Miller takes us back, and be mindful -- there is language some may find offensive:
"In a hundred places, Detroit is afire," CBS News reported in 1967. "One hundred square blocks are now under siege. And as you walk through the area, people shout from their homes, 'Watch out for the snipers.'"
It began early one Sunday morning in late July. Police raided an unlicensed bar in a black neighborhood in Detroit. A crowd gathered, tempers flared, a rock was thrown ... and the city became a war zone.
"This is gonna happen all over America," one person said. "It's gonna be a hot world. Not a hot summer, it's a hot world."
The fires burned for five days.
Ike McKinnon was one of only 100 black police officers on a force of 5,500 in Detroit in 1967. He was patrolling the streets in the midst of the mayhem. "It was unbelievable mayhem," he told Miller. "I said, 'My God, this is happening to my city.'"
Pulitzer Prize-winning historian Heather Thompson refers to the violence as a rebellion, not a riot. "In Detroit, it was clear leading up to it and even during it that people were pretty consistent in why they were angry. Black Detroiters in particular were routinely singled out for abuse, for excessive profiling, arrests. Really an overall criminalization of black Detroiters that white Detroiters didn't experience. Policing was used to, you know, to keep white neighborhoods white."
Growing up, McKinnon had seen many young black men singled out for abuse at the hands of the police. He was one of them.
"I was 14 years old and I was beaten up by four police officers," he said. "They grabbed me, [there was] name calling, they proceeded to beat me up."
Miller asked, "Was this standard operating procedure?"
"This was SOP for these guys. That evening, I made a decision. I was gonna become a Detroit police officer. I wanted to make sure that those kinds of things didn't happen to me or to other people."
But driving home in 1967, after a long night patrolling Detroit's burning streets, McKinnon's badge and blue uniform offered no protection. He recalled two white officers who pulled him over with their guns drawn: "And I said, 'Police officer,' and smiling as I am now. I said, 'Police officer.' I had my badge. I stepped out of the car. The older officer with the silver hair, he said with his gun drawn, he said, 'Tonight you're gonna die, nigger.'
"This is a cop telling another police officer, 'I'm gonna kill you'?"
"That's right. 'Tonight you're gonna die, nigger.' I see his finger pulling the trigger, and as I dove back into my car, he started shooting at me. I hit the accelerator with my right hand, the steering wheel with my left hand, and I drove off as he was shooting at me."
"What did that tell you?"
"If a person is of that mindset to me, a fellow officer, what the hell is he gonna do to the rest of the people in our city?"
Forty-three people died during those five days in Detroit. More than 1,000 were injured. Two thousand buildings were destroyed, leaving some 400 families homeless.
Three teenagers -- Carl Cooper, Aubrey Pollard and Fred Temple -- were among those who died, shot to death, after police raided the Algiers Motel, searching for snipers.
What happened that night is the subject of a new film by Academy Award-winning director Kathryn Bigelow, called "Detroit."
"These boys were simply caught in the wrong place at the wrong time," Bigelow said.
"I had never heard of the Algiers Motel," said Miller. "Had you?"
"No. I had heard of the Detroit riots, but not the Algiers Motel, not this true crime story at the heart of it," she replied.
Seven black men and two white women were severely beaten, but survived. Their stories tell a tale of brutalization and terror.
"Spending as much time as you can with eyewitness accounts was probably the single most critical element that grounded this piece," Bigelow said. "Understanding what it would be like to be in that hallway."
John Boyega plays Melvin Dismukes, a black security guard who was also at the Algiers that night -- and who was caught between two worlds: a world of law enforcement and the world of the victim.
Miller asked Dismukes, who still works as a security guard, "Do you think about those young men?"
"I think about it constantly," he responded.
To this day, some have not forgiven him for being the face of the law that night.
"I had to move out of the city because of the threats against me," he said. "It was rough."
"From both sides?"
"No, usually just from one side."
Which was? "The black community."
Dismukes was tried for assault in 1968. He was acquitted by an all-white jury.
Bigelow says she saw Dismukes as a survivor. "And yet at the same time, somebody who was deeply wounded by the event. You could see it broke him in an irrevocable way."
None of the three white police officers at the Algiers that night were convicted of any wrongdoing.
Miller asked, "How much do you want the audience to see the collateral damage, these broken men, broken spirits?"
"And broken dialogue, between two very disparate cultures that need to embrace one another," Bigelow said. "It's naïve perhaps to say, to think that that's possible. But I have to."
Fifty years later, the Detroit neighborhoods where the riots raged have still not recovered, though many parts of the city are turning around.
Ike McKinnon rose through the ranks to become chief of police in 1994, and served as deputy mayor of Detroit until last year.
Where the Algiers Motel once stood, there is now an open field. No plaque marks what happened here.
There will be a marker near the spot where the riot broke out, and a newly-rebuilt park. "The people have to connect to their history and understand where we've been," community activist Marlowe Stoudamire told Miller.
For him, coming to terms with what took place here 50 years ago is the only way for the city to heal. "If we're going to really move forward, we have to deal with race, we have to deal with neighborhoods, we have to deal with youth, and we have to deal with economic inclusion and opportunity," he said.
Historian Heather Thompson refers to Detroit as a bellweather city: "It's every city in some respects. And that's why '67 mattered. It's why it matters that we get it right, what happened. And it's why it matters that we look at Detroit carefully today."
To watch a trailer for "Detroit" click on the video player below.
For more info:
Thanks for reading CBS NEWS.
Create your free account or log in
for more features.