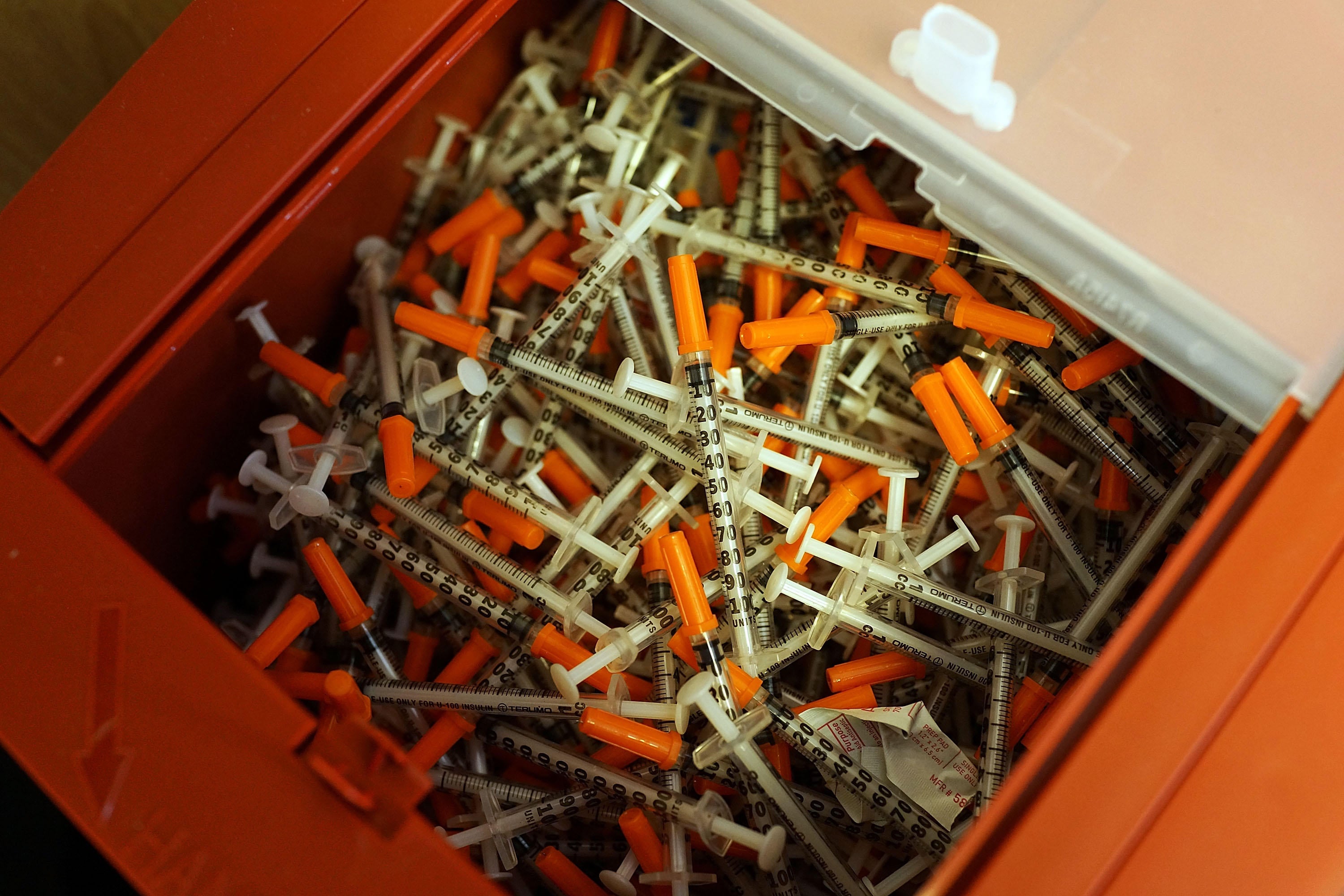 Despite Trump promises, White House falling short in opioid fight
BALTIMORE -- As Republicans in Congress and the Trump White House continue to craft a health care bill 30 miles to the south, two people overdose on opioids and die every day in Maryland's largest city.
On a street corner in west Baltimore, the extent of the opioid epidemic that has ravaged large swaths of the country was in stark relief Wednesday against the backdrop of a brick wall emblazoned with the words "No Shoot Zone" in spray paint.
In 95-degree heat, men and women of all ages -- black and white -- filed one by one into a white van and dumped out bundles of used needles. Workers with the Baltimore City Health Department handed out brown paper bags containing clean syringes, cookers, filters and rubber bands in exchange. Those who came to turn in their old equipment were users of heroin, fentanyl and carfentanil, a toxic synthetic opioid.
Three longtime staffers also doled out Narcan nasal spray containing naloxone, the drug that has been used to save countless lives by reversing the effects of overdoses. Baltimore can barely meet demand for the drug, rationing doses as funding has failed to keep pace with demand.
The opioid epidemic has ravaged Maryland, where the number of deaths from drug- and alcohol-related overdoses increased by 66 percent in 2016. Roughly a third of overdose deaths occur in Baltimore.
Stephanie Williams, 57, is one of 1.3 million people in Maryland who rely on Medicaid to cover her health care costs. She left the van on Wednesday with an appointment at a medication-assisted treatment program within walking distance from her home. Williams has been in treatment before and relapsed, but she's confident about her chances at recovery this time around. As a Medicaid patient, her treatment costs her nothing.
"Thank all you good people so much," Williams said to the staff before leaving the van. "You don't know how much I pray for this."
Wednesday's event was part of the city's needle exchange program, administered by the health department and funded through a patchwork of state, federal and private money.
Programs like it -- and addicts like Williams -- face an uncertain future as negotiations continue on Capitol Hill and the Trump White House appears unable or unwilling to develop a robust, aggressive federal response to the deadliest drug epidemic in American history.
A health care crisis
The GOP health care bill in the Senate would roll back Obamacare's expansion of Medicaid and eliminate regulations requiring insurers to cover "essential health benefits." Republicans argue the regulations make insurance too costly, leaving millions of people without coverage and unable to seek treatment for addiction and mental health problems.
Critics say the bill would drastically hamper the ability of health care providers like those in Baltimore to treat low-income patients facing addiction.
Repeal of Obamacare is President Trump's top domestic priority, and the Senate bill has the blessing of the White House. But Mr. Trump has also pledged to devote money to fight the opioid crisis -- a promise that is in tension with his support for a piece of legislation that would slash benefits in the midst of a public health epidemic.
"We're going to take all of these kids -- and people, not just kids -- that are totally addicted and they can't break it," Mr. Trump said in August of 2016 at a rally in Columbus, Ohio. "We're going to work with them, we're going to spend the money, we're going to get that habit broken."
Despite Mr. Trump's repeated promises, the White House has sent mixed messages in both words and actions about its commitment to battling the epidemic.
On Thursday, as Senate Republicans unveiled the latest version of their health care bill, a White House commission tasked with crafting the federal government's response to the opioid crisis missed a deadline for filing an interim report on the problem. The delay marked the second time the Commission on Combating Drug Addiction and the Opioid Crisis, established in March and chaired by New Jersey Gov. Chris Christie, has pushed back its initial assessment, drawing criticism from Democrats.
"It's time for President Trump to stop dragging his feet on a strategy to combat the opioid epidemic," Virginia Sen. Tim Kaine tweeted.
Officials on the front lines, like Baltimore Health Commissioner Dr. Leana Wen, questioned the purpose of a White House study on opioids in the first place, likening the panel to window dressing.
"I don't understand why we need more studies on this issue. We know what works," Wen told CBS News, noting an exhaustive 2016 report on opioids by the surgeon general. "Why is this report being done in the first place? We should be saving lives."
The White House's view
Kellyanne Conway, counselor to the president and one of Mr. Trump's top advisers, has been working on the administration's response to the epidemic. In an interview, she dismissed criticism of the report as "premature, specious and partisan."
Perched behind her desk in the West Wing and occasionally glancing at notes, Conway said one of her main goals was to de-stigmatize addiction.
"When I was a kid, a heroin addict was some junkie in the alley with a needle coming out of his vein," she said. "Now it's our neighbors, it's our co-workers, our peers, our parents, our children. So it's very concerning in that way.'"
Conway recently drew the ire of Massachusetts Sen. Ed Markey, a Democrat, for telling ABC News that battling the opioid epidemic "takes money, and it also takes a four letter word called will." Markey said Conway's comment was "a death sentence" to people grappling with addiction.
Conway reiterated her point using similar language this week.
"We are fully aware that combating this epidemic requires money. Everybody knows that," Conway said. "But it also requires heart."
Conway said the White House supports increasing access to treatment by giving states "more flexibility on how you use the Medicaid money."
She dismissed the fact that the Senate bill would dramatically cut Medicaid coverage, which would in turn mean fewer people with access to treatment for substance abuse.
Conway argued that Medicaid funding would increase by $71 billion over the next decade, repeating the administration's position that cutting future increases in Medicaid spending does not constitute an actual cut, an assertion policy experts and several GOP senators reject.
In fact, the bill would cut Medicaid spending by $700 billion compared to current law over the next 10 years. States would be able to use the $71 billion in additional funds to cover out-of-pocket costs for people who lose Medicaid coverage, but that figure still pales in comparison to funds that would be cut.
In the latest version of the Senate bill, Republican leaders added $45 billion for a fund to treat opioid addiction in an effort to win the support of senators from states hit hardest by the crisis. Experts predict that effectively fighting the opioid epidemic will cost upwards of $190 billion over the next 10 years.
Conway said past approaches to solving the problem haven't worked.
"Under Obamacare, a lot of money was thrown at many different things, and yet the opioid crisis has only gotten worse," Conway said. "Let's stop making ourselves feel better every time we fund something and we don't solve it."
A muddled approach
But even members of the president's own opioid commission are at odds with the White House position on the health care bill.
At the commission's first meeting in June, former Rhode Island congressman and mental health advocate Patrick Kennedy called Medicaid the "elephant in the room," highlighting the fact that Medicaid is the country's largest provider of coverage for people with mental illness and addiction.
"I hope the commission can come up with some solutions … to ensure that we don't step back at just the point where we need to be stepping forward on this terrible epidemic," Kennedy said.
In May, a leaked document from the Office of Management and Budget revealed a proposed 95 percent budget cut to the White House's Office of National Drug Control Policy (ONDCP), which has historically been responsible for coordinating and funding federal drug programs. Public backlash eventually forced the administration to scale back the cuts.
But the White House has since tasked ONDCP with "administrative" duties to support the president's commission, despite the expertise among its staff. The downgrade has caused consternation among some former ONDCP staffers who doubt the administration's commitment to combatting the epidemic via the commission.
"Even if you're doing a report on the commission, that doesn't mean you have to stop doing things," one former official remarked. "Are there other indications that this is real? I don't see any indication that this is a priority."
Conway said the commission's final report will not recommend dismantling ONDCP.
In the well-trafficked white van in Baltimore on Wednesday, Derrick Hunt, the director of the city's needle exchange program, was asked what Baltimore needed the most to fight the epidemic.
"It's known what needs to be done. It's funding and more treatment on demand," Hunt said. "A lot of people want treatment. They want it right then, and tomorrow something might change. So if they ask for treatment today and it's not available, they might not come back for another year."
"If they make it through that year," he added.
Thanks for reading CBS NEWS.
Create your free account or log in
for more features.