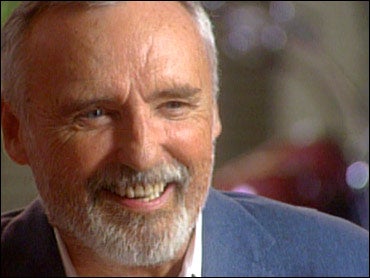 Dennis Hopper: The Ride Back
Actor Dennis Hopper has appeared on the TV shows "Las Vegas" and "24," and in commercials for everything from jeans to expensive cars.
He still directs and acts in movies, but at 68, he's waiting for one more chance to make movie history -- as he did in the late '60s with his landmark film, "Easy Rider."
Despite acting in some of Hollywood's biggest films, the acclaim never lasted long for Hopper. In fact, he fought success at every turn, and he is the first to admit it.
---
Hopper has been signed to direct Robert Duvall's next film, "A Night In Old Mexico." It's his first major directing job in 10 years.
But the man who wrote and directed "Easy Rider" tells Correspondent Charlie Rose that his career has been a failure.

"There are moments that I've had some real brilliance, you know," says Hopper.

"But I think they are moments. And sometimes, in a career, moments are enough. I never felt I played the great part. I never felt that I directed the great movie. And I can't say that it's anybody's fault but my own."

Hopper's first goal in life was to get out of Dodge City, Kan., where he was raised on a wheat farm amid the dust storms of the '30s.

"I was still wearing a mask days to school because the dust was so heavy in the air," says Hopper. "I used to tell people the first light I really saw was in a movie theater. But I just want to know where those movies are being made and how you get a train out of Dodge."

Hopper was the son of an unemotional father and an overly emotional mother. He later moved to San Diego, Calif., where he became a teenage regular on stage. This led to a spot in 1955 as an epileptic on the TV series "Medic."

"The next morning, seven studios called and wanted to put me under contract," recalls Hopper. "And at Warner Brothers they said, 'We'll put you under contract if Nick Ray will use you in 'Rebel Without a Cause.' And there's a great possibility you can play the son in 'Giant.'"

"Rebel Without a Cause" and "Giant" were two of only three films starring the legendary James Dean, 24, who died in a car crash two weeks before "Giant" was completed.

"I like to think of him as a friend, but he was older than I was," says Hopper, who was 18 at the time. "Around the set, I was just baffled by what he was doing. He was doing improvisation, and I was really convinced that I was the best young actor around at that time. But I'd never seen anybody improvise. I'd never been to New York. I'd never heard of 'method acting,' but to confront James Dean and see him really pulling miracles out of a hat, I was just astonished by him. …

"I said, 'I gotta know what you're doing as an actor. I don't understand it.' And he said, 'Well, if you're smoking a cigarette, just smoke the cigarette, don't act smoking the cigarette … and you just go to a moment-to-moment reality,'" adds Hopper. "And I said, 'Well, I think I should go and study with Strasberg.' He said, 'Don't do that.' He said, 'You're too sensitive. He'll destroy you.' Well, as soon as he died, I got in a lot of trouble."
---
Hopper appeared in such classics as "Gunfight at the OK Corral." But like his hero, James Dean, Hopper earned a reputation as stubborn and arrogant.

And although he had made the big time while still a teenager, his attitude kept him out of movie work through much of the '60s.

So Hopper spent his forced sabbatical creating art -- first through abstract expressionist paintings and sculpture, and then through photographs that reflected the times. All the while, Hopper was sinking deeper into a quagmire of alcohol and drug abuse.

"The alcohol was awful. I was a terrible alcoholic. I mean, people used to ask how much drugs I did. I said, 'I only do drugs so I can drink more,'" recalls Hopper. "I was doing the coke so I could drink more. I mean, I don't know any other reason. I'd start drinking in the morning. I'd drink all day long."

As the '60s were flying by, Hollywood studios were going broke, unable to attract the counterculture audience. By 1969, it was the perfect time for a Hopper comeback.

"We'd gone through the '60s and we'd never heard any rock music in movies. We'd never seen hippies, really. We'd never seen anyone smoke marijuana without going out and killing a bunch of nurses," says Hopper.

"We'd gone through the whole '60s and Hollywood hadn't addressed it at all. Through the whole '60s. You know, it just takes somebody who wants to show the time that it is in. … So that's what I wanted to show on film, which is what I tried to do."

The movie was "Easy Rider." It was the story of two longhaired bikers, played by Peter Fonda and Hopper, who sell enough cocaine to finance a trip across a hostile and menacing America, in hopes of retirement in Florida.

Directed and co-written by Hopper, "Easy Rider" took approximately a month to shoot, and cost about half a million dollars. It took in more than $50 million.
---
Despite reports that Hopper was out of control while directing and editing the film -- reports that Hopper strongly denies -- the huge success of "Easy Rider" opened the door for other bearded, long-haired directors like Francis Ford Coppola, George Lucas and Steven Spielberg. These were directors who the studios felt could speak to their generation.

It also landed Hopper on the cover of Life magazine. But with his next film, Hopper would once again snatch defeat from the jaws of victory. It was called "The Last Movie," and it was Hopper's artsy, avant-garde take on both the American western and the movie industry.

Its few previews, however, were so poorly received that Universal Studios refused to release the film.

Hopper says making "The Last Movie" and moving to Taos, N.M., were probably some of the biggest mistakes he's ever made. "And not being here to protect myself or defend myself against anybody who wanted to say whatever they wanted to say at the time," adds Hopper.

And what Hollywood was saying was that as an alcoholic and drug addict, Hopper could no longer be trusted as an actor or director. "I couldn't get financing. I couldn't get in an office. I couldn't get in to see anybody," says Hopper.

His marriage to socialite Brooke Hayward collapsed. Hopper then married singer Michelle Phillips of the Mamas and Papas – a union that lasted eight days. "The first seven were pretty good," recalls Hopper, even though Phillips suggested that the actor consider suicide.

Finally, he was captured running naked and hysterical in a South American jungle -- and was briefly institutionalized.

"I call a girlfriend from Taos, N.M., to come pick me up. I tell her that when I get back, I'm gonna kill myself, because I obviously can't act anymore. I can't speak. I can't make a gesture. I can't do anything," recalls Hopper.

"So she freaks out and gets me on a plane, and gets me back to Los Angeles and my doctor. And that was the beginning of my sobriety."

The clean and sober Hopper came back again, in an Oscar-nominated performance as the alcoholic assistant basketball coach in "Hoosiers." He also starred as the mad bomber in the huge box-office hit "Speed," and the Serbian terrorist Victor Drazen in the TV series, "24" -- along with numerous television ads.
---
Now, the one-time poster boy for the '60s counterculture movement is a country club golfer who voted for both presidents named Bush.

"I'm going to vote for him [Bush] again," says Hopper. "However, my family is not that happy about it."

At 68, Hopper has also become a father for the fourth time. He has an infant daughter, Galen, with his fifth wife, actress Victoria Duffy. He still creates and collects art, and his photography has an international audience, appearing in magazines such as French Vogue.

When he reflects, without bitterness, on the career that might have been, he says he longs for one more chance to make movie history.

"Well, for making a big picture that makes money," says Hopper. "And making money means that a lot of people saw it. And that it's success and that it's good enough to start glomming a lot of awards. That's what my ambition is."

Thanks for reading CBS NEWS.
Create your free account or log in
for more features.