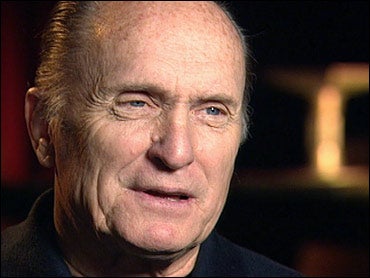 Robert Duvall Does The Tango
Get to know Robert Duvall, and you may get more than you bargained for. He's a lot like the characters he's played in over 80 movies — blunt, tough and honest, sometimes brutally honest.
In a business where appearances are everything, Duvall, at 73, is the real thing. And Correspondent Charlie Rose saw that firsthand when he visited him last winter in his favorite city in the world, Buenos Aires, Argentina.
---
"This is Black's. This is supposed to be the best, classiest house of ill repute in the world. You got the beautiful women from Paraguay, Peru, all over the place," says Duvall, taking Rose on a tour of his favorite city.

But Duvall, who is known for playing colonels and cowboys, doesn't come to Argentina for the women. He comes here to dance, and he spends his nights with his longtime girlfriend in Buenos Aires tango clubs. It's his obsession.

"It gets in your blood in a quiet way, kind of a sweet thing that sits there," says Duvall. "He's leading, he's telling her what to do, but she embellishes. But in our politically correct world, up in the United States, they call it the leader and the follower. Down here, they call it the man and the woman. Haha."

It's such an odd picture: tough guy Robert Duvall tango dancing the night away. It's not the scene he is most known for – as Lt. Col. Kilgore, in "Apocalypse Now."

"People come up to me on the street and they figure only they and I know that line. And nobody else in the world but us two share that," says Duvall, about one of the most famous lines from the movies. "And the last rehearsal before we rolled, 'I love the smell of napalm,' 'cause Brando was coming … 'I love the smell of napalm in the morning. Smells like victory.' I did Brando."

"Apocalypse Now" is just one of many milestone roles. In "Tender Mercies," Duvall's laconic portrayal of Mac Sledge, a burnt-out, washed up country singer, was a masterpiece of understated acting, and won him the Oscar.

So far, he's earned six Oscar nominations, playing roles that run the gamut. Even in small parts, he can steal a movie with just a gesture or a look. His characters are down-to-earth, tenacious and uncompromising – and, as he admits, there's a bit of Robert Duvall in all of them.

"Has to be. It's you underneath," says Duvall. "You interpret somebody. You try to let it come from yourself."

As the son of a Navy officer, Duvall began his career Off-Broadway in New York City. It was the '50s and his acting buddies were Dustin Hoffman, Gene Hackman and James Caan. But Duvall got the first important role as the mute and mysterious Boo Radley in "To Kill A Mockingbird." He conveyed a world of emotion without uttering a word.

Still, he spent another 10 years doing B-movies and television series before his breakout role. He played loyal consigliore Tom Hagen, in Francis Ford Coppola's first two "Godfather" films. But he didn't work on "Godfather III."

"I said I would work easily if they paid Pacino twice what they paid me, that's fine. But not three or four times, which is what they did," recalls Duvall.

Movies made Duvall a star. But it was a television role that made him a cult figure. In the 1980's miniseries, "Lonesome Dove," Duvall played the definitive western trail boss Augustus MacRae.

He says one scene in particular, where Augustus has to kill his best friend, is one of his finest moments ever -- and it almost didn't make the final cut.

"It worked. And I didn't plan it. It was like a subconscious thing -- something happening emotionally that I didn't even plan," says Duvall. "And they cut it. Thank God, I saw it beforehand and the producer put it back in the film. The director and the editor cut it for whatever reason. Sabotage is the only thing I can think of -- unless they were morons."

Brutally honest about others, he's just as candid about himself -- and his Argentine companion of seven years, Luciana Pedraza. He found her in Buenos Aires -- or rather, it's where she found him, when she approached him on this street outside a bakery.

"I said, 'Mr. Duvall, my name is Luciana and I would like to invited you … invite you - to the opening of a tango shop,'" recalls Pedraza.

And what was Duvall thinking? "So what've I got to lose," he says.

Both of them were born on the same day, Jan. 5, four decades apart.

"When I called up and met her father over the phone, he says, 'Well now, I don't know whether to call you father or son,'" recalls Duvall, who was at least 20 years older than Pedraza's father. "When she told me how young she was, I started yelling, 'Policia, policia, come arrest me.'"

Duvall's last three marriages ended in divorce. Why? "I don't know, you don't connect," he says. "You withdraw. You don't connect. You try to make things work. Sometimes, they don't."

"One time, a relationship wasn't working out and I was moping around the house. So I went down early in the morning to the village there and got in the phone booth. And here I'm moping around the house and I didn't realize my wife had followed me down -- was outside the phone booth -- and here I'm on the phone with somebody else. So happy," adds Duvall.

"Hung up, went out. Oh my God, I was caught. That was the way I was caught because through that glass there was this transformation of me into this happy, ecstatic guy. So what's the lesson? The lesson is to be more subdued in a phone booth, I think."

No subject is off limits for Duvall – and his politics are no exception. Fiercely libertarian, he's always eager to weigh in. At his favorite café in Buenos Aires, one topic was Steven Spielberg's recent visit to Cuba in 2002 -- and Spielberg's widely reported meeting with Cuban leader Fidel Castro.

Duvall says Spielberg should never have gone in the first place.

"Now, what I want to ask him -- and I know he's going to get pissed off – 'Would you consider building a little annex on the Holocaust museum, or at least across the street, to honor the dead Cubans that Castro killed,'" says Duvall. "That's very presumptuous of him to go there … I'll tell him that. I'll never work at Dreamworks again, but I don't care about working there anyway."

Spielberg's spokesman, in a statement in response to Duvall's comments on 60 Minutes, said the Hollywood director's trip to Cuba was authorized by the U.S. government as a cultural exchange program: "His trip to Cuba in 2002 was cultural, not political. It was an opportunity to share his films and his values with the Cuban people. In addition to screening eight of his films for hundreds of thousands of Cubans, he visited with the Jewish community, paid his respects at the Holocaust memorial in Havana, and met with U.S. diplomats stationed there."

At this stage in his life, Duvall can afford not to care what others think. He's made a very good living playing tough men who make tough choices and then make no apologies. They're among Hollywood's most original and memorable characters, and so is the man who created them.

Duvall promised Rose that he would end the interview with his famous line from "Apocalypse Now."

"I had a bunch of 'em," says Duvall, laughing. "'Charlie don't surf. I love the smell of napalm in the morning. It smells like victory.'"

Thanks for reading CBS NEWS.
Create your free account or log in
for more features.