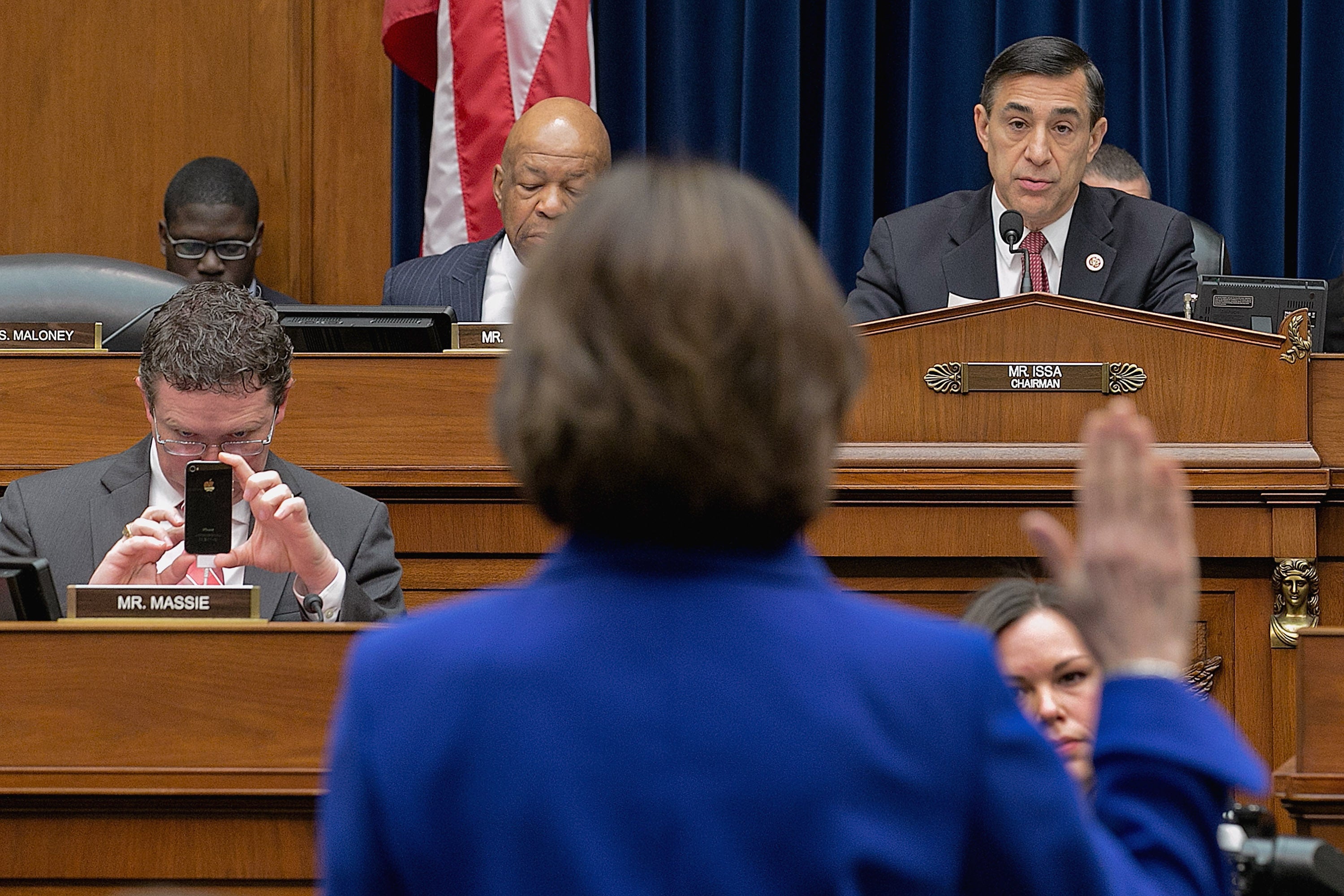 Democrats convinced Darrell Issa can't hold Lois Lerner in contempt
Former IRS official Lois Lerner's silence has resulted in loud noise on Capitol Hill for the past 10 months, culminating last week in a testy exchange between House Oversight and Government Reform Chairman Darrell Issa, R-Calif., and the committee's top Democrat Elijah Cummings, D-Md. But the committee's Democratic staff say the nearly year-long back-and-forth could all end in a dud, because they believe Issa's handling of last week's hearing erased Issa's ability to attempt to prosecute Lerner on charges of contempt of Congress.
Issa's committee has been seeking answers from Lerner about her involvement in a scandal to target conservative organizations.

In May, Lerner appeared before the committee, gave an opening statement, and then invoked her Fifth Amendment right against self-incrimination three times before being excused. She returned again last week, and spoke even less, simply saying once she chose to exercise her Fifth Amendment rights.

Her silence prompted Issa to abruptly end the hearing, without deferring to Cummings, saying that "we're adjourned. Close it down." After the hearing, Issa said the committee would discuss next steps before proceeding. Many in Washington assume the next step would be contempt proceedings.

But House Democrats say not so fast. Democratic committee staff sought the advice of Morton Rosenberg, a former constitutional law and process specialist with the Congressional Research Service and that of Stan Brand who served as general counsel for the House of Representatives in the early 1980s (Democrats were in the majority during those years), who concluded that Issa eliminated his option to move ahead with contempt when he concluded the hearing so abruptly.

Rosenberg writes in a letter to Cummings that Supreme Court precedent establishes a number of conditions which must be met to create a legal foundation for a contempt prosecution, including that the committee must disallow the constitutional privilege objection and clearly tell the witness an answer is demanded, and the witness must be presented with a clear-cut choice between compliance and non-compliance, knowing non-compliance risks prosecution. Rosenberg concludes these conditions were not met, and if a criminal contempt prosecution were attempted, it "will be dismissed."

Brand told CBS News that based on the precedent, any attempts to move ahead with a contempt charge would go nowhere. But, he doesn't take the committee seriously, "I think what they're after is political theater, and that's what they got." He explained that if the committee really wanted to hear from Lerner, they "could have granted her immunity and they'd already have her testimony by now."

Cummings' has sent a letter about these findings and a copy of Rosenberg's letter to Issa as well as to the Speaker of the House John Boehner. In a press conference shortly after last week's hearing, Boehner expressed support for Issa and said he was within his rights.

The House is in recess next week, so it's unlikely the committee would make any movement against Lerner before they return on March 24.
Thanks for reading CBS NEWS.
Create your free account or log in
for more features.