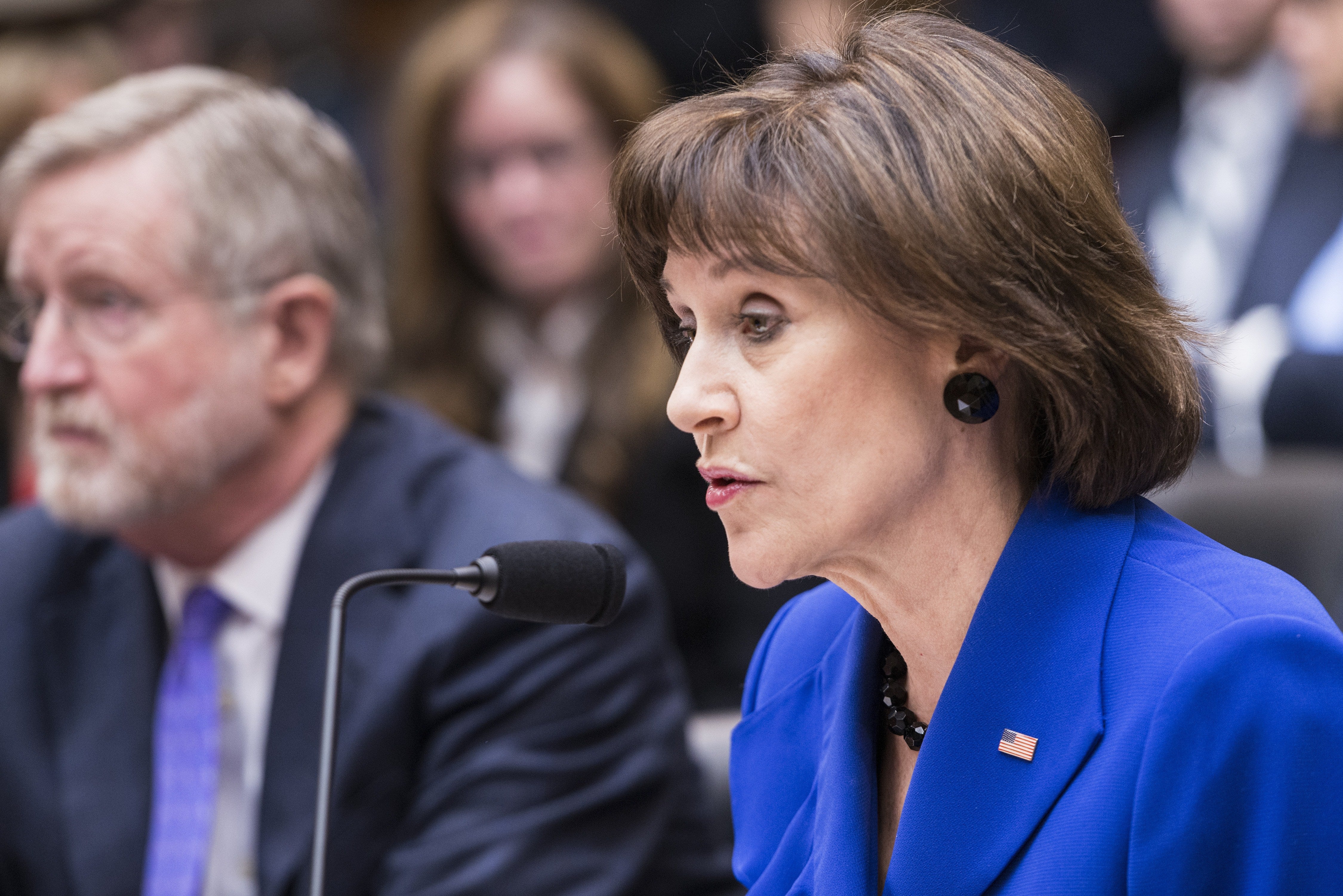 Lois Lerner pleads the fifth again, doesn't testify on IRS targeting
House Oversight and Government Reform Committee Chairman Darrell Issa, R-Calif., reconvened a hearing Wednesday that began more than nine months ago to investigate whether the Internal Revenue Service (IRS) targeting conservative groups, a scandal that was exposed in 2013.
The problem was, he didn't have a witness to answer his questions - again.
Lerner once again asserted her Fifth Amendment right not to testify, as she did last May when she was first called to testify. Before she first spoke at the hearing Wednesday, Issa warned that his committee would consider whether to hold her in contempt if she declined to testify.
At the first part of the hearing last May, Lerner delivered an opening statement declaring she had done nothing wrong, and then invoked her Fifth Amendment right and refused to answer any more questions. Republicans, however, concluded she did and have recalled her to answer questions about why Lerner gave heightened scrutiny to conservative groups with the words "tea party" or "patriot" in their names when reviewing applications for tax-exempt status.
The move did not sit well with Ranking Member Elijah Cummings, D-Md., who demanded a chance to speak as Issa brought the hearing to close after repeated attempts to question Lerner, with no avail.
"Mr. Chairman you cannot run a committee like this. You just cannot do this. We're better than that as a country," Cummings said, his voice rising as Issa stood up to leave and the members' microphones were cut off. "There is absolutely something wrong with that and that is absolutely un-American!"

"I am a member of the Congress of the United States of America!" Cummings shouted at Issa, who talked over him to tell the room that the hearing had been adjourned. "I am tired of this!"
After the hearing, Issa said his committee would discuss the next steps.
"Ms. Lerner is not our primary concern today, nor is the contempt. Obviously we're going to continue investigating others at the IRS," he said, though he added that an order from a federal judge could compel Lerner to testify.
Issa and his staff had been engaged in a public back-and-forth with William Taylor, the attorney for embattled former IRS official Lois Lerner since last Sunday over whether she would testify publicly this time.
Issa announced on "Fox News Sunday" that Lerner would testify before his committee, only to have Taylor tell tell Politico a few minutes later that Lerner planned to continue to assert her Fifth Amendment rights and would not testify.
According to emails released by committee aides, Lerner was seeking the ability to give a private deposition even if she did not receive immunity for doing so in order to avoid the public attention. Then, insisted her attorney, William Taylor, she would have fulfilled all her obligations under the subpoena.
"I can tell you that we can probably move forward if the committee agrees that her appearance at a deposition would satisfy any obligation she has or would have to provide information in connection with this investigation," Taylor wrote on Friday. "For her to take the risk inherent in waiver (of her Fifth Amendment privilege), she would need assurance she is resolving her issues with the Committee." In another note to a committee aide, he confirmed she was willing to testify.
Issa did not want to cancel the planned Wednesday hearing - for which Lerner was seeking a delay - until he was satisfied she had testified fully.
Thanks for reading CBS NEWS.
Create your free account or log in
for more features.