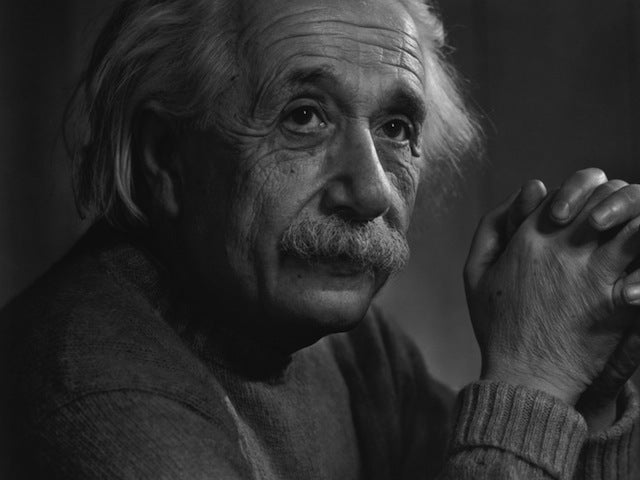 "Dear Albert": Einstein's letters to kick off World Science Festival
Albert Einstein is often portrayed as an absent-minded genius who unlocked many mysteries of the universe. But there was more to this Nobel Prize laureate than many know. On Wednesday, an audience in New York will meet another side as some of his personal letters are brought to the stage.
It all came about because a few years ago the acclaimed actor, writer and director Alan Alda became interested in the letters of Marie Curie. When he attempted to track them down, however, he discovered that they were still stored at a museum in France - and they were radioactive. He quickly shifted his focus to Einstein.
"His letters are not radioactive," the seven-time Emmy-winner told CBS News. "His letters are extraordinary, and they are readily accessible... I had been familiar with some of them, and I decided to do this to see if I had enough interesting moments to make an evening that had dramatic shape to it."
The result, entitled "Dear Albert," will be presented as a stage reading starring Paul Rudd, Cynthia Nixon and Francesca Faridany to kick off this year's World Science Festival. Alda is a passionate advocate for the sciences and a long-time supporter of the annual festival, which celebrates science and the arts.
"It's wonderful because [Einstein] is such a revered and renowned figure, and everything he wrote and anything written to him that could be saved has been," says Alda. "[The reading] throws light on his intellectual life, and there's a real picture of an extraordinary person who's nevertheless human just like us. He has very recognizable human frailties just like we all do."
"What I loved about this when I read it the first time was it was all news to me," says the show's director Mark Brokaw. "I didn't realize that he had a personal life that was not so different from mine: messy, disordered, constantly changing."
With so many books already written about Einstein and his Theory of Relativity, it might seem there's nothing new to learn. But "Dear Albert" shows a more human side of the scientific genius.
"He was a man whose personal life was very involved with women. He needed love even though he wasn't always able to give it. It's kind of a heartbreaking thing to see anyone go through," says Alda.
One of the goals of the festival is to attract an audience that doesn't consider itself part of the science community. "The reason we do that is we want to be able to open the door for people who are maybe faintly curious about science and don't have a way in because it seems forbidding to them," says Alda.
"I am a perfect target audience for this," says Brokaw. "I have a great interest in science but I am not a scientist and I do not think in a science mindset at all. It really opens the door in a fresh, interactive way that doesn't feel overly intellectual. Your understanding creeps up on you without you even knowing it."
This year's festival will also feature a screening of the film "Gravity" under the Space Shuttle Enterprise at the Intrepid Sea, Air & Space Museum.
In Brooklyn, festival-goers can see a scaled-version of a comet. Designed to look as though it crashed into Brooklyn Bridge Park, the exhibit replicates the Rosetta spacecraft's planned landing on the comet Churyumov-Gerasimenko. Slated for November, it will be the first attempt to land a spacecraft on a comet.
There are events on the science of weather, the biotechnology of brewing ancient ales, the future of bionic limbs, decoding your family tree, conversations with leading scientists such as British astrophysicist Lord Martin Rees, and more.
Alda will also host an event at the end of the festival, on Sunday, known as the Flame Challenge. In its third year, the event poses a question to scientists and challenges them to answer it for an audience of 11-year-olds. The winner is selected by a vote of more than 26,000 children.
The first year, the scientists had to explain, "What is a flame?" This year the question is, "What is color?" The event was initially designed to coax scientists to get creative in explaining complex concepts to children; today, it's just as much about helping kids delve into science and develop critical thinking skills.
Kicking it all off is the "Dear Albert" performance at the NYU Skirball Center for the Performing Arts, which reveals the surprising personal side of a seemingly well-known public figure.
"He's mythologized in a way that you do not think of him as human, " adds Brokaw. "What's so wonderful about this material is you see that he was incredibly human and very much like anyone you ride next to on the subway."
After the performance, Alda and festival co-founder Brian Greene, a professor of mathematics and physics at Columbia University, will take the stage for a question and answer session about Einstein.
Thanks for reading CBS NEWS.
Create your free account or log in
for more features.