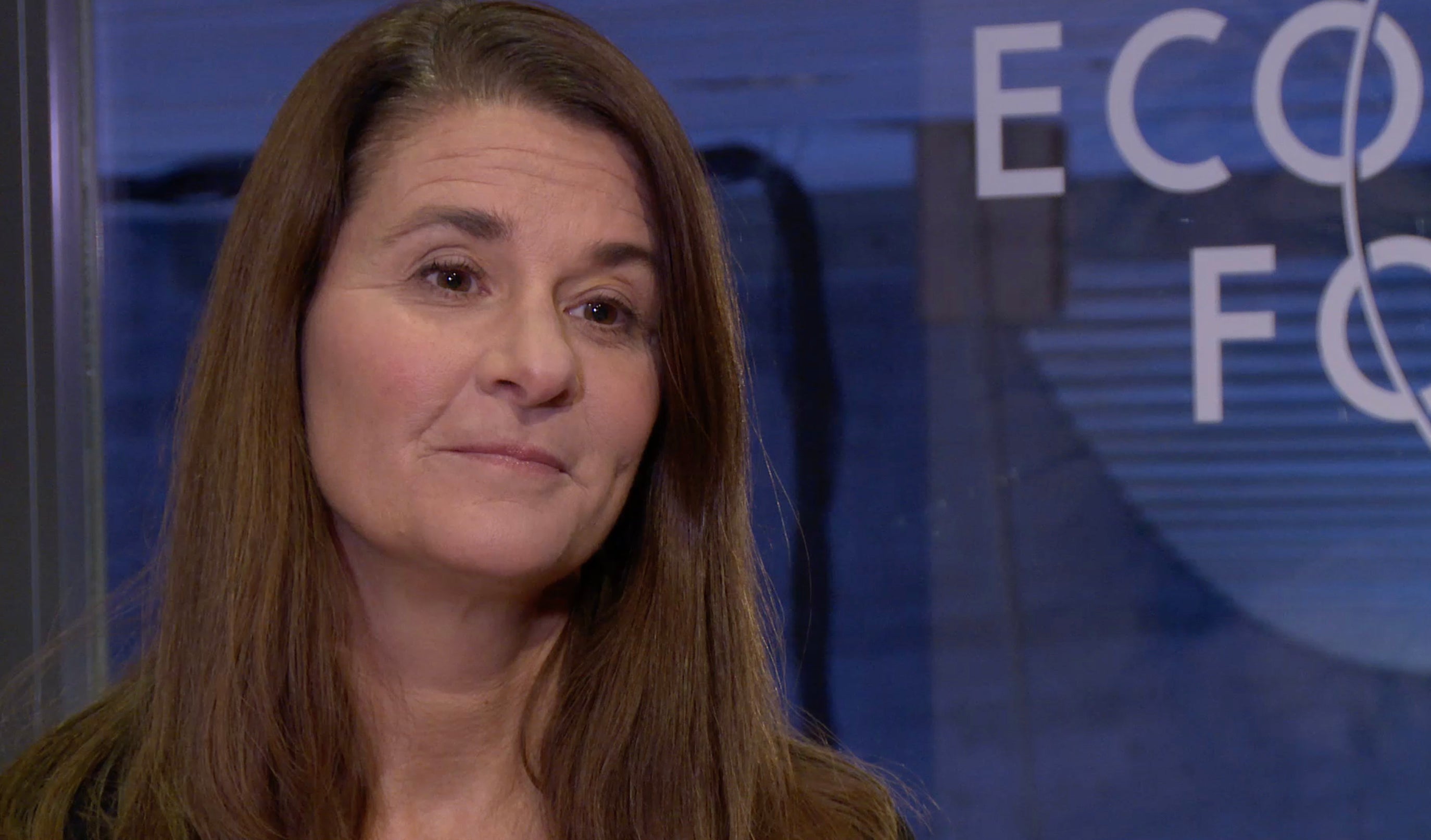 Melinda Gates: One issue is key in conquering poverty
DAVOS, Switzerland -- Bill and Melinda Gates have three goals for 2016, and they all revolve around the idea that "poverty is at the center of almost every crisis in the world."
In an op-ed released at this year's gathering of the World Economic Forum, the couple and co-chairs of the Bill & Melinda Gates Foundation broadly outlined their priorities: continue to support, in partnership with vaccination non-profit Gavi, the Global Fund to Fight AIDS, Tuberculosis and Malaria; empower women and girls; and invest in innovations in science and technology that will help reduce poverty.
Melinda Gates said the most urgent issue is making investments in health systems around the world. "Because if people have a healthy life and can start out healthy, they then can go on and educate their children and participate in the economy," she told CBS News at the World Economic Forum in Davos, Switzerland.
It's part of what Gates and her husband call "upstream investments."
"If you're dealing with a health crisis all the time, a malaria that comes up three or four times a year inside of your family, or a child who's sick and needs to go to a health system, and it takes away from your economic means to go pay for that, it changes the whole economics of your family," Gates said. "And so then you're in a crisis situation, back to back to back."
At the conclave in Davos five years ago, nearly 200 countries endorsed a so-called Decade of Vaccines with the mission to provide universal access to immunization by 2020, a goal that the Bill & Melinda Gates Foundation keeps in mind when partnering with Gavi to invest in vaccines.
"When we look at the fact that since 2000, childhood deaths have been cut in half, a big percentage of that is because of vaccines. And to me the most exciting thing now is when I travel to a place like Kenya, instead of there being a 25-year lag from when a vaccine comes out in the United States, or in the U.K., or in Japan -- there used to be a 25-year lag until it got to places like Kenya or Tanzania -- today that lag is down to less than a year," Gates said. "And guess what? The right strains of vaccines are available from the get-go for a place like Kenya. And so they are getting the vaccines out now very quickly, and that's how we're saving lives."
Gates also said many private-sector companies are interested in working on these issues in the developing world, especially if they can identify a market.
"So for instance, a pharmaceutical company or biotech company, they are beholden to their shareholders, and they should be. But if there's a market there, which there [is] -- there are millions of children that need vaccines -- they're willing to bring the prices down if they know they can sell their vaccine into a large market," she explained. "So we're able to stimulate competition, the foundation's able to make some R&D investments to make it worth their while to start up the technology. But we also bring other players in to bring the prices down and stimulate the competition. But when a vaccine company knows they can make money off of one vaccine, and they see it work, then they'll work on the next one."
In addition to promoting public health, Gates is passionately tackling women's issues.
"When I look around the world, I try and say, OK, where are we making progress? The maternal deaths are cut almost in half since 2000. We're finally getting contraceptives out for 220 million that are saying they want contraceptives. We're finally are investing in that as a world," Gates said. "But there are still so many opportunities because we've got to empower women so they can be healthy, be educated and, again, participate in the economy."
Gates said one of the most fundamental things to understand in tackling gender inequality is that women hold the purse strings in developing countries. For every marginal dollar a woman has, she puts 90 percent of it back into her household, she said.
"She's the one who makes the decision about who eats, who eats first, what do they eat? So we have to make sure those economic means get in her hands, and she has control of it," Gates said. "It also starts to empower her. She's seen differently in the family when she has money, whether she lives in Asia, or whether she lives in Africa, or whether she lives in the United States."
Currently, the Gates and their partners are talking with donor governments in efforts to replenish the Global Fund to Fight AIDS, Tuberculosis and Malaria.
"It is a challenging economic environment for all of the donor nations, but I think the thing that people are realizing is, if we make these investments, and again, we call them upstream investments, they benefit the world," Gates said. "And so then you're not dealing with those issues as much on your own doorsteps, where people are up and migrating and moving to your country... if they can be healthy and live where they are."
Eventually, developing countries "graduate" from being aided by Gavi or the Global Fund and become middle-income countries, Gates said.
"So it's a huge success story that we can go to donors and say, 'These funds aren't forever.' We're actually seeing some of the countries graduate now and take up the financing on their own," she said.
As an example, Gates pointed to South Korea, a member of the G-20 whose economy topped Bloomberg's Innovation Index in 2015. "They used to be recipient of aid, and now South Korea is actually a donor of aid to around the world," she said.
"The countries take them up, use the money [on] their own, in the right way, make all the investments that they need, and they lift themselves up and then they go on to be part of the global economy. It's a virtuous cycle that we just start getting going with aid," Gates said.
And despite the scale of the problems she and others who confront such issues face, Gates remains hopeful.
"When I go to places like Africa, I see so much ingenuity, and I see so much opportunity. And it shows up in the global statistics, and I think sometimes we miss that fact, that things are changing in the world," she said. "When you go to Africa, there are all these burgeoning middle-income countries, and so what I like people to see is the hope and the opportunity."
Thanks for reading CBS NEWS.
Create your free account or log in
for more features.