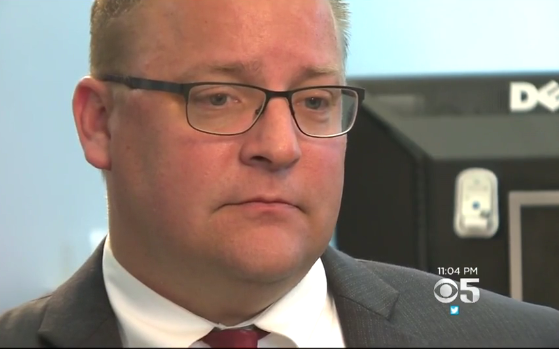 VA director apologizes for comments about sexual harassment claims
SAN FRANCISCO -- CBS SF Bay Area has covered claims of sexual harassment and assault at a Bay Area Veterans Affairs clinic for months.
One woman recently described an incident in which she says her boss tried to grope and kiss her.
Now, a VA director is apologizing, CBS SF Bay Area reports.
"I just wanted to take a moment to talk to all employees here at VA Northern California regarding the news story last Friday from CBS News in the Bay Area," said David Stockwell, director of Veterans Affairs-Northern California Health Care System.
"That's not my values. That's not the values of this organization, and frankly, that was not what I intended to say," Stockwell said.
He was referring to what he said during an interview about allegations of sexual harassment at the VA.
CBS SF Bay Area interviewed three women who accused VA supervisors of harassment and stalking.
VA employee Connie Swafford Abalos said, "He tried to grope me. He tried to kiss me. He literally exposed himself to me. And he told me that he wanted to have sex with me, and I just got up and left."
When we first told Stockwell about the women's claims, he defended the investigative process and said this about employees: "They can certainly vote with their feet about their employment decisions of working with the VA."
CBS SF Bay Area pressed him further, asking if his answer is that they should leave.
"No," Stockwell said. "My answer was, follow through the process with the VA and if you don't think it's fair, logically, you have two things you can do if you say the entire system built isn't fair. You can go outside of that system and try and find remedy, or you can exit the system."
Now, Stockwell is changing his tune.
"I actually called my wife and said look at this news article that they just portrayed. What do you think? And she said, 'If I heard that from my boss, I would be offended as well,'" Stockwell said.
VA employee Connie Swafford Abalos was offended.
"That's just unheard of. Who says that?" she asked.
And she's not the only one. One woman, who asked not to be identified, explained what she thought after seeing Stockwell's apology.
"He meant what he said the first time. He was made to apologize," she said.
The VA issued a statement.
"All allegations of harassment and assault are considered very serious by management and must be addressed," the statement said. "VA Northern California Health Care System does not tolerate the mistreatment of employees, male or female, and will take appropriate action on all allegations. There are, and will continue to be, legal and administrative consequences for employees who participate in criminal activity and/or conduct themselves in a way that is not conducive to an environment free of all forms of harassment."
"We have a responsibility to the Veterans we serve and our employees to create an atmosphere that is safe, healing for our Veterans, while holding staff accountable for their actions," the statement said. "Due to confidentiality laws, VA is not at liberty to discuss ongoing investigations regarding specific employees."
Thanks for reading CBS NEWS.
Create your free account or log in
for more features.