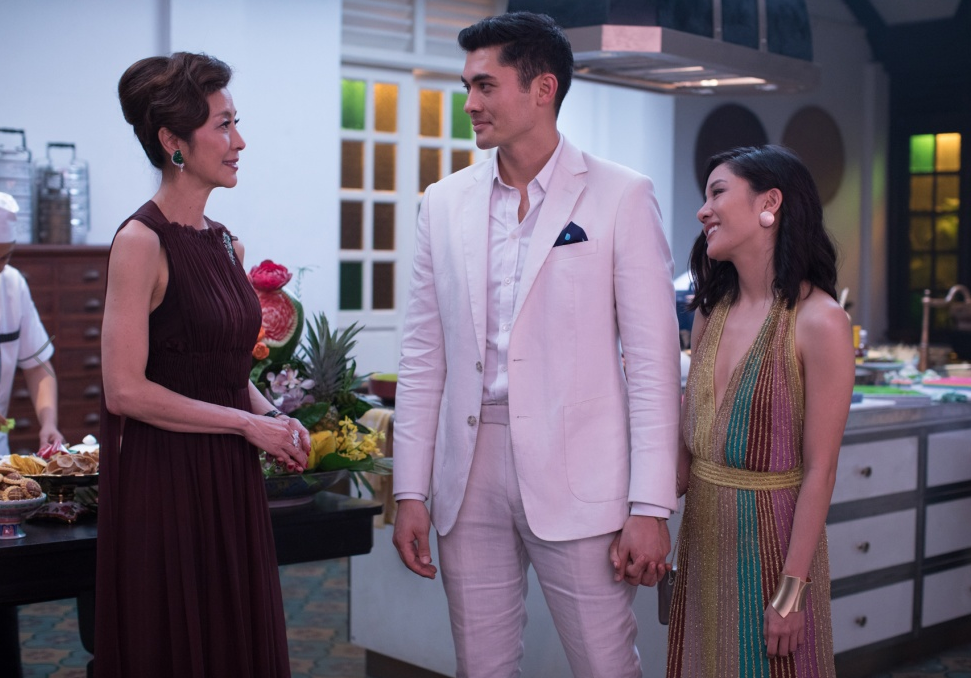 Why Hollywood is setting its sights on Asian Americans
The upcoming film "Crazy Rich Asians" has been called "historic" and a "watershed moment" for Asian Americans in Hollywood, and it's not hard to see why. The last major American film starring a mostly Asian cast was "The Joy Luck Club"; 25 years later, it seems like Hollywood is finally paying attention to Asian American audiences and representation on screen.
Awkwafina, who stars in "Ocean's 8" and "Crazy Rich Asians," told CBS News that she thinks Hollywood is experiencing a sea change, and the movie is just one part of that.
"I don't think the success of the movie should dictate whether or not there should be Asian Americans in film," she said. "I don't think 'Crazy Rich Asians' will be the last, no matter how it does. It's part of a larger cultural shift in Hollywood in the last two years. People show up for these movies and express anger when movies don't accurately reflect them." Awkwafina said of the idea that "Crazy Rich Asians" failing means there should not be more movies with Asian casts: "That should apply to every other movie out there."
There's evidence to support that Asian-Americans might finally be having their moment in Hollywood. In July, Sandra Oh made history as the first Asian woman nominated for an Emmy in a lead actress category. In 2015, ABC's "Fresh Off the Boat" became the first American television sitcom starring an Asian American family to air on American network primetime since 1994's "All American Girl" starring Margaret Cho. Unlike "All American Girl," which lasted one season, "Fresh Off the Boat" is set to air its fifth season. And Netflix's "Master of None," starring Aziz Ansari, was well-received by critics and popular with viewers.
Mariko Carpenter, vice president of strategic community alliances at Nielsen, told CBS News that diversity pays off for studios.
"Americans are choosing to watch shows with multicultural casts," she explained. "I think we've come to a moment where the American public is telling us they're ready and they'd like to see this type of diversity and talent that is representative of all colors and ethnicity in this country."
A Nielsen report on Asian American consumers and their influence shows that though there are relatively few Asian American faces on TV and in films, their N-scores, which measure the overall marketability of celebrities, are higher than average.
"Actors and actresses that are Asian American -- they really score above the norm for things like likability or being a good role model and really for the first time we're seeing that American audiences are seeing them for their talent, not for the color of their skin or background," Carpenter said. "The scoring really dispels myths that Asian Americans don't sell, because certainly they do score high in our N-score."
The Nielsen report also points out that it's smart for Hollywood studios to pay attention to their Asian American viewers because of their consumer habits. On average, Asian Americans go to the movie theater more often than non-Hispanic whites (by 23 percent for having attended a movie theater once in the past 30 days and by 63 percent for going to the movie theater on opening weekend), and Asian Americans have the fastest-growing buying power of all racial groups since 2000, reaching $986 billion in 2017 and projected to be $1.3 trillion by 2022.
"If you think about African American buying power -- they're almost twice as large as Asian American Pacific Islanders -- but buying power is expected to reach $1.5 trillion in 2022, and Hispanics are expected to reach $1.8 trillion and they're almost 3 times our size. So we are definitely small in size, but when it comes to buying power, we play a significant role," she explained.
Carpenter referred to the popularity of Asian American YouTube influencers like Michelle Phan and Lily Singh to show that Asian-Americans have already made huge strides on digital platforms.
"You've seen Asians able to find huge success on YouTube and Instagram, garnering mass appeal, millions of followers that are passionate about them and what they represent and it's not just Asian Americans in that fan base -- it's all Americans," she explained.
Carpenter said she believes Asian Americans have been able to find more success on digital platforms because of the "low barrier" to become content creators.
"In Hollywood, it's all about who you know and having come from a network of people in that industry, which is why politics have been really hard for Asian Americans -- as well as other immigrants -- because we don't have a given network to help us be represented and advance in a lot of those career paths that require more connection, and so on these digital platforms they were able to do it on their own," she said.
Awkwafina got her start on YouTube with rap videos that racked up millions of views. She told CBS News, "They call YouTube Asian Hollywood, and there are some people with more views than anything I could ever think of. Without my videos, I'd never be where I am now, because you can go to YouTube and look up Awkwafina."
With the slow but steady growth of Asian Americans in the entertainment industry, it looks like viewers won't have to wait another 25 years after "Crazy Rich Asians" to see "Asian Hollywood" stars on the big screen again.
Thanks for reading CBS NEWS.
Create your free account or log in
for more features.