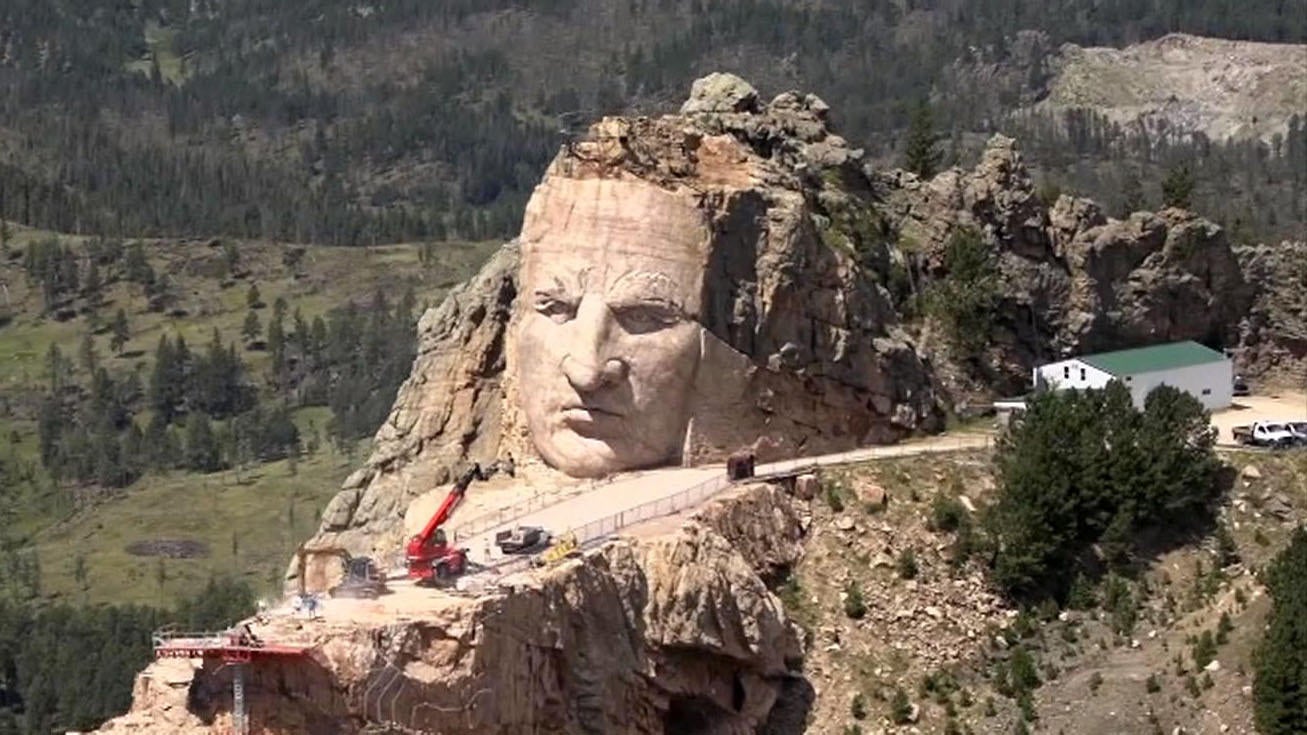 Seventy years later, quest to carve Crazy Horse Memorial continues
A towering monument to one of the most revered figures in Native American history is slowly taking shape in South Dakota. Crazy Horse was among the leaders of the Lakota Sioux who attacked and destroyed a U.S. Army regiment in 1876 -- a two-day battle that went down in history as Custer's Last Stand.
The sculpture's creation began in 1947 and is likely to take more than a century to complete, reports CBS News correspondent Mark Albert.
Soaring over the dense woods of the Black Hills is a monument to a Native American legend and to a dream deferred.
There, crews are carving the history of the Oglala Lakota and their fearless warrior, Crazy Horse. They were pushed out of those lands once, but granite is much harder to banish. For nearly 70 years now, workers have toiled on a mountain.
Monique Ziolkowski's father was the first.
"What year did construction begin here?" Albert asked.
"June 3, 1948," Ziolkowski said.
"And it is 2016," Albert said.
"Yes," Ziolkowski said.
"You're still going seven decades later," Albert said.
"We are. Yeah, we are."
"Why is it taking so long?"
"That's a big mountain. That's a big mountain."
And the weight of transforming it into an icon is heavy, indeed.
Ziolkowski's father, Korczak, was still bending the mountain to his will at 69, as "60 Minutes" correspondent Morley Safer found when he visited in 1977.
Korczak started carving when he was 32.
"Tell me, mister. How can I ask you to believe that I can carve that mountain if I don't believe in myself first? Of course I'm egotistical! I believe I can do it. I know I can do it!" Korczak told Safer. "All my life I've wanted to do something so much greater than I could ever possibly be."
Korczak helped etch Mount Rushmore in the summer of 1939, which drew the attention of Lakota Chief Henry Standing Bear, who invited him to design a memorial to American Indians.
"He said, 'My fellow chiefs and I would like the white man to know the red man had great heroes too," Korczak said.
But instead, Korczak volunteered to serve in World War II and landed on Omaha Beach. It would steel him for the fights to come.
After the Allies won, he turned down offers to build war memorials in Europe to instead construct one to another leader in battle: Crazy Horse.
Korczak's wife, Ruth, told Safer it became all-consuming.
"His work has to come first. Or he'd just be another person doing -- selling insurance or cars or something like that," Ruth said.
"I said, 'Never forget -- it comes first, you come second,'" Korczak told Safer. "She said, 'It's all right with me, dear.' Now the children know that. They know they come third."
"What was it like to be told you were third -- that the mountain was your dad's first priority?" Albert asked Monique.
"Coming third in my world was first in most other kids' lives," an emotional Monique said. "So the love that I got was more than most other kids got."
"Very fortunate?"
"Yup," Monique said.
"You never looked at it as if you were third place?" Albert asked.
"No," Monique said.
In seven decades, crews have blasted and hauled millions of tons of rock off the site.
In a 1977 Jeep, with her childhood silver hardhat in the backseat, Ziolkowski took Albert up the winding road to the top, to Crazy Horse's arm, where her father's vision peers out over the hills.
The carving is more than 64 stories tall. Crazy Horse's eyes are 17 feet wide, and all four of Mount Rushmore's presidents will be able to fit under the Native American leader's arm when it's finished.
"Those blocks are being hand-drilled and removed with feathers and wedges and then our Manatee picks it up and carries them away," Monique said.
Monique said it'd take five to seven more years just to see the hand stretched out all the way.
And it's still a family affair. Three of Monique Ziolkowski's siblings also work on the project, as well as three of her nephews, including 32-year-old Caleb, the third generation.
"Hopefully, a thousand years from now people will still see it. And it just grounds you to... a deeper story of America that people just maybe won't be aware of," he said.
Dreams don't come cheap, though.
"How much money do you get from the federal government for this project?" Albert asked.
"None," Monique said.
"How much do you get from the state government?" Albert asked.
"None," Monique said.
"How do you pay the bills?" Albert asked.
"Admissions fees and donations," Monique said.
So far, that's brought in $33 million from families like the Bobiers from Illinois, who set up chairs and blankets just after Labor Day to watch one of two ceremonial night blasts in the chill air.
"We said, 'Well, we've got to come back for this,'" Becky Bobier said.
"We better not miss it," added Rani Bobier.
This blast every Sept. 6 honors Crazy Horse's death and Korczak's birth.
Helene Gaddie, a member of the Lakota tribe, performs here.
"There's a really harsh history of how our Black Hills were taken from our people," Gaddie said. "So I'm fortunate that the monument here, that the mountain here, gives us Natives an opportunity to educate the general public about our culture and about proper respect when they come into our land."
And the education is just beginning. The memorial's master plan includes an Indian University of North America, museum and cultural center.
"This isn't just about a mountain?" Albert asked.
"Oh, no. The mountain, dad said, was the smallest part of the whole project," Monique said. "And so the mountain is a wonderful thing, but it isn't what really will help people. It's the knowledge, and knowledge comes from learning, and so that university and the museum here, those are the most important things."
Korczak never took a day of sculpting lessons and yet, for more than half his life, he carved a masterpiece for the ages -- not once taking a salary. And when he died in 1982 at age 74, he still wouldn't leave. Orphaned as a child, he had found his home.
His youngest daughter took Albert to where Korczak lies buried at the base of the mountain. He rests behind his final carving: an epitaph he cut out of steel that reads, "Storyteller In Stone."
"He wanted us to know that he was -- part of living is dying. And that when he did die, we would be prepared to carry on," Monique said. "But he did say he couldn't carve the mountain from the grave."
The sculptor and a towering Native American legend are sharing a mountain and a dedication for these lands, for eternity.
Thanks for reading CBS NEWS.
Create your free account or log in
for more features.