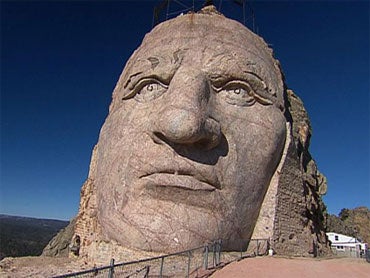 Crazy Horse Memorial Carved into Mountain
In South Dakota's Black Hills, a mountain foreman named Cas Ziolkowski can finally see his family's dream taking shape.
It's the most mammoth mountain sculpture in the world in both size and scale, reports CBS News correspondent Mark Strassmann . An outsized replica of a statue of Crazy Horse, the Lakota Indian chief who wiped out Custer's men at Little Big Horn.
When finished, it'll stretch 641 feet long, rise 563 feet tall, almost eight feet higher than the Washington Monument.
Crazy Horse Memorial
Crazy Horse sculptor Korczak Ziolkowski
All the towering vision of one man. Not Cas, but his father.
In 1947, a local chief convinced sculptor Korczak Ziolkowski to create a lasting memorial to American Indians.
Korczak's willpower and ego were both as big as his mountain.
In 1977, he told "60 Minutes": "Of course I'm egotistical. I believe I can do it. I know I can do it."
"He was a visionary. A man that believed," said his son. "And here it is, sixty years, getting done."
To submit an idea for The American Spirit send us an e-mail: theamericanspirit@cbsnews.com
Korczak worked at his vision until he died in 1982.
With Korczak gone, many skeptics thought his family would pack it in. Instead, they dug in, and proved they were here to stay.
They finished the chief's head first - a relatively simpler job than the horse's head. It took 10 years. But people can see the progress for miles around. Over the decades, blasting and drilling away 7 million tons of rock chiseled the chief into focus.
Guests and private donors have paid for every dime of the project.
Seven of Korczak's 10 children still work on this family's dream.
How much longer to finish? Fifty years? A hundred? Ruth, their mother and Korczak's widow, refuses to guess.
"Doesn't matter when it's finished," she said. "What matter is the work never stops and you stick with it until it's done."
This family made a commitment to America's Indians. They intend to honor it, however long it takes.
Thanks for reading CBS NEWS.
Create your free account or log in
for more features.