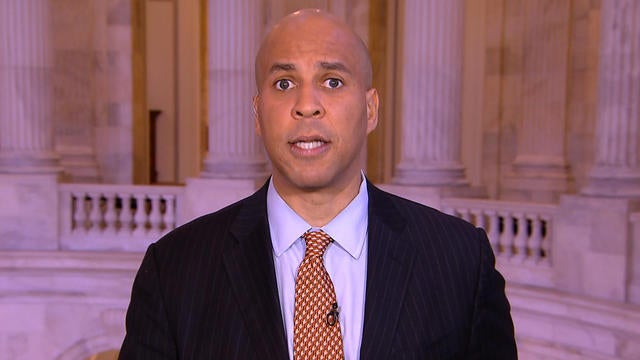 Cory Booker says DHS Secretary Kirstjen Nielsen "lied under oath" to Congress
Following his explosion at Department of Homeland Security Secretary Kirstjen Nielsen on Capitol Hill Tuesday, Sen. Cory Booker, D-New Jersey, told "CBS This Morning" that he believes Nielsen "lied under oath" and was not "telling the truth" about details surrounding a vulgar exchange during an Oval Office meeting on immigration last week.
"She was an American citizen under oath before the Senate Judiciary Committee and she pretended like she didn't remember, she couldn't remember what the President of the United States, the Commander in Chief, her boss was saying. She didn't remember Lindsey Graham, who challenged the president on his vile words yesterday," Booker said Wednesday. "It was so offensive to me that she lied under oath."
He called Nielsen's testimony "a lie" and a "sham," and he wondered, "Why would an American under oath lie? To protect their job?"
On Tuesday, when Secretary Nielsen was testifying before the Senate committee, Booker, along with several other senators, probed Nielsen about her recollection of a White House meeting on immigration in which President Trump reportedly used vulgar language about some immigrants from some countries when he was being apprised of proposed changes to the the diversity visa lottery program.
Nielsen repeatedly denied having heard Mr. Trump use the word "sh*thole," telling senators, "I did not hear that word used." She added, "I don't dispute that the president was using tough language."
A heated Booker railed against Nielsen's responses. "Your silence and your amnesia is complicity, " he told her.
He went on in an emotional plea, "When Dick Durbin called me, I had tears of rage when I heard about his experience in that meeting. And for you not to feel that hurt and that pain, and to dismiss some of the questions of my colleagues, saying 'I've already answered that line of questions,' when tens of millions of Americans are hurting right now because of what they're worried about what happened in the White House, that's unacceptable to me."
Booker commented on his heated exchange, saying, "I'm not going to take it. I did get very upset sitting there." He added, "I had to listen to her over and over again tell lies to my colleagues. I'm just not going to take it."
He argued, however, that his anger was not necessarily about the profanity used, but rather that "the president of the United States would speak in such a bigoted manner against large groups of people, large groups who are represented here in this country as our fellow America citizens."
He added, "What is the worst thing that allows bigotry and hate to proliferate is people who...stand by and do nothing when it's said. Those of us who stand by and do nothing are complicit in that ignorance."
Booker said he didn't believe Nielsen's claim that she didn't hear the president use such language, especially because the meeting took place in the Oval Office.
"When you're in that room, it's a sacred space in our country," Booker said "All your senses are heightened. You know what the president of the United States is saying, especially in heated exchanges. There's just no way I buy that."
As the federal government faces a looming shutdown amid ongoing disputes over spending, he also favors putting the bipartisan legislation written by Senators Lindsey Graham and Dick Durbin to a vote.
"If it was put on Senate floor dealing with DACA and Dreamers, it would've gotten over 70 votes, but yet they rejected that deal," said Booker of previous immigration negotiations.
He placed blame on the president for creating a "moment of jeoprady" and "crisis."
"This is the time to make a deal and get America out of this crisis," Booker said. "We all agree there's important, urgent work to do, but I, for one am not going to leave American citizens behind."
Thanks for reading CBS NEWS.
Create your free account or log in
for more features.