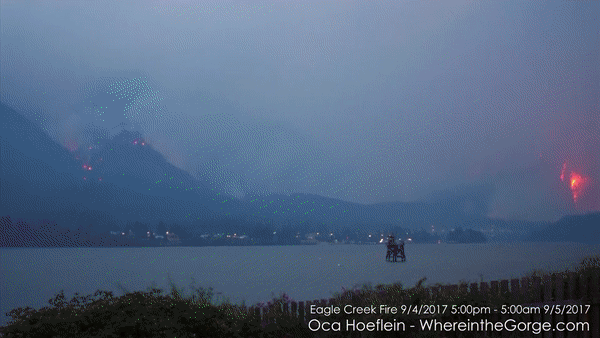 Wildfires merge into 32,000-acre blaze near Portland, Oregon
The Eagle Creek Fire and Indian Creek Fire have merged into one 32,000-acre blaze in the Columbia River Gorge, CBS affiliate KOIN-TV reports.
The Indian Creek Fire began July 4 before merging with Eagle Creek Fire, according to KOIN-TV.
The blaze was 0 percent contained early Wednesday, according to the station.
Officials say the fire destroyed a small home and four other structures and is casting a haze of smoke across the Portland metropolitan area. The National Weather Service said air quality should improve in the coming days.
The Centers for Disease Control said wildfire smoke is especially dangerous for people with heart and lung diseases like asthma, KOIN-TV reports. Officials said all people in smoky areas should avoid strenuous work, exercise outdoors or driving whenever possible.
Oregon State Fire Marshal spokesman Damon Simmons said Wednesday the buildings that were destroyed are in the same general location but he was not sure of the precise location. There were no injuries.
Evacuation notices are in place in several communities east of Portland.
KOIN-TV posted an image from NASA that shows the view from high above the wildfires in the West:
Oregon State Police Capt. Bill Fugate said the prime suspect is a 15-year-old boy who was playing with fireworks. He said evidence has been seized and the boy's parents have cooperated with detectives.
No charges have been filed.
Meanwhile, some Montana wildfires could last one more month, The Associated Press reports.
Some evacuation orders have been lifted in populated areas near Montana wildfires but many are still burning and officials said residents should be prepared for some of to last for at least another month.
After a weekend of significant fire growth across the state, cooler weather gave crews a bit of a break.
But the temperatures are expected to warm up over the rest of the week and fire officials say the fire season is far from over.
In Glacier National Park, heavy smoke from a wildfire caused poor air quality but also helped stifle the fire's growth.
In northwestern Montana, members of an Amish community evacuated before 10 homes and 30 outbuildings were destroyed.
Darinda Yoder told the Missoulian residents were able retrieve schoolbooks and desks.
Yoder says Classes will resume in a barn for the school's 27 students.
Thanks for reading CBS NEWS.
Create your free account or log in
for more features.