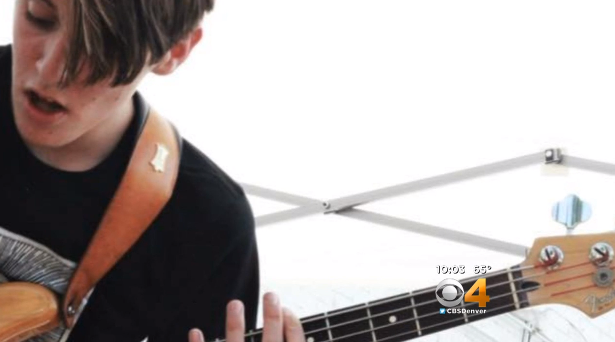 Colorado teen with peanut allergy dies after eating s'mores
LITTLETON, Colo. - A high school community in Colorado is in mourning for a teenager who died Monday from a severe allergic reaction to peanuts.
CBS Denver reports Chatfield High School in Littleton has brought in extra counselors to help students cope with the loss of 16-year-old Simon Katz, who was rushed to the hospital after taking a bite of s'mores containing peanut butter at a school homecoming event.
Simon Katz's father, David Katz, told CBS Denver that s'mores were one of Simon's favorite treats. But the teen apparently didn't realize the one he ate in the Chatfield High parking lot was made with Reese's Peanut Butter Cups. It caused him to go into anaphylactic shock.
His father said Simon regularly carried an EpiPen in his car, but that day he'd gotten a ride with friends and didn't have it with him.
When Katz began vomiting, his friends drove him home. His father said he then rushed him to a nearby emergency room, giving him shots with his EpiPen as he drove and giving him CPR in the parking lot of the hospital, but it was too late.
"He was the most high energy person I've ever met," his friend and band-mate Alex Sutton told the station.
"It's really hard dealing with knowing that a wonderful person can go for something that's as little as a peanut allergy," fellow band member Elias Williamson said.
Chatfield High is part of the Jefferson County School District, which has no districtwide rules restricting peanuts at school events, spokeswoman Michelle Balch Lyng told the Denver Post.
"At the end of the day, peanut rules in our experience in schools are pretty lax," David Katz told the paper. "School districts don't want to tell people they can't bring that in."
While food allergy deaths are rare, one expert said teenagers can face a greater risk.
"Teenagers are absolutely a higher risk for death from their food allergies. That can be for a couple of reasons. Certainly one of those we think is because they get a little less careful, so they're not as good about asking what might be in a food; they sometimes take a few more risks and try things that they shouldn't be eating," Dr. BJ Lanser with National Jewish Health said. "And they are also less likely to carry their epinephrine."
More than 3 million people in the United States have some form of nut allergy. The prevalence of food allergies in children rose 18 percent between 1997 and 2007.
About 1 in 50 school-age kids in the U.S. is allergic to peanuts. In severe cases, an allergic child can experience anaphylactic shock, a potentially life-threatening reaction that disrupts breathing and causes a sudden drop in blood pressure.
About 200 people in the U.S. die from food allergies each year.
The Jefferson County Coroner is doing an autopsy to determine if anything else played a role in Katz's death.
Chatfield High will hold a moment of silence in Katz's honor at the school's homecoming football game Friday night.
Thanks for reading CBS NEWS.
Create your free account or log in
for more features.