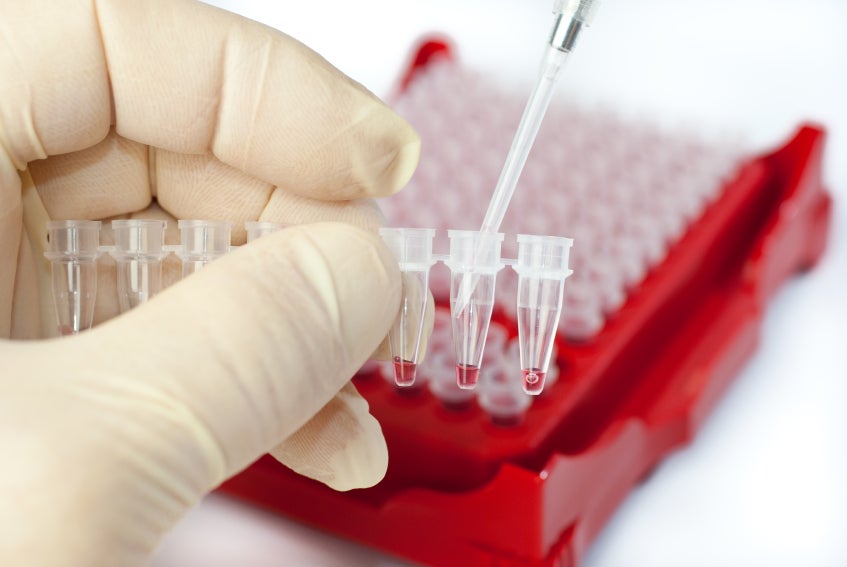 New DNA test may provide non-invasive alternative for colon cancer screening
Colon cancer screening saves lives, and now there may be an effective non-invasive option for people who skip screening because they fear a colonoscopy.
A new DNA stool test called Cologuard was found to be 92-percent effective for spotting colon cancer, and 94 percent effective at detecting early-stage cancers (I, II) when they're most curable.
"For a non-invasive test, that's pretty good, " Dr. Steven Itzkowitz. professor of medicine at the Icahn School of Medicine at Mount Sinai in New York and one of the lead researchers studying the test, told CBS News.

The test involves using a collection kit to get a stool sample at home, then shipping it to a lab that looks for DNA and blood that may suggest something is amiss. Many people may find it easier than undergoing a colonoscopy.

"It's a great new option I think," says CBS News chief medical correspondent Dr. Jon LaPook, a practicing gastroenterologist at NYU Langone Medical Center in New York. But "it's not yet perfect," he added.


The test has not yet been approved by the Food and Drug Administration, and is currently under review.

A colonoscopy is still the gold standard when it comes to colon cancer screening. A recent study found an "unprecedented" 30-percent decline in the number of colon cancer cases over the past decade, largely due to a tripling in colonoscopy use over that time among adults 50 to 75 years old.

Colonoscopy is recommended once every 10 years for adults over the age of 50.

However, about 23 million adults in that age group don't get screened at all, and a reason for some may be that the test is too invasive. The Cologuard could provide a good alternative, based on the results of the new effectiveness study.

"Many patients like to do one screening test and not worry about it for a while," said Itzkowitz. "If you only get one shot at a patient, you want that to be your best shot."

There are already some non-invasive tests on the market, including a swallowable camera pill for people who can't get a colonoscopy and the fecal immunochemical test (FIT), which involves a patient taking a stool sample, having it sent to a lab and examined for the level of blood inside it.

But that test can't differentiate between blood caused by cancer, and blood that might be from digesting undercooked meat, says LaPook.
That's where the new test serves as an improvement. The Cologuard tests the stool for altered DNA that gets shed during digestion. That appears to make it a more effective option than the FIT test (which tends to be 74 percent effective at catching cancers), Itzkowitz said, because not all cancers bleed to the point that an FIT can pick them up. The same goes for polyps that are large enough and might turn into cancer.

The Cologuard is not as effective at catching polyps as the scope of a colonoscopy: It detected about 42 percent of advanced pre-cancerous polyps and 69 percent of polyps with abnormal cells, known as high-grade dysplasia.

One potential concern with the Cologuard was there were more false positives than there are with an FIT test -- about 16 percent vs. 7 percent.

"I can tell you as a gastroenterologist that's going to be a big problem, because if the test says there's a colon cancer, it doesn't tell me where in the colon it is," LaPook explained. "I'm winding up the colon, I'm looking for this cancer, it's not there, and that's going to be highly stressful. So clearly they're going to have perfect this test a little bit more," he said.

Itzkowitz says that a false positive would only result in a patient getting the recommended colonoscopy, whereas false positives in other procedures might result in unnecessary surgeries.

"Everyone is recommended to have a colonoscopy anyway," he said. "So it would really drive people who should have gotten them in the first place."

The research into the Cologuard's effectiveness was conducted at 90 medical centers in the U.S. and Canada, including the Mayo Clinic in Rochester Minn., Mt. Sinai Medical Center in N.Y., and Indiana University School of Medicine in Indianapolis, and involved 10,000 patients.

The results were published March 19 in the New England Journal of Medicine.
Thanks for reading CBS NEWS.
Create your free account or log in
for more features.