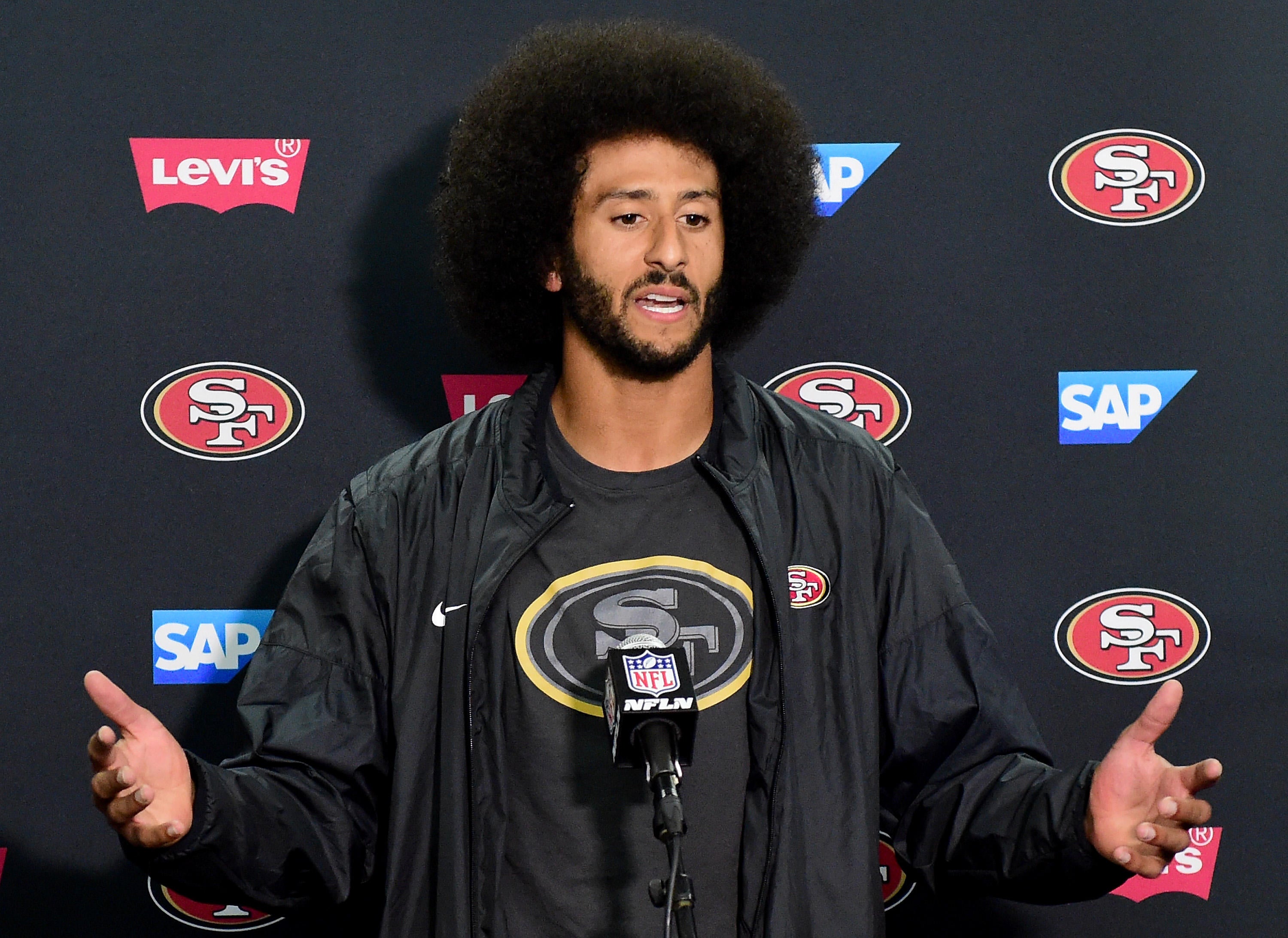 Nike shoes burned, defaced over Colin Kaepernick's "Just Do It" ad
Nike's decision to add Colin Kaepernick to its long-running "Just Do It" marketing campaign is raising the ire of some customers.
Kaepernick is known for kneeling during the national anthem to bring attention to racial injustice, a move that maintains cost him his career. Dozens of other players and cheerleaders also kneeled during the anthem, spurring criticism from President Trump.
Some Nike customers criticized the endorsement deal with Kaepernick, with several saying on Twitter that they will boycott the company. Others posted photos and videos of Nike products burning.
Country musician John Rich said on Twitter that his soundman was cutting off the Nike logo from his socks in protest, although it was not clear if the swoosh-less socks would continue to be worn.
Shares of the shoe and apparel giant dropped $2.60, or 3.2 percent, to $79.60 on Tuesday.
Others said that the negative reactions to Nike's ad proved that civil protest was still necessary. Nike, which has enjoyed an enviable run-up in its stock this year, can afford to take political positions, others said.
Nike is certainly provoking debate by hiring Kaepernick, according to GlobalData Retail managing director Neil Saunders, who noted the risks of a company getting involved in a "highly politicized" issue. Marketing campaigns typically aim to generate positive buzz, rather than engaging in ways that may divide consumers.
"This means it could ultimately alienate and lose customers, which is not the purpose of a marketing campaign," Saunders said in a report. "Although the company's stand may go down well on its native West Coast, it will be far less welcome in many other locations."
Despite slipping ahead of markets opening in the U.S., Nike shares are up more than 30 percent this year through the close of trade Friday.
Previous Nike deal
President Trump, a frequent critic of protesting NFL players, told the conservative website The Daily Caller that Nike is sending a "terrible message" by hiring Kaepernick. Mr. Trump in the past has loudly urged the league to suspend or fire players who demonstrate during the anthem, repeatedly diving into what has developed into one of the most contentious debates in the sports world.
"Nike is a tenant of mine. They pay a lot of rent," he said, referring to Nike's store located in a building managed by the Trump Organization. (Nike has been planning to move its store to another location, according to Business Insider.)
Mr. Trump added, ""In another way, it is what this country is all about, that you have certain freedoms to do things that other people think you shouldn't do, but I personally am on a different side of it."
Kaepernick's attorney Mark Geragos announced the endorsement deal on Twitter, calling Kaepernick an "All American Icon." Kaepernick also posted a Nike ad featuring his face and wrote: "Believe in something, even if it means sacrificing everything. #JustDoIt"
Kaepernick already had a deal with Nike that was set to expire, but it was renegotiated into a multiyear deal to make him one of the faces of Nike's 30th anniversary "Just Do It" campaign, according to a person familiar with the contract. The person spoke to The Associated Press on condition of anonymity because Nike hasn't officially announced the contract.
Divisive issue
Anthem-kneeling is one of the most divisive issues for a brand to address, according to a new survey from Morning Consult, a survey and research firm.
About 33 percent of Americans say they are more likely to view a brand favorably if it supports the right for protesters to kneel during the anthem, but they're outweighed by the 38 percent who said they're less likely to view the brand in a positive light.
Yet those views can depend on demographics, with the research company finding that Mr. Trump voters are most likely to object to brands who support anthem-kneelers. About seven out of 10 Mr. Trump voters said they'd spend less money with a brand that supports the issue.
On the other hand, Nike may not be targeting Mr. Trump supporters, given that fashion and athletic brands tend to target younger and more diverse demographics.
"There's no doubt that they will alienate some customers but I have no doubt that they'll come out of this short-term pain a much more vibrant brand with an even more passionate customer base," said Peter Horst, a marketing executive and the author of "Marketing in the #FakeNews Era," in an emailed statement.
The Associated Press contributed to this report.
Thanks for reading CBS NEWS.
Create your free account or log in
for more features.