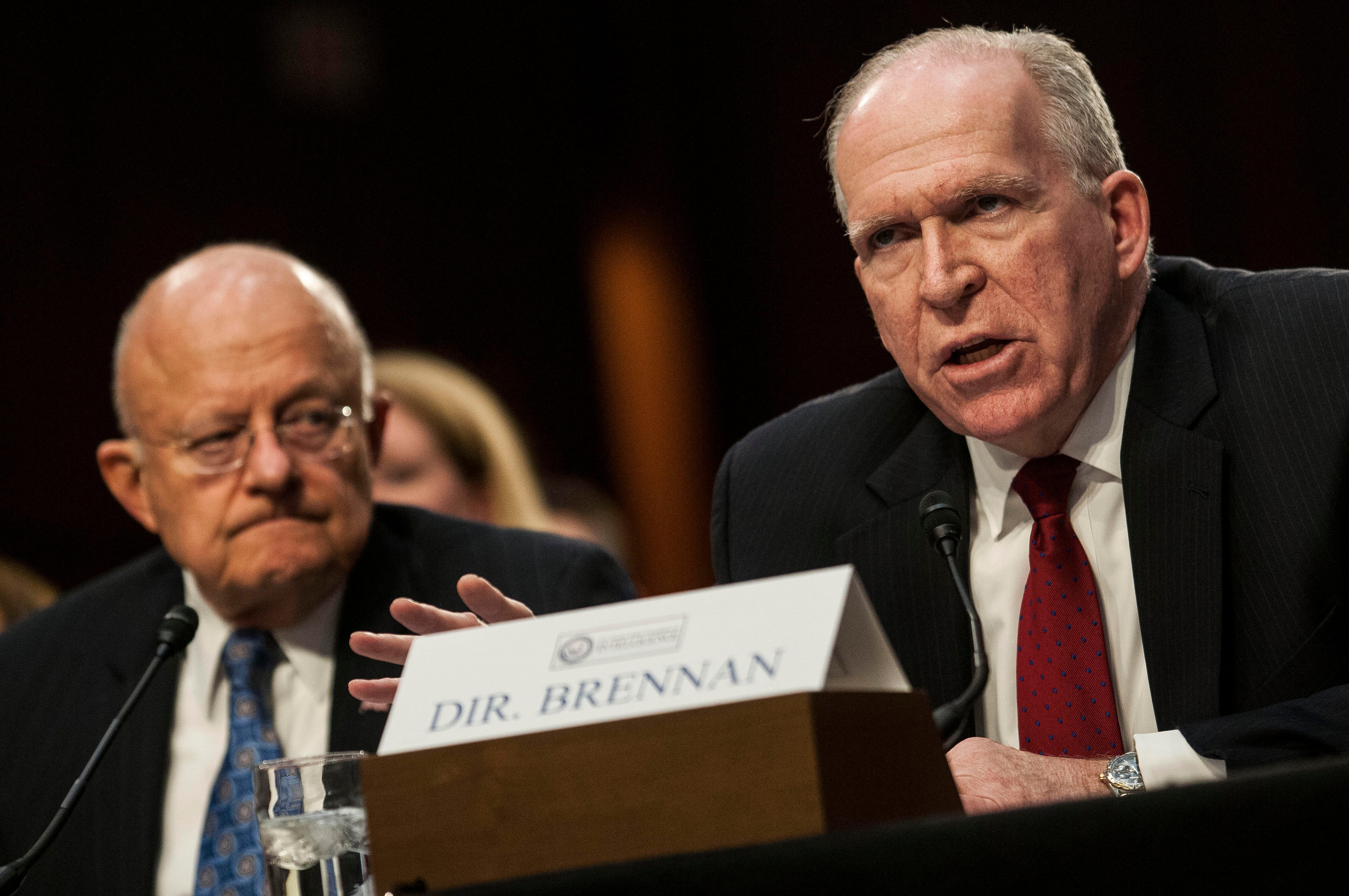 Clapper, Brennan slam Trump over comments on Russian election meddling
Former Director of National Intelligence James Clapper and former CIA Director John Brennan slammed President Trump on Sunday following comments he made over the weekend about Russian meddling in the 2016 U.S. election.
While in Asia, Mr. Trump said he believes Russian President Vladimir Putin is sincere when he says he didn't interfere in the vote.
"Putin is committed to undermining our system, our democracy, and our whole process. And to try to paint it in any other -- any other way is, I think, astounding and, in fact, poses a peril to this country," Clapper said on CNN's "State of the Union" Sunday.
"The Russians do not harbor good intentions toward the United States, and there shouldn't be any illusions or any ambiguity about that. And our president -- the president fosters that ambiguity," Clapper added.
The comments also came after Mr. Trump dismissed both Clapper and Brennan on Saturday, calling the two -- along with former FBI Director James Comey -- "political hacks," and saying there are plenty of reasons to be suspicious of their findings with regard to the Russia investigation.
"I mean, give me a break. They're political hacks," Mr. Trump said, mentioning Clapper, Brennan and Comey by name. Mr. Trump also said Comey was "proven now to be a liar and he's proven to be a leaker."
Mr. Trump has since made additional remarks about Russian interference in the 2016 election, saying he believes U.S. intelligence agencies, which have concluded Russia meddled in the election.
Brennan, appearing on CNN in the same segment, said that "impugning" the character of someone like Jim Clapper -- on Veterans Day -- "who has dedicated so much of his life to this country" is "outrageous," adding, "it's something that I -- I think that Mr. Trump should be ashamed of, but it doesn't seem as though anything he does, he feels any shame whatsoever."
When asked why Mr. Trump has been willing to defend leaders like Putin, the two said they believe Mr. Trump is susceptible to the trappings that come with the presidential office.
"I think, you know, he seems very susceptible to rolling out the red carpet and honor guards and all this, all the trappings and pomp and circumstance that come with the office. And I think that -- that appeals to him, and it -- I think it plays to his insecurities," said Clapper.
Brennan echoed that sentiment, saying "I think Mr. Putin is very clever in terms of playing to Mr. Trump's interest in being flattered. And, also, I think Mr. Trump is, for whatever reason, either intimidated by Mr. Putin, afraid of what he could do or what might come out as a result of these investigations."
He added, "By not confronting the issue directly, and not acknowledging to Putin that we know that you're responsible for this, I think he's giving Putin a pass. And I think it demonstrates to Mr. Putin that Donald Trump can be played by foreign leaders who are going to appeal to his ego and to try to play upon his insecurities, which is very, very worrisome from a national security standpoint."
Brennan predicted that Mr. Trump's persistent badgering of the press and the intelligence community could also have a negative impact on lawmakers' and the special counsel's ongoing probes into Russian interference in the 2016 election.
"I just know that he has been very determined to try to delegitimize any effort to come up with the truth in terms of this investigation. His attacks on the intelligence community, on the assessment, the attacks on the media, this is an effort to, again, try to undermine those quarters that could pose a serious threat to him," said Brennan.
Thanks for reading CBS NEWS.
Create your free account or log in
for more features.