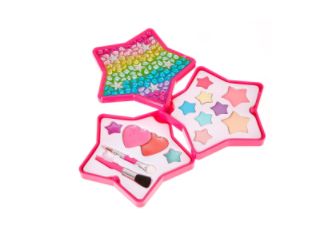 Claire's pulls makeup for kids amid asbestos concerns
The retail chain Claire's is pulling several items from store shelves amid concerns that some of their makeup products for kids may be tainted with asbestos.
According to CBS affiliate WPRI, a Rhode Island mother, who also works at a law firm specializing in asbestos litigation, decided to have the glittery makeup she purchased for her daughter tested at a lab. She claims the makeup came back positive for asbestos, which has been linked to lung cancer, mesothelioma and other types of cancer.
After the initial test, WPRI reports more makeup kits were sent for testing from Claire's stores in nine states, and all of the samples tested positive.
The company put out a statement on Twitter saying in part: "We have retained an independent laboratory to test the cited products in order to determine whether the recent news reports are accurate. In the interim we have stopped sales of the products and are issuing full refunds to concerned customers."
The company issued an update on Friday. "The initial results of testing by an independent certified laboratory show that the cosmetics tested to date are asbestos free," Claire's said in a statement. "Out of an abundance of caution, additional testing is underway. We have also confirmed that the talcum ingredient supply is from a certified asbestos free European vendor. We will continue to honor returns for any customers remaining uncomfortable."
The products listed are:
Ultimate Mega Make Up Set, code 71844
Metallic Hot Pink Glitter 48 Piece Makeup Set, code 76094
Pink Glitter Cellphone Makeup Compact, code 26556
Bedazzled Rainbow Heart Makeup Set, code 11767
Rainbow Bedazzled Star Make Up Set, code 20926
Rainbow Glitter Heart Shaped Makeup Set, code 97275
Mint Glitter Make Up Set, code 74769
Rainbow Bedazzled Rectangle Make Up Set, code 21044
Pink Glitter Palette with Eyeshadow & Lip Gloss, code 97276
Thanks for reading CBS NEWS.
Create your free account or log in
for more features.