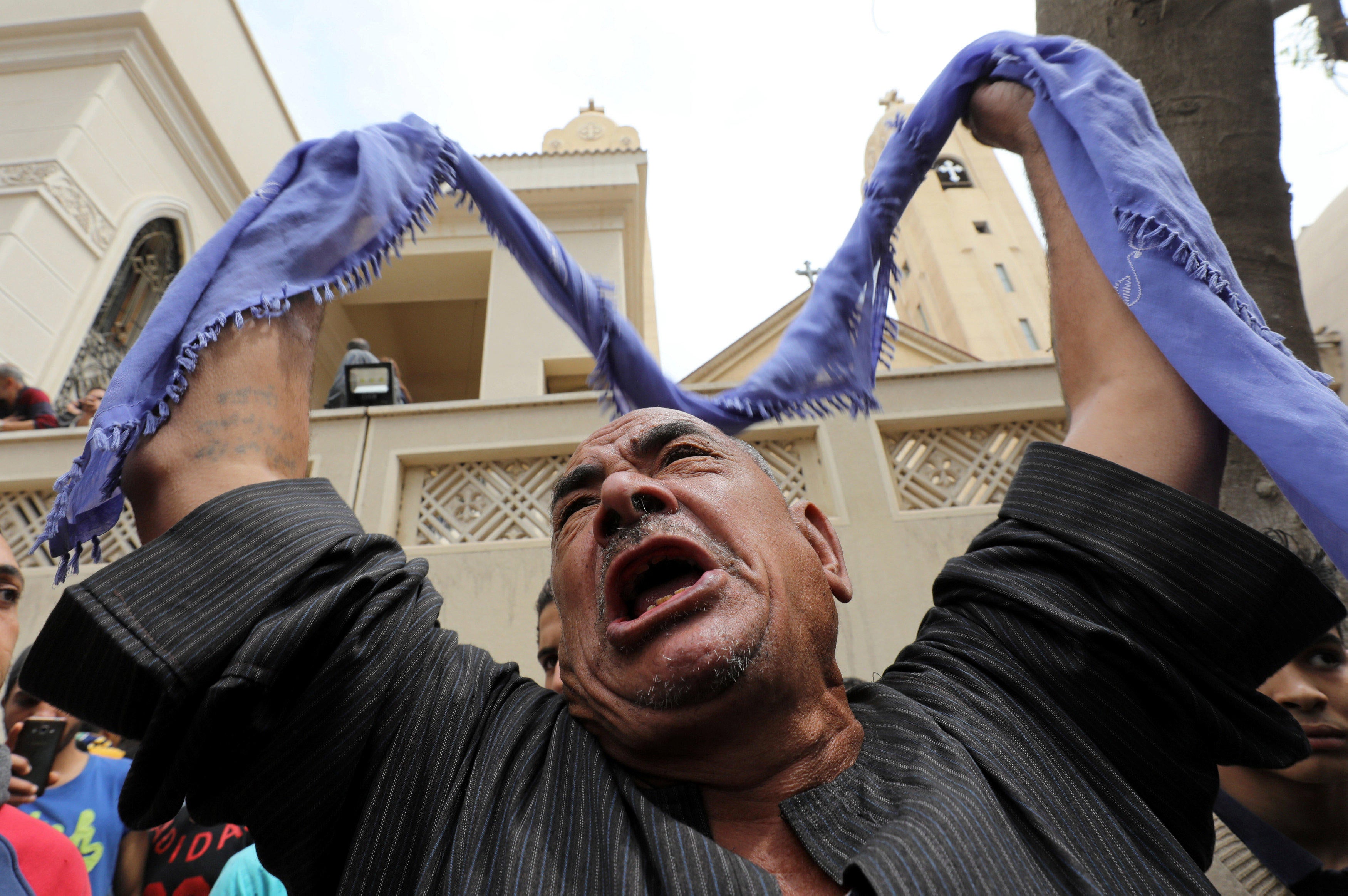 Church bombings kill dozens in Egypt on Palm Sunday
CAIRO -- Suicide bombers struck hours apart at two Coptic churches in northern Egypt, killing 44 people and turning Palm Sunday services into scenes of horror and outrage at the government.
It was the single deadliest day for Christians in decades and the worst since a bombing at a Cairo church in December killed 30 people.
The Islamic State of Iraq and Syria (ISIS) claimed responsibility for the violence, adding to fears that extremists are shifting their focus to civilians, especially Egypt's Christian minority.
The attacks in the northern cities of Tanta and Alexandria also left 126 people wounded, and they came at the start of Holy Week leading up to Easter, and just weeks before Pope Francis is due to visit.
Pope Tawadros II, the leader of the Coptic church, was in the Alexandra cathedral at the time of the bombing there but was unhurt, the Interior Ministry said.
Late Sunday night, President Abdel-Fattah el-Sissi called for a three-month state of emergency. According to Egypt's constitution, parliament must vote in favor of such a declaration -- a virtual certainty since it is packed with supporters of the president. It cannot exceed six months without a referendum to extend it.
The army chief-turned-president also dispatched elite troops across the country to protect key installations and accused unidentified countries of fueling instability, saying that "Egyptians have foiled plots and efforts by countries and fascist, terrorist organizations that tried to control Egypt."
The attacks highlighted the difficulties facing el-Sisi's government in protecting Christians, who make up about 10 percent of Egypt's population.
"Where is the government?" screamed an angry Maged Saleh, who rushed to the church in the Nile Delta city of Tanta where his mother escaped the carnage. "There is no government!"
The first bomb exploded inside St. George's Church in Tanta, killing at least 27 people and wounding 78, officials said, overturning pews, shattering windows and staining the whitewashed walls with blood.
Video from inside the church broadcast by CBC TV showed people gathered around what appeared to be lifeless, bloody bodies covered with papers.
"After the explosion, everything became dark from the smoke," said Edmond Edward, attending Mass with his brother, Emil, who suffered head wounds and leaned on him for support at a nearby hospital.
"There was a clear lapse in security, which must be tightened from now on to save lives," he told The Associated Press. The blast appeared to be centered near the altar, he said.
Hundreds of residents gathered in the area, and church members blocked people from entering the church as police cordoned off the area.
A few hours later, a suicide bomber rushed toward St. Mark's Cathedral in the coastal city of Alexandria, the historic seat of Christendom in Egypt, killing at least 17 people and wounding 48. CCTV images showed a man with a blue sweater tied over his shoulders approaching the main gate to St. Mark's and then being turned away by security and directed toward a metal detector. He passed a female police officer talking to another woman, and entered a metal detector before an explosion engulfed the area.
The Health Ministry said six Muslims were among the dead in Alexandria.
ISIS said in a statement that two Egyptian suicide bombers, Abu Ishaq al Masri and Abu al Baraa al Masri, carried out the church attacks and vowed to continue attacks against Christians.
The U.S. State Department condemned in the strongest terms what it called "barbaric attacks."
"So sad to hear of the terrorist attack in Egypt," U.S. President Donald Trump tweeted on Sunday, adding that he is confident that Egyptian President Abdel Fattah el-Sisi will "handle" the situation properly.
El-Sisi said in a statement that Sunday's attacks would only strengthen the resolve of Egyptians against "evil forces." Earlier, Egypt's Prime Minister Sherif Ismail said the state will resume efforts to eradicate terror, Egypt's state news agency MENA reported.
"Terrorism hits Egypt again, this time on Palm Sunday," Ahmed Abu Zeid, spokesperson for Egypt's Ministry of Foreign Affairs, tweeted. "Another obnoxious but failed attempt against all Egyptians."
Grand Sheikh Ahmed el-Tayeb, head of Egypt's Al-Azhar -- the leading center of learning in Sunni Islam -- also condemned the attacks, calling them a "despicable terrorist bombing that targeted the lives of innocents."
Both Israel and the Islamic Hamas movement ruling neighboring Gaza condemned the bombings as well.
Regional police chief Brig. Gen. Hossam Elddin Khalifa was fired over the Tanta bombing, with Maj. Gen. Tarek Hassouna replacing him, state-run newspaper al-Ahram reported.
Pope Francis, marking Palm Sunday in St. Peter's Square, decried the bombings, expressing "deep condolences to my brother, Pope Tawadros II, the Coptic church and all of the dear Egyptian nation." The pontiff asked God "to convert the hearts of those who spread terror, violence and death, and also the hearts of those who make, and traffic in, weapons."
Egypt has struggled to combat a wave of Islamic militancy since the 2013 military overthrow of an elected Islamist president. An ISIS affiliate based in Egypt's Sinai Peninsula has mainly attacked police and soldiers, but has also claimed bombings including the downing of a Russian passenger jetliner in the Sinai in 2015, which killed all 224 people aboard and devastated Egypt's tourism industry.
Egypt's Christian minority has been repeatedly targeted by Islamic extremists.
In December, a local Islamic State affiliate claimed a suicide bombing at a church in Cairo that killed around 30 people, mostly women, as well as a string of killings in the restive Sinai Peninsula that caused hundreds of Christians to flee to safer areas of the country.
Thanks for reading CBS NEWS.
Create your free account or log in
for more features.