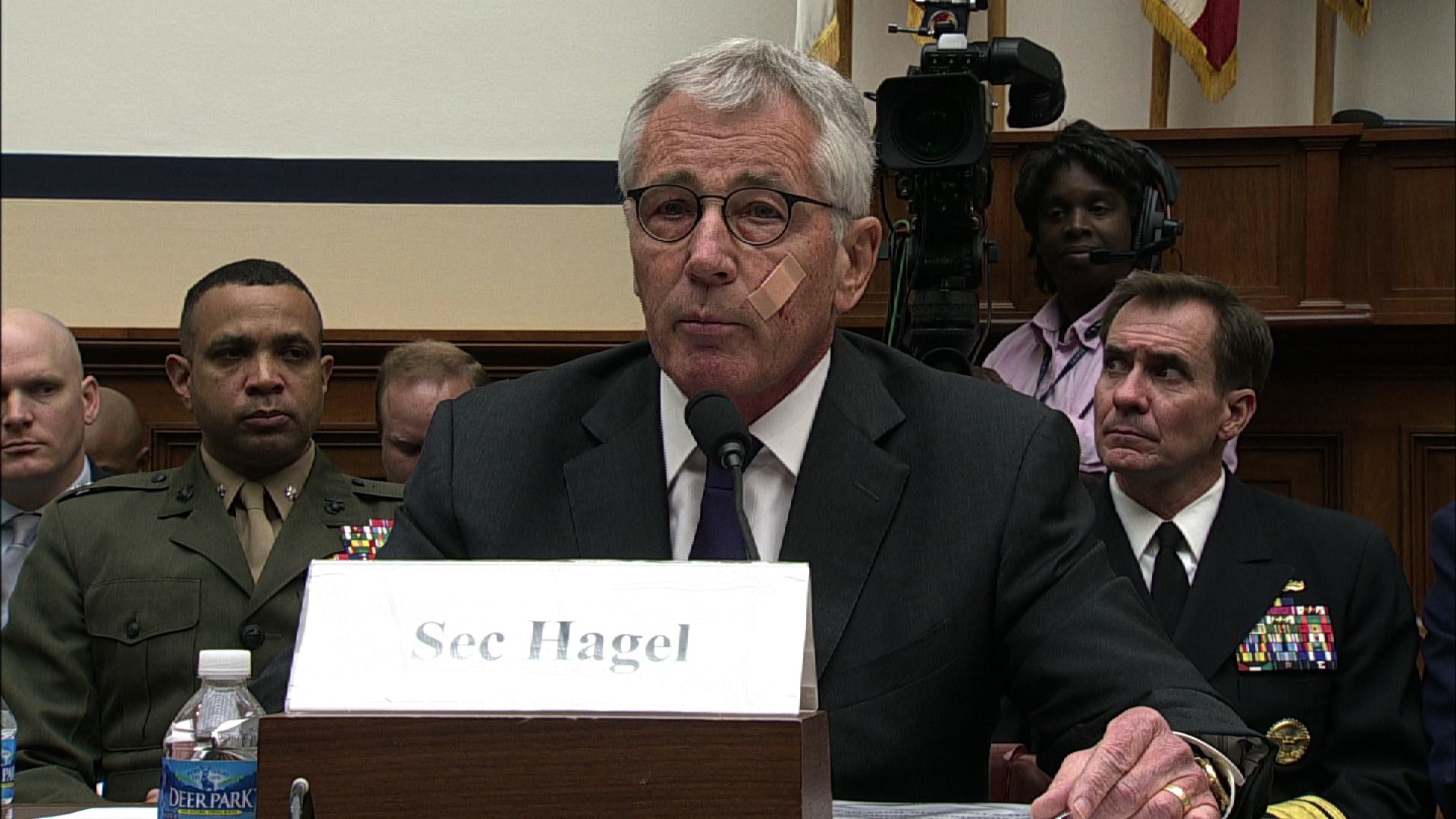 Chuck Hagel touts progress in the fight against ISIS in Iraq
Defense Secretary Chuck Hagel touted progress in the fight against the Islamic State of Iraq and Syria (ISIS) on the Iraq side of the border, but indicated the U.S. still faces an uphill battle in Syria.
Hagel testified before Congress Thursday to provide an update on the military operation and to advocate for the administration's request of an additional $5.6 billion to pay for it in the 2015 fiscal year. Most of that money--$3.4 billion--would support the ongoing military actions, and another $1.6 billion would be used to help train and equip Iraqi Security Forces.
"We will succeed only with the strong support of Congress and the strong support of this committee," Hagel said, according to his prepared remarks. "Since I testified before this committee two months ago, our campaign against ISIL has made progress. ISIL's advance in parts of Iraq has stalled, and in some cases been reversed, by Iraqi, Kurdish, and tribal forces supported by U.S. and coalition airstrikes."
Twelve difference nations have helped carry out more than 140 airstrikes in Iraq and Syria. Other coalition partners are providing tankers, command control, intelligence, surveillance and reconnaissance aircraft, and they have pledged hundreds of personnel to help train and support Iraqi fighters.
According to Hagel, the airstrikes have hit ISIS' command control structures, its leaders, revenue sources, supply lines and logistics. This has forced the fighters to start moving in smaller groups, change the the way they communicate, and move their larger equipment.
"Sustaining this pressure on ISIL will help provide time and space for Iraq to reconstitute its forces and continue going on the offense. This pressure is having an effect on potential ISIL recruits and collaborators, striking a blow to morale and recruitment. And as Iraqi forces build strength, the tempo and intensity of our coalition's air campaign will accelerate in tandem."
Still, Hagel said the military remains "sober" about the challenges of fighting ISIS in the midst of Syria's raging civil war.
The mission to train and equip moderate Syrian rebels, which was approved by Congress in September, will not begin to make a difference on the ground for another eight to 12 months, the defense secretary said.
"We know the opposition will continue to face intense pressure in a multi-front battle space, and we are considering options for how U.S. and coalition forces can further support these forces once they are trained and equipped. Our strategy in Syria will demand time, patience, and perseverance to deliver results. We cannot accomplish our objectives in Syria all at once," he said.
Hagel wore a bandage covering much of his left cheek while he testified. CBS News National Security Correspondent David Martin reported that he scratched it on a kitchen cabinet, but did not require stitches.
Thanks for reading CBS NEWS.
Create your free account or log in
for more features.