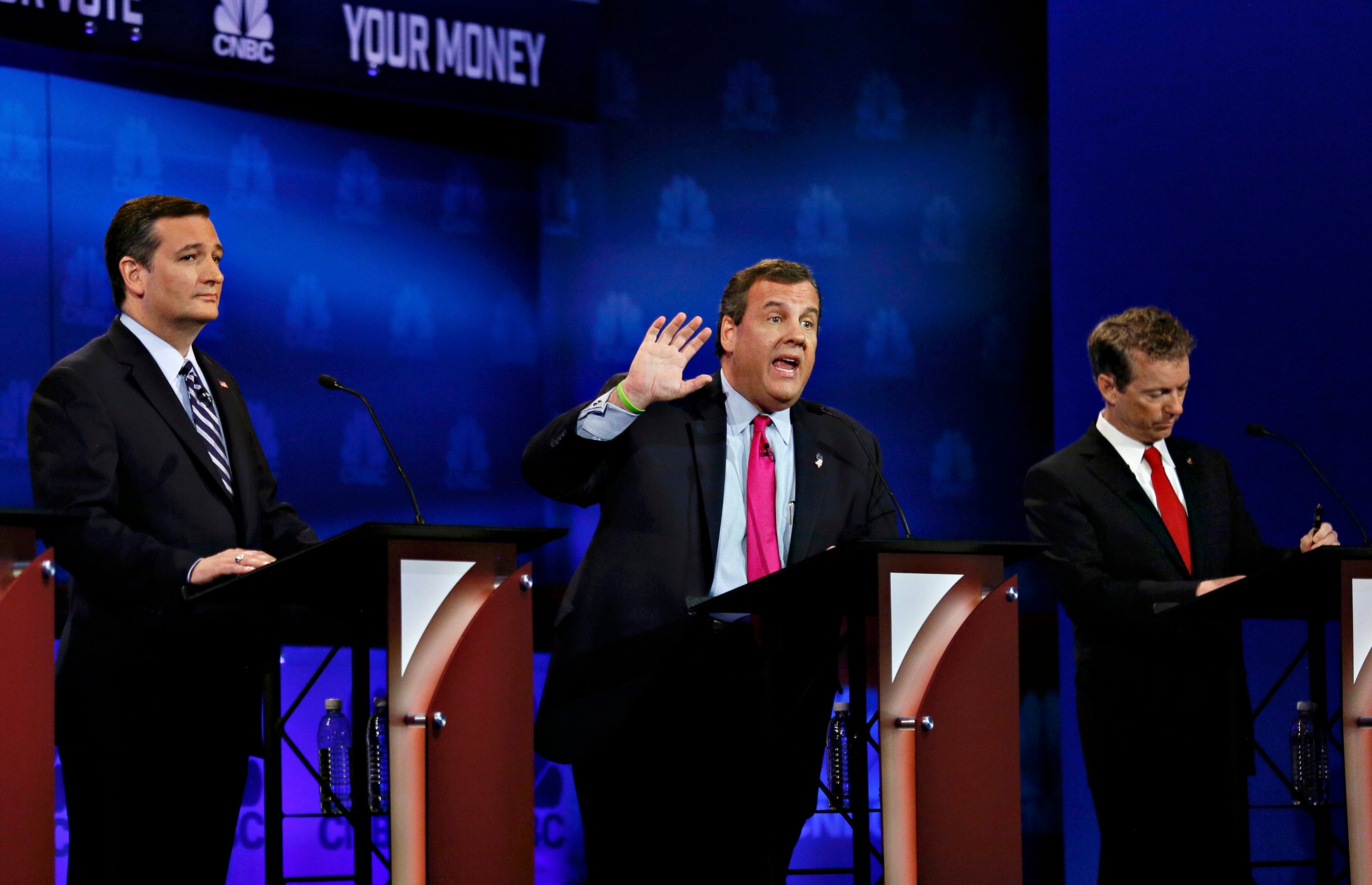 Chris Christie annoyed by fantasy football question at Republican debate
Chris Christie grew impatient with the CNBC moderators after a question about fantasy football came up in the third GOP debate.
He burst out, "Are we really talking about getting the government involved in fantasy football? We have - wait a second - we have 19 trillion dollars in debt, we have people out of work, we have ISIS and al Qaeda attacking us, and we're talking about fantasy football. Can we stop?"
The audience cheered, and he concluded, "Enough on fantasy football - let people play. Who cares?
When moderator John Harwood tried to interrupt him, Christie retorted, "Even in New Jersey what you're doing is called rude."
The question, about daily fantasy sports websites, like Fanduel and Draftkings, was actually directed at Bush, who was happy to talk about his own team.
"I'm 7-0 in my fantasy football league. Gronkowski is still going strong," Bush joked. But he also suggested that online fantasy football websites may be growing quickly into a form of online gambling. "Effectively, it's day trading without any regulation at all," he said. Or worse, the industry has lately the use of big data by some players to gain an unfair advantage and win large sums of money in online contests.
Some on Christie's own staff may have been pleased to hear him defend the pastime -- fantasy football as campaign metaphor even made it into a fundraising email pitch. A few weeks ago, in late September, an email for "Team Christie" was sent out by his campaign.
"This is a friendly reminder to double check and submit your lineup before the start of the Giants ... game tonight at 8:25 p.m.," the email read, going on to say, "A double reminder that you need to pick your 2016 lineup! As you saw in the last debate, Team Christie is on offense, and we need your help to keep moving the ball down the field," and it asked donors to "[v]isit www.chrischristie.com/donate and chip in to set up your 2016 lineup with Team Christie today!"
Thanks for reading CBS NEWS.
Create your free account or log in
for more features.