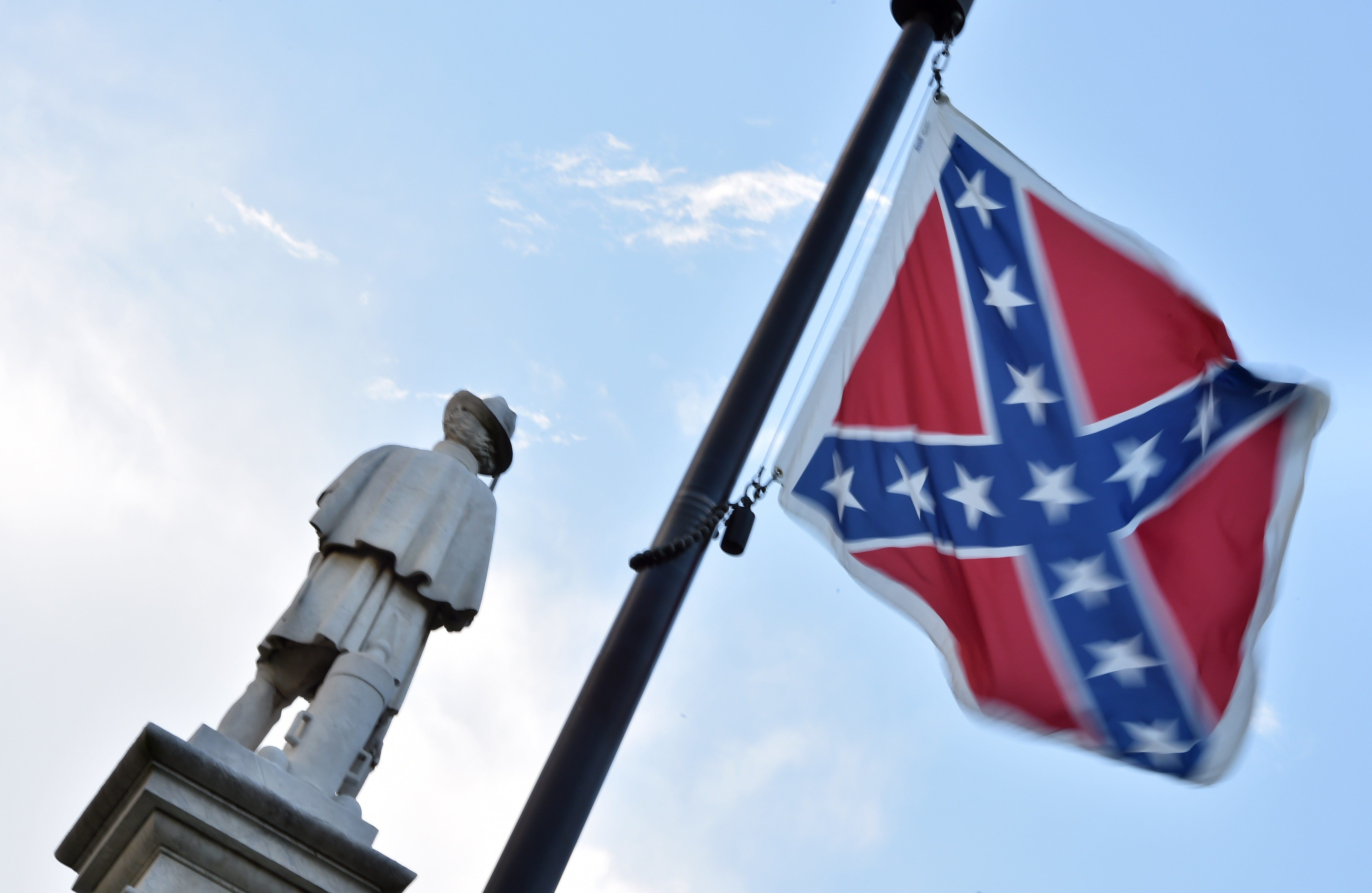 Amazon's Confederate flag sales skyrocket
Even as national retailers pull Confederate flags from shelves and websites after the shooting deaths of nine black church members in Charleston, South Carolina, manufacturers that produce the divisive symbol said that sales were surging.
On Tuesday afternoon, five of the six items on Amazon.com's "movers and shakers" list in the Patio, Home and Garden category were Confederate flags. Sales of the most popular flag in the category had risen 8,800 percent in the last 24 hours.
However, Amazon shoppers were no longer able to buy them -- or any merchandise featuring the Confederate flag. That was because Amazon joined a growing list of retailers to say it would no longer sell Confederate flag merchandise. eBay, Target, Sears and Etsy also pulled products from their websites.
The wave of merchandise bans came a day after Walmart said that it would remove all Confederate-themed items from its store shelves and website. Other national retailers said they do not sell, or never have sold, Confederate items.
Photos have surfaced showing Charleston shooting suspect Dylann Storm Roof posing with the flag. The 21-year-old has been charged with nine counts of murder.
Asked about the retailers pulling flags from stores, White House Press Secretary Josh Earnest said those are "decisions for individual businesses to make." He added that the businesses' decisions were consistent with the president's position.
"We welcome those decisions but obviously those are decisions that should be made by individual businesses," Earnest said.
The red-white-and-blue Confederate battle flag represents racism to many, and southern heritage to others. The debate over its place exploded after the church shootings. South Carolina Gov. Nikki Haley said Monday that the flag should be removed from the Statehouse grounds. Other states are considering similar moves to take down the flag from buildings and license plates.
While the Confederate flag represents a small slice of their business, those that produce them say they have no plans to stop.
Pete Van de Putte said sales of Confederate flags are surging at his Dixie Flag Manufacturing in San Antonio, Texas. He said he has sold more flags in the last couple days than they would have typically sold over a couple of months.
"Any time there is a controversy about any flag, we sell more flags," he said. "It's not like selling tires or washing machines.
"When people come in here, they're buying their national pride, their ethnic origin... so people are naturally passionate about the product."
"I don't sell the Confederate flag for any specific group, I just sell the flag," said Kerry McCoy, owner and president of Arkansas' FlagandBanner.com. "This is America. Everybody has a right to be represented whether you are a history buff or a nut."
McCoy said her company expects to sell about 50 of the flags over the next week. That's about half of what they typically sell in a year.
Both Van de Putte and McCoy say American flags are their most popular products. McCoy said most of the Confederate flags she sells are lower-quality items not meant to fly outside every day. She said residents of California easily buy the most of any state.
"They're more for a dorm room or a gag gift," she said. "I don't know anybody that flies the Confederate battle flag on their flag pole outside their business. I mean, who would do that?"
Van de Putte's inventory also includes novelty flags and banners from the military and countries like North Korea. He estimates that nearly every flag in his store could be seen as objectionable by someone.
Likewise, McCoy said she frequently gets pressure she resists to stop making gay pride flags or even flags that represent political parties.
"I'm not here to judge who does what with their flag, I'm just here to provide for America," McCoy said.
Thanks for reading CBS NEWS.
Create your free account or log in
for more features.