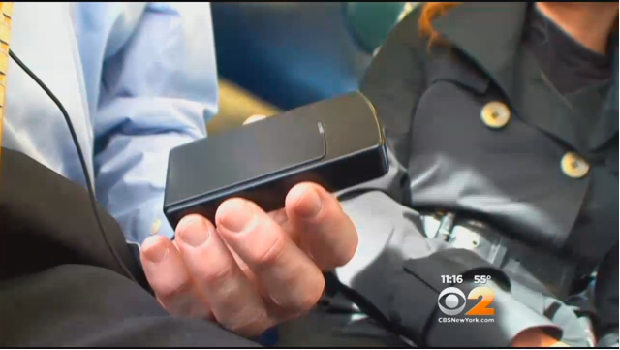 Cell phone jammers illegally silence annoying calls
Ever get annoyed at other people talking loudly on the phone and disturbing your morning commute? Turns out there is a way you could put an end to those calls -- but it is illegal and can cause serious safety problems for others.
A controversial device simply and aptly called a cell phone jammer can silence cell phones, CBS New York's Mary Calvi reports.
"There was a lot of noise, constant, constant discussions, people telling each other what they were having for dinner, what they did for the weekend, and it got tiresome," one commuter said. That is where the cell phone jammer comes in.
He decided to put a stop to it, interrupting phone signals with the device. "You ask them nicely if you could keep it down a little bit, and they don't, then we cut them off," he said.
Because jammers are illegal, he asked to keep his identity hidden.
Although the man says he is not worried about getting caught, the Federal Communications Commission has harsh penalties for people who jam others' cell phones and GPS equipment. Those penalties can run in excess of $100,000 and include jail time.
Despite its illegal status in the U.S., Canada, the United Kingdom and other countries, jammers are available for purchase on the web, and you can even check out how they work on YouTube.
Criminologist Joseph Giacalone explained why cell phone jammers are problematic.
"They can interrupt 911 calls, they can interrupt police radios, transit radios," he said.
These dangerous, however, do not seem to discourage people from buying them.
"As an example, a lot of employers will call looking for cell phone jammers so their employees aren't on the phone all the time," explained Yatri Trivedi of spytecinc.com.
Some devices knock out phones in shorter ranges of about 15-feet, while others can disrupt an entire cell tower, and there are apparently a number of people using them.
"I don't pay $400 a month just to hear people yapping on the phone for 20 minutes straight," the anonymous commuter said.
The FCC recently levied a $48,000 fine against a man in Florida who was caught driving with a high-powered cell phone jammer in his car. Interestingly, the man said he used the device because he wanted to stop other drivers from talking while driving.
Thanks for reading CBS NEWS.
Create your free account or log in
for more features.