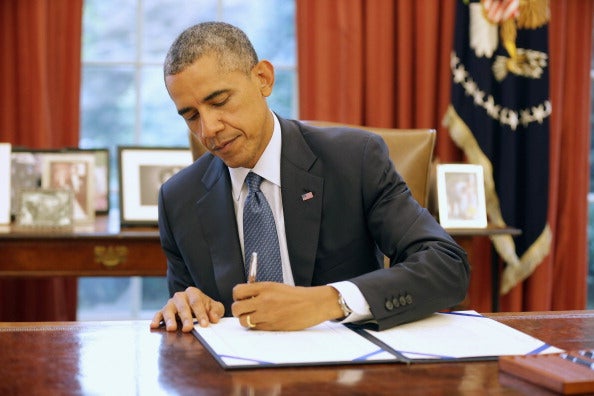 Obama signs bill "unlocking" cell phones
WASHINGTON -- President Barack Obama signed a bipartisan bill into law Friday that aims to make it easier for consumers to change their cell phone service providers without paying for a new phone.
The bill, known as the Unlocking Consumer Choice and Wireless Competition Act, reverses a decision made by the Library of Congress two years ago that said it was illegal for consumers to "unlock" their cell phones for use on other networks without their service provider's permission. That means that providers like AT&T or Verizon could legally keep a consumer's phone "locked," in which case the person would face large costs switching carriers or attempting to link to other carriers overseas while traveling.
Rep. Bob Goodlatte, R-Va., and Sen. Patrick Leahy, D-Vt., sponsored the act, which easily sailed through Congress last week. Mr. Obama has been a longtime supporter of the act, especially after a White House petition asking the president to "champion a bill that makes unlocking permanently legal" garnered over 114,000 signatures. An online response to the petition from the Administration states that the White House not only agrees with the petitioners but also supports unlocking other portable devices, like tablets.
"The bill Congress passed today is another step toward giving ordinary Americans more flexibility and choice so they can find a cell phone carrier that meets their needs and their budget," President Obama said in a statement last week.
Consumer groups are celebrating the passage of the act as well.
"This bill ensures that consumers will be able to do what they rightfully expect to be able to do with phones they have purchased: use them on whatever network they like," Laura Moy, an attorney at advocacy group Public Knowledge, stated after last week's votes. "It protects consumers who unlock their devices from possible criminal and civil liability under an overreaching copyright law known as the Digital Millennium Copyright Act (DMCA), which was designed to protect copyright but has had enormous unintended consequences."
Moy added that the bill will also "keep millions of devices out of landfills."
Under the 1998 Digital Millennium Copyright Act, the Library of Congress has the power to review copyright exceptions, including whether consumers can unlock their cell phones, every three years. In 2006 and 2010 cell phone unlocking was renewed as an exception to DMCA, meaning it was legal. But in 2012, the renewal was rejected, sparking the petition and later the bill.
But despite overwhelming support for the bill the president signed today, it may not be anything more than a temporary fix.
That's because the Library of Congress will still have the power to determine whether consumer choice in cell phone unlocking is legal next year, at which point the Copyright Office could restore the ban. That's led Rep. Zoe Lofgren, D-Calif., to propose another bill that would make it permanently legal.
With support for cell phone unlocking coming from the president, Congress, and the Federal Communications Commission (FCC), though, the Library of Congress may change their position anyway. In a March 2013 response to the online petition, the Library acknowledged that "the question of locked cell phones has implications for telecommunications policy" and "it would benefit from review and resolution."
And besides being temporary, the new law may also be redundant. Cell phone carriers under pressure from FCC Chairman Tom Wheeler already agreed to unlock phones after the expiration of contracts and said they would unlock prepaid cell phones one year after they were activated.
Additionally, just because cell phone unlocking is legal does not mean it will be easy to switch carriers. According to CNET, not all wireless operators use the same network technologies or the same radio frequencies for services. AT&T and T-Mobile use a technology called GSM, which can be used abroad by changing to a different SIM card. But Verizon and Sprint use a different technology, called CDMA, which doesn't even use a SIM card.
"Even though the new law is an easy one to rally around," CNET concludes, "it's not likely to have a major effect on the industry since most wireless operators unlock devices when asked by their customers anyway."
Thanks for reading CBS NEWS.
Create your free account or log in
for more features.