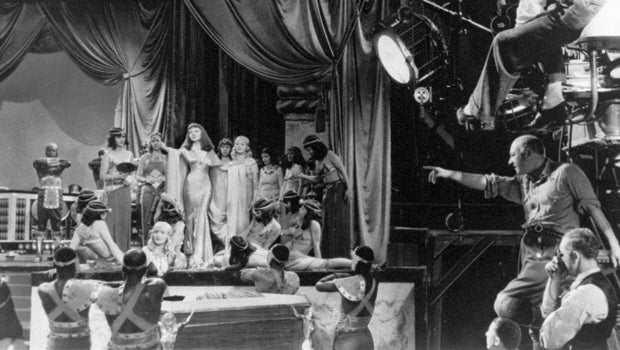 ​Cecil B. DeMille, showman of the movies
It's time for Cecil B. DeMille's closeup, courtesy of Rita Braver:
He was the very definition of a big-time Hollywood producer-director in the first half of the 20th century. Making more than 70 movies in a career that spanned 40 years, Cecil B. DeMille understood the magic of films, from intimate moments to huge extravaganzas -- literally employing casts of thousands both on-screen and behind-the-scenes.
"He was kind of like a modern-day Medici," said Cecilia DeMille Presley, Cecil's granddaughter. "He surrounded himself with the people that he thought had great drama and great talent, and let them go."

Braver asked, "When did you begin to realize, 'Oh my gosh, he's not just my nice grandfather, he's somebody -- '"
"When I was born!" she laughed.
In fact, at age eight, she announced to her parents that she was moving in with her grandmother, Constance, a former actress, and the grandfather she adored.
"He was delighted," she said. "As soon as I could dress myself, he never took a trip without me. I went everywhere with him -- New York, Europe, everywhere. What a life!"
And now she has co-authored a huge book on DeMille's career, with many items never before shown publicly, including storyboards he commissioned for each scene of a film.
There are sketches for costumes he approved, and gorgeous publicity stills he had shot, including for the 1919 film "Male and Female," complete with Gloria Swanson posing with a very reluctant lion.
"Grandfather got mad, went down, grabbed the lion's paws and put them on her back and pointed at the lion and said, 'Stay.' And the lion did!" recalled Cecilia. "And then he turned around and there was a man standing there who looked at him and said, 'You son of a bitch,' and walked off the set. And it was Gloria's father!"
The showman who could tame lions -- and everyone else on a set -- had a personal story worthy of one of his own films. He had tried to make it as an actor, writer and producer on the stage, but wasn't very successful.
"Nothing seemed to stick, nothing seemed to work," said film historian Mark Vieira, co-author of the new book. "At age 33 he was just kind of this fifth wheel for everybody, and it was so sad."
Vieira says that DeMille, living in New York, got a lucky break when two of his pals, Jesse Lasky and Samuel Goldfish (who later became known as film mogul Samuel Goldwyn), wanted to go into the movie business. They gave DeMille a small share in their enterprise to head west and make a feature film called "The Squaw Man." Released in 1914, it was the story of an English aristocrat who comes to America, and falls for a Native American woman.
"For 1914 [that was] very racy," said Vieira. "Just controversial material."
The film was a huge hit, and though much of it was shot on location in the mountains outside Los Angles, "Squaw Man" is considered the first Hollywood feature film, because DeMille made the interior shots in a building at Selma and Vine Streets -- later moved, and now home to the Hollywood Heritage Museum.
When DeMille worked there it was little more than a barn, with horses and carriage.
DeMille didn't care; he put Hollywood on the map! The little film company he helped start would eventually morph into Paramount.
And he began turning out scores of films, everything from epics ("Joan the Woman") to Westerns ("Romance of the Redwoods") to domestic comedies ("Why Change Your wife"), along the way making himself a major celebrity.
"The bravado, the gusto, the power, the control of every aspect, every element -- that was the image he created that was going to be the Hollywood director, and it stuck," said Vieira.
Vieira was asked what elements would indicated it was a "DeMille movie": "His characters had feelings that real people would have," he said. "The story had to be grounded in real emotions."
Though DeMille introduced new lighting and camera techniques, as in the silent version of "The Ten Commandments," the critics didn't always love his work. But the fans did!
Still, in 1925, despite his years of success, Paramount fired Cecil B. DeMille. "He said, 'They kicked me out,'" Vieira said. "He was very unhappy about this for the rest of his life."
He was down, but not out -- making his own films, as well as some for MGM. Then, as the era of talking films began, Paramount invited him back to make a movie, "The Sign of the Cross," released in 1932. Ostensibly religious, it had a dance scene so sensual it provoked a call from Hollywood censor Will Hayes.
"Will called him and said, 'What are you gonna do about that, Cecil?'" recalled Cecilia DeMille Presley. "And grandfather said, 'Now listen to me very carefully, because you might wanna repeat it: Not a damn thing.'"
The film is considered a masterpiece, and DeMille (who grew up on Bible stories) would frequently return to religious themes . . . his way, as in the 1949 blockbuster "Samson and Delilah."
"His vision of the Bible seemed to be kinds of a very sexy vision of the Bible," noted Braver.
"Well, the Bible's sexy!" laughed Cecilia.
But it was a film about the circus, "The Greatest Show on Earth," that in 1953 won DeMille his first Best Picture Academy Award.
He also got an honorary Oscar in 1950 for his pioneering film work.
"He had been so successful by then -- did it matter to get these?" asked Braver.
"Oh yeah, I mean, to be recognized by your peers, that's everything," said Cecilia. "He was very moved."
It's his next movie that may be his best-remembered. His Technicolor version of "The Ten Commandments," released in 1956, with Charlton Heston as Moses, showcased pioneering special effects, and has become an American classic.
It was DeMille's last film. On location in Egypt, he suffered a heart attack. His health declined, and in 1959 his death made headlines around the world.
He once said, "A man is no better than what he leaves behind." By that measure, Cecil B. DeMille was quite a man.

For more info:
Thanks for reading CBS NEWS.
Create your free account or log in
for more features.