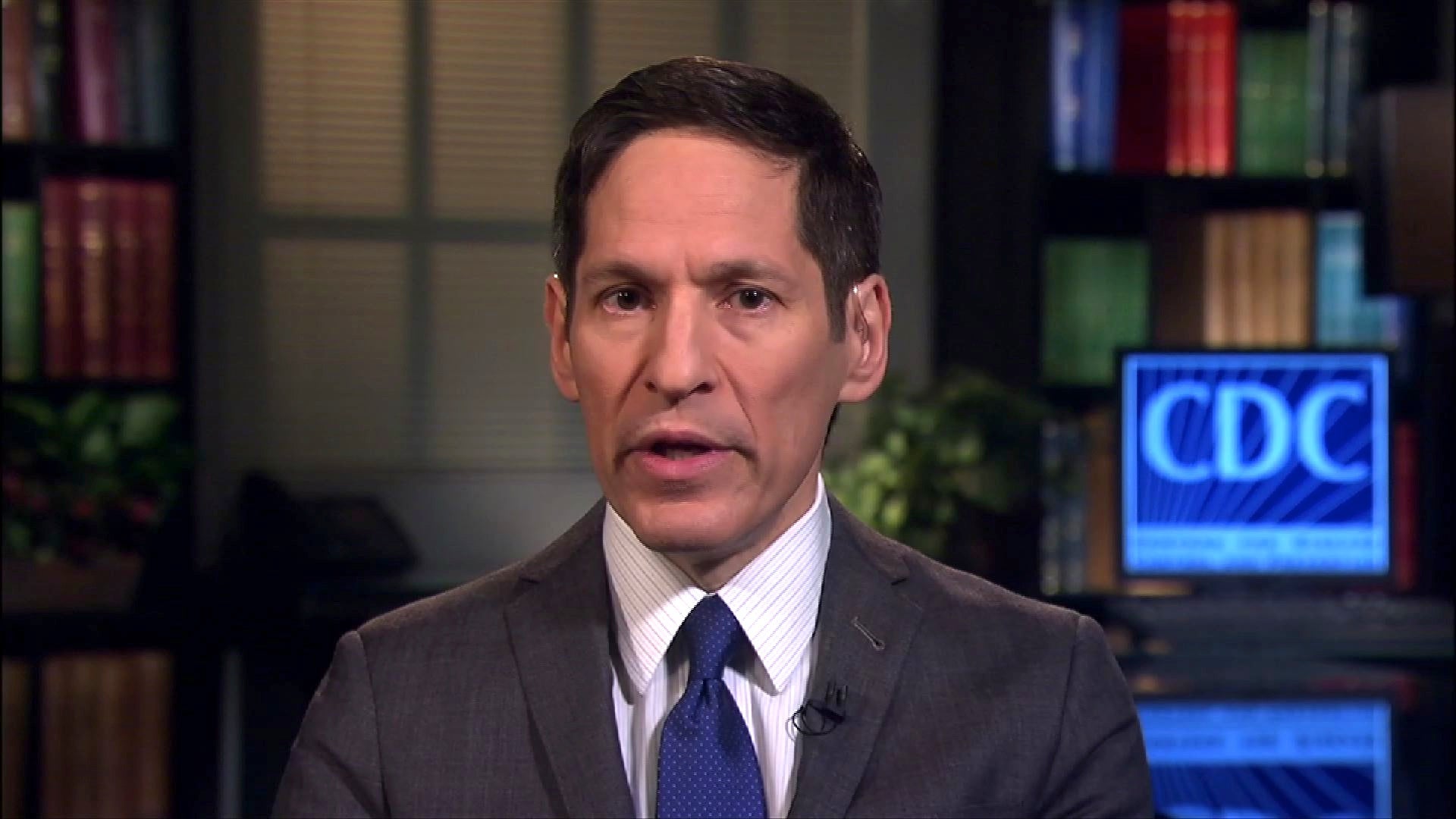 CDC chief on second Ebola case: There was a breach in protocol
The head of the Centers for Disease Control and Prevention (CDC) said there was "clearly" a breach in protocol that led to a Texas health care worker contracting Ebola after treating a Liberian man who later died from the virus, although authorities do not yet know what that breach was.
"We're deeply concerned about this new development," Dr. Thomas Frieden said in an interview on CBS' "Face the Nation" Sunday. "I think the fact that we don't know of a breach in protocol is concerning because clearly there was a breach in protocol. We have the ability to prevent the spread of Ebola by caring safely for patients."
"The fact is that the individual who became ill was, as per protocol, self monitoring. Immediately when they developed symptoms they isolated themselves, they were promptly isolated at the hospital so that any further spread from that individual was stopped," Frieden added.
State officials revealed Sunday morning that a health care worker from the Texas Health Presbyterian Hospital who had cared for Thomas Eric Duncan, the man who was hospitalized and later died there, had tested positive for the virus. The worker cared for Duncan during his second visit to the hospital but was in full protective gear when they did so, said David Varga of the Texas Health Resource.
Frieden said the CDC is taking four steps going forward: making sure the worker is cared for safely and effectively; identifying the worker's contacts; treating all health care workers who cared for Duncan as having potentially been exposed; and conducting a full investigation of the procedures in place to protect health care workers who treat Ebola patients.
"Infections only occur when there's a breach in protocol," he said. "We know from many years of experience that its possible to care for potentials with Ebola safely without risk to healthcare workers but we also know that its hard, that even a single breach can result in contamination and one of the areas that we look at closely are things like how you take off the gear that might be infected or contaminated."
He said officials will also closely study "the interventions that were done to try desperately to keep the index patient alive," which included dialysis and intubation.
"These are two procedures which can result in the spread of infectious material," Frieden said.
CBS News Chief Medical Correspondent Jonathan LaPook both procedures carry a high risk of exposure to a patient's bodily fluids.
Dialysis involves "a lot of body fluids, they're filtering the blood, and also intubation, when they put in a breathing tube. So that meant they were going all out and there is a potential to get exposed to fluids when you're doing these dangerous procedures," he said.
Though Frieden said that all workers who cared for Duncan in the hospital are now under close watch by the CDC, he would not provide an exact number of workers. He also wouldn't share any information about the worker who contracted Ebola, including his or her gender.
"We really try to protect individual patient confidentiality, so sometimes that may seem excessive but if you were sick or a family member were sick you would really want the information coming from the individual or family," Frieden said. "There were coworkers who may be able to identify who the individual is if they knew the gender, so you know we would rather err on the side of safety and the side of respecting and protecting patients."
He said the CDC was not being secretive, pointing to the fact that he was speaking with the media less than 12 hours after the positive test was confirmed.
"We want to give more rather than less information. But we also want to make sure the information we give is accurate," he said.
Thanks for reading CBS NEWS.
Create your free account or log in
for more features.