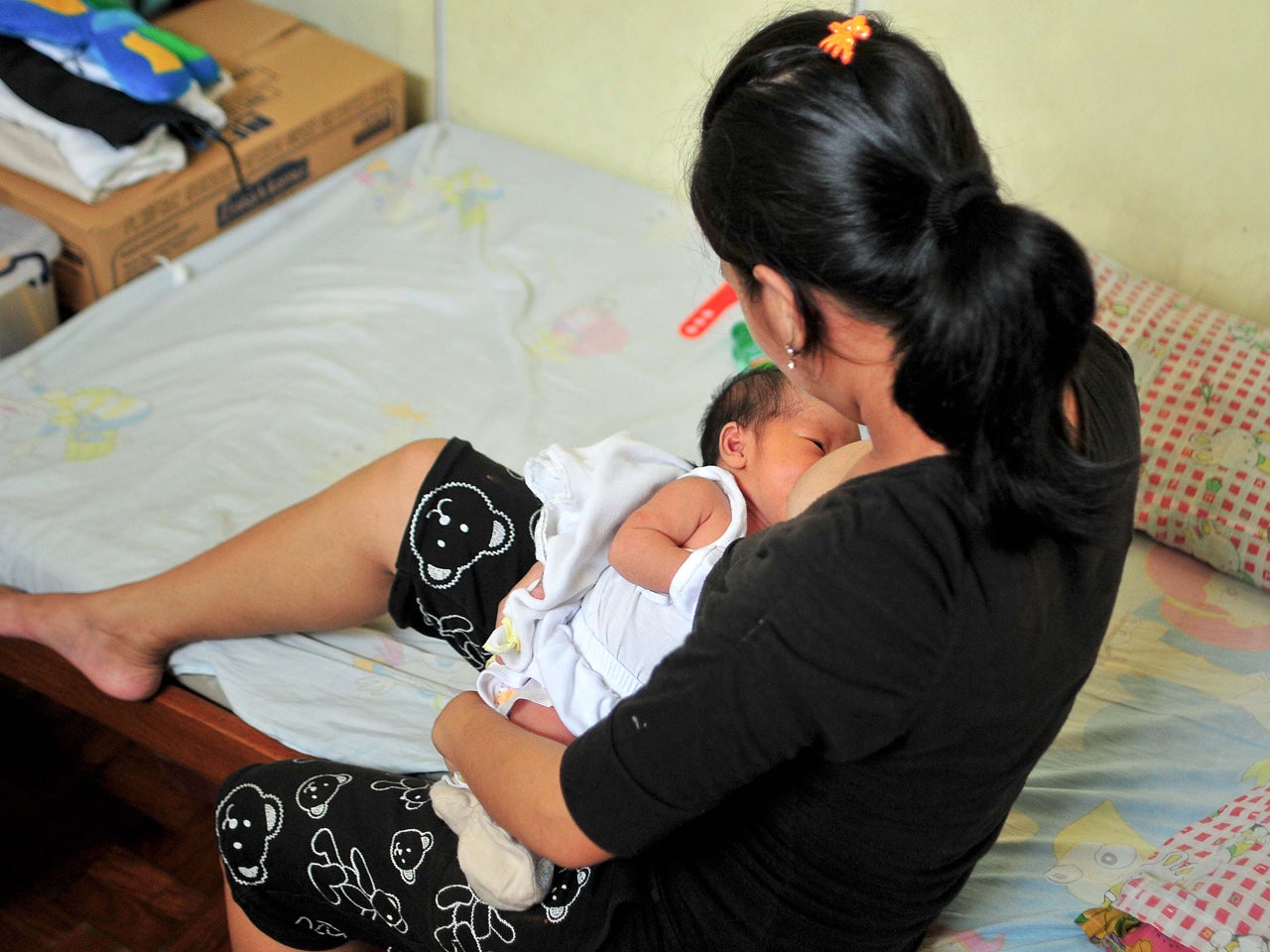 CDC: Breast-feeding rates rise to 77 percent of U.S. moms
Breast-feeding rates are on the rise in the United States. The Center for Disease Control and Prevention's 2013 Breast Feeding Report Card found that 77 percent of new mothers are breast-feeding their babies, up from 71 percent about a decade ago. And almost half of breast-feeding moms are continuing to do so for at least the recommended six months.
The new report tracked trends in breast-feeding rates from 2000 through 2010 across the country.
"This is great news for the health of our nation because babies who are breastfed have lower risks of ear and gastrointestinal infections, diabetes and obesity, and mothers who breastfeed have lower risks of breast and ovarian cancers," said CDC Director Dr. Tom Frieden said in a press release.
The American Academy of Pediatrics recommends that babies are exclusively breast-fed for about six months, and then given supplementary breast-milk for 1 year or longer.
The latest CDC report shows that in 2010, 49 percent of mothers were still breast-feeding when their child was six months old, and 27 percent were still doing so when they kid was 1-year-old. Back in 2000, rates were 35 percent and 16 percent respectively.
The results echo similar findings released by the CDC in February 2013. The CDC announced at that time that mothers who were still breast-feeding at six months increased from 35 percent in 2000 to nearly 45 percent in 2008. Breast-feeding rates also increased across all race and ethnic groups during the same period.
Breast-feeding helps provide protections for infants by giving them nutrients and antibodies. Not only is the milk easy for infants to to digest, it's been shown to protect against disease. Breast-fed babies have lower rates of necrotizing enterocolitis (a disease of the gastrointestinal tract that affects preterm infants), respiratory infections, asthma, obesity, Type 2 diabetes, Type 1 diabetes, childhood leukemia and a type of skin rash known as atopic dermatitis. Decreased risk of sudden infant death syndrome (SIDS) has also been observed.
Recent studies have also shown that children who are breast-fed longer may be able to move up further along the social ladder and could possibly give the baby a boost in intelligence.
Mothers can also benefit from breast-feeding. Nursing a child has been linked to lower rates of Type 2 diabetes, breast cancer, ovarian cancer and postpartum depression in mothers. Breast-feeding can also help families save money on formula, help the mother bond with the child and moms are shown to miss less work if they nurse.
"Also, breastfeeding lowers health care costs," said the CDC's Frieden. "Researchers have calculated that $2.2 billion in yearly medical costs could be saved if breastfeeding recommendations were met. It is critical that we continue working to improve hospital, community and workplace support for breastfeeding mothers and babies and realize these cost savings," he added.
The CDC said part of the increase in rates may be because more hospitals are encouraging the act by giving moms more time to bond with their children after birth. In 2011, 54 percent of hospitals allowed moms to have skin-to-skin contact with their children, and 37 percent allowed the newborn and the mom to share the same room. The percentages increased from 2008, when only 41 percent of mothers were allowed skin-to-skin contact, and only 30 percent could be roommates with their child.
"The period right after a baby is born is a critical time for establishing breastfeeding," said Janet L. Collins, director of CDC's Division of Nutrition, Physical Activity and Obesity.
Idaho was the state with the most breast-feeding moms, with about 91.8 percent of new mothers breast-feeding at some point. California, Oregon, Colorado and New Hampshire rounded out the top five.
At the six-month marker, the top states for breast-feeding mothers were Idaho, California, Oregon, Hawaii and Utah. By one year, Utah, Idaho, California, Hawaii and Vermont moms held the top spots.
The states with the lowest rate of breast-feeding was Mississippi, where only 50.5 percent of new mothers breast-fed at any point and time, just 19.7 percent were breast-feeding at six months, and barely 9.1 percent of moms made it to 1 year.
Thanks for reading CBS NEWS.
Create your free account or log in
for more features.