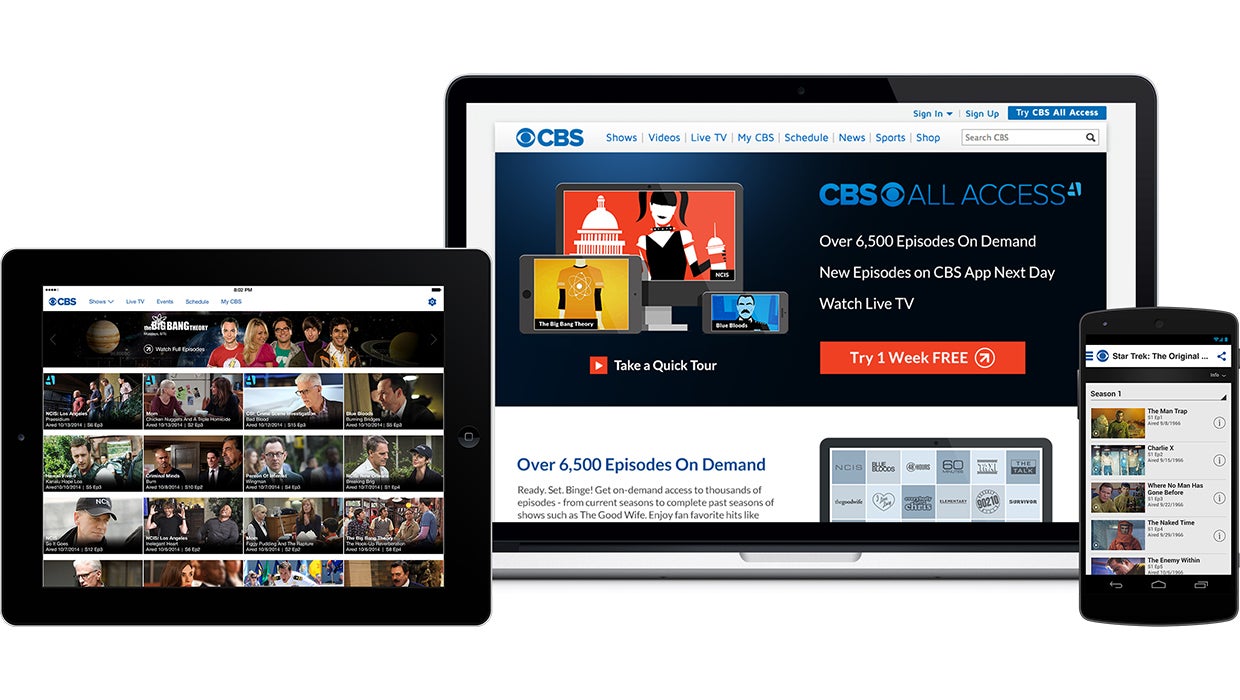 CBS launches expansive digital subscription service
CBS is taking big leap inside the digital space, announcing Thursday the launch of CBS All Access, a new digital subscription Video On Demand and live streaming service that will offer thousands of episodes from CBS Television's current lineup, previous seasons and classic shows.
Starting Thursday, CBS All Access will be available for a monthly subscription of $5.99, accessible through CBS.com and on mobile devices through the CBS App for iOS and Android. The new service will also allow users to stream local CBS Television stations live in 14 of the largest U.S. markets.
CBS All Access will offer subscribers an array of content from its massive archive. Viewers who missed an episode of their favorite show won't have to wait to watch. Current primetime series will be available the day after they air. Plus, past seasons of eight major current series can be streamed, including "The Good Wife" and "Blue Bloods."
More than 5,000 episodes of CBS Classics are up for grabs, too: from "Star Trek" and "Twin Peaks" to "CSI: Miami." More shows will be added in the future.
Other perks come with the subscription. Fans of "Big Brother" won't have to pay an additional fee to stream 24/7 live feeds of the show. CBS Classics, meanwhile, will be ad-free.
"CBS All Access is another key step in the Company's long-standing strategy of monetizing our local and national content in the ways that viewers want it," said Leslie Moonves, President and CEO of CBS Corporation. "This new subscription service will deliver the most of CBS to our biggest fans while being additive to the overall ecosystem. Across the board, we continue to capitalize on technological advances that help consumers engage with our world-class programming, and we look forward to serving our viewers in this new and exciting way."
Jim Lanzone, President and CEO, CBS Interactive, said: "Our focus is to develop the best cross-platform video experience possible. We want our audiences to be able to watch CBS's industry-leading content live and on demand whenever and wherever they want. CBS All Access delivers on that promise by giving our audience not only more CBS content but also more ways to watch in a seamless user experience. We've integrated the service into our existing offerings and look forward to bringing it to all major digital platforms -- including additional connected devices -- in the coming months."
CBS' latest move marks yet another shift in television viewing and content as we know it. As more Americans cut the cord and increasingly view television programs and content online, networks and cable channels have started to shift their approach to content distribution.
Just Wednesday, HBO revealed that it would make its popular streaming video service HBO Go available as a stand-alone product. It means viewers hoping to tune in to the latest episode of "Game of Thrones" and watch the critically acclaimed series "The Wire" from beginning to end can do so without having a cable television subscription.
Earlier this week, Netflix announced that all 236 episodes of "Friends" would be available exclusively on the service in 2015. This comes as Netflix continues to up its game in the original programming department. The booming streaming service just struck a deal with Warner Bros. to release a series of new superhero movies.
With that, competing streaming services, such as Amazon Prime, have begun to ramp up their original content, too, tapping major stars to appear in series.
As Hulu, Netflix and Amazon Prime increase their original programming offerings, traditional broadcast and cable networks continue to boost their investments in original programming. CBS has taken advantage of the usual quiet summer slate. Often filled with re-runs, CBS' summer schedule now showcases high-profile shows like "Under the Dome" and "Extant" -- both of which have done well for the network.
It all means that there's more content to take in -- at any moment, anywhere. The only dilemma is what to watch. Seems like a good problem to have.
Thanks for reading CBS NEWS.
Create your free account or log in
for more features.