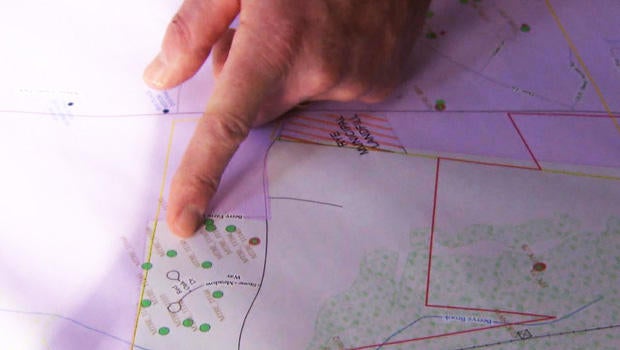 Cancer clusters: The hunt for a killer
What does it mean if a rare form of cancer strikes several people in one area? Is it a case of cause and effect? Anna Werner has been investigating the phenomenon known as "cancer clusters":
Dr. Thomas Sherman is on the hunt for a killer.
"To get there we'll come up Grove Road, Washington Road, and we'll go right up here," he told Werner. "Here's where the landfill is, where this arrow is."
He's heading a task force investigating why several children in the Seacoast region of New Hampshire developed a rare cancer, called rhabdomyosarcoma (RMS), the cancer that took the life of Paul Thomas' 14-year-old son, Sam.
"It's something missing in your life, and it'll always be there," Thomas said.
Paul and his wife, Lynne, say two years after Sam's death, the questions persist.
"In your head you're like, why are there three cases, that you can go off at the top of your head, in the Seacoast area? Why?" Lynne said.
The state says it's a cancer cluster, which the Centers for Disease Control and Prevention defines as "a greater-than-expected number of cancer cases that occurs within a group of people in a geographic area over a period of time."
And while that definition may be black-and-white, it turns out that almost everything else is anything but.
State health departments get an average of a thousand reports of alleged clusters every year, but historically, only a handful are ultimately recognized as true residential cancer clusters.
One of those is the 1980s case of Woburn, Massachusetts, a story told by the book and movie, "A Civil Action." More than 20 cases of leukemia in children were linked to chemical contamination of the public water supply, according to epidemiologist Suzanne Condon, who investigated for the state.
Werner asked, "How hard is it to figure out if something really is a cancer cluster?"
"I've been asked that before, and my standard response is, extraordinary difficult at best," Condon replied.
Toms River, New Jersey is another recognized case. But some other notorious incidents, often thought to be cancer clusters, were not. That includes the California events depicted in the movie "Erin Brockovich," and the infamous Love Canal case in upstate New York.
Investigators have to consider several factors, including: How often the cancer occurred; how long it took for it to develop; whether genetics might play a role; and one more thing ... chance.
"It seems like people want to say, 'It just can't be a coincidence," said Werner.
"I think people have a hard time understanding that sometimes there are random patterns of disease, and things can happen because of chance," Condon said.
And as for the Seacoast cancer cluster? "I think they have an incredible challenge before them," she suggested.
So far, Dr. Sherman and others are focusing their questions on an old closed landfill where, they say, the military and others dumped toxic wastes.
New Hampshire officials say they have found chemicals used to make commercial products in some wells near the landfill. But they say there's no proof they are linked to the suspected Seacoast cancer cluster, and those responsible for the landfill deny there's any connection.
But the Thomases still hope for an answer, one they hope might save someone else's child.
"These rare cancers are out there," said Lynne. "And I really think that that has to be looked at, so that Sam's death was not in vain."

For more info:
Thanks for reading CBS NEWS.
Create your free account or log in
for more features.