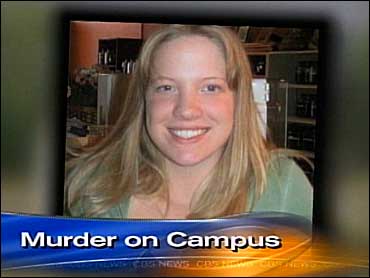 Campus Cover-Up In Student's Murder?
Around the country, parents are getting ready to send their kids off to freshman orientation at college and, of course, they worry. Every school has rules for student safety, but sometimes those rules aren't followed.
CBS News national correspondent Tracy Smith reports on one such case in Michigan.
Universities are supposed to let students know when a crime has been committed on campus so they can protect themselves. But in this case, the whole community, including the victim's family, was kept in the dark for months.
Eastern Michigan University is a close-knit campus of about 24,000 students, and last fall 22-year-old Laura Dickinson was thrilled to be one of them.
"She made a home there. She was very happy there," remembers Laura's father Bob.
Her hometown of Hastings, where her family owns a coffee shop, is about a two-hour drive from the school. It was too far away in her parents' minds, but Laura assured them she would be OK.
On Dec. 15, their peace of mind was shattered when Laura was found dead in her dorm room. The school called the Dickinsons with the news.
At the time, the parents weren't sure what had happened. "Not knowing anything what was going on, we assumed she might have had a heart attack, she might have had an aneurism, who knows what?" Bob Dickinson remembers.
The truth was something different: According to the medical examiner's report, Laura had been found naked from the waist down, with a pillow over her head. It clearly said "foul play suspected." But no one told the Dickinsons.
"Somebody chose to say nothing and that's where it all started," says Bob.
The next day, the university sent out an e-mail to the campus community, saying there was no reason to suspect foul play in Laura's death, and that the campus was safe. Students, such as Jessica Richardson, read it and felt reassured.
---

Click here for more about the Clery Act, and to see what schools are doing. For more on what Eastern Michigan University is doing to improve their security procedures, and for the Department of Education report on their EMU investigation, visit emich.edu.
---

Then on Feb. 23, another student, 20-year-old Orange Taylor, was arrested and charged with entering Laura Dickinson's dorm, sexually assaulting and killing her.

For more than two months, students had no idea that a classmate had been raped and murdered in her dorm room, or that her alleged killer was another student, still walking around on campus.

"I automatically was upset beyond belief. It really concerned me. I felt like I had been deceived," says Jessica Richardson.

"We trust these individuals with our safety, with our well being. And if we're not informed that there's a possible threat on campus, it's very irresponsible," says Greg Jones, the student body president.

When the Dickinsons heard the news, it was a second horrible blow. "That we had to go through hearing my daughters' death twice," Bob says.

The Michigan Board of Regents commissioned an investigation into what the school knew and when; the results, contained in a 600-page report, were damning.

According to Richard Hewlett, attorney for the independent investigation from law firm Butzel Long, at least some of the university officials knew that Laura's death may have been a homicide.

An investigation by the Department of Education found that the university violated what's known as the Clery Act, a federal law that requires schools to let students know about crimes committed in and around campus that might be a threat to their safety.

The university denied CBS News' request for an interview. But the president of the university has apologized, saying "never again will such a confounding series of mistakes be made on my watch," and issued a new plan to improve safety.

"The steps that EMU is taking to do that are commendable, what they did for us wasn't," says Laura's father Bob.

Asked how he would describe what the university did for them, he says, "Shameful."

Bob Dickinson knows it's too late for Laura nut hopes that in her death, she might be able to save other students' lives.

"If it did one … that would be amazing," Bob says, referring to saving one life. "Yeah, if a whole campus saw their faults, saw what they were doing wrong before an event occurred and fixed it, and prevented something like what happened to us. That'd be the icing on the cake."
---

Orange Taylor's trial is scheduled for October. He has admitted having been in Laura's room, but denies raping or killing her. And the school will respond to the Department of Education's report this month. But the university will have to do a lot of work to win back the trust of the community.

At EMU there has been fallout: the dean of student affairs has been suspended, and just last month, the school's faculty council called for the EMU president to resign.
Thanks for reading CBS NEWS.
Create your free account or log in
for more features.