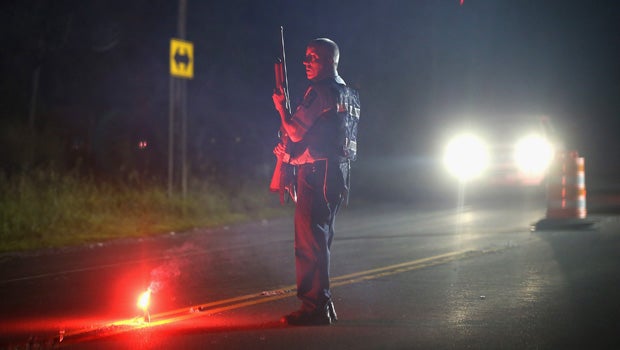 ​By luck or cunning, remaining escapee evades manhunt
The manhunt continues in Upstate New York for one elusive murderer, David Sweat. He's on his own now after border patrol agents shot and killed the man he escaped with, Richard Matt. Anna Werner is in the thick of the search:
There's a reason outdoors enthusiasts have long cherished Northern New York State. These rugged hills and dense woods are the perfect place to get away from it all.
And they've proven a nearly perfect getaway for two escaped convicts -- one still on the loose, the other shot and killed by Border Patrol agents last Friday afternoon.
It's been a three-week manhunt full of twists and turns worthy of a Hollywood film, beginning with the escape on June 6.
Investigators say convicted murderers David Sweat, age 35, and Richard Matt, 49, charmed one of their captors at the Clinton Correctional Facility in Dannemora, New York -- a prison nicknamed "Little Siberia" for its remote and often frigid location.
Investigators say employee Joyce Mitchell had relationships with both men at different times. Prosecutors charged her with helping the inmates escape by providing them with hacksaw blades and other tools that she concealed in frozen hamburger meat.
They say she handed that package to another employee, prison guard Gene Palmer. Prosecutors said Palmer appears to have been an unwitting accomplice in the escape, but he is charged with providing other favors to the men in exchange for artwork.
Investigators say Sweat and Matt used power tools to cut through their cell walls and down into the prison's maze of pipes. They left behind a note to taunt their pursuers:" "Have a nice day," it read, along with a smiley face.
New York Governor Andrew Cuomo posted photos of the break-out route on the Internet after taking his own getaway tour.
But the manhunt that followed has been frustrating for law enforcement, and has cost taxpayers millions. More than 1,200 officers have been brought in for the search.
The terrain has proven to be a huge problem, but the fugitives have posed challenges law enforcement didn't expect.
"I'm surprised that Matt and Sweat haven't made more mistakes," said Clinton County District Attorney Andrew Wiley. He said they are likely more careful and smarter than many of the criminals he's dealt with.
The fugitives' efforts, and their luck, began to run out late last week. Authorities found clues to their whereabouts in a hunting cabin Sweat and Matt had broken into. Along with provisions, police believed the men stole a shotgun.
So on Friday, when the driver of a camper reported shots fired, agents descended on the woods near Malone, New York, about 30 miles from the Dannemora prison. They confronted Richard Matt and shot the armed fugitive dead.
Although David Sweat was assumed to be nearby, he remains at large. Either by luck or cunning, he has managed to evade justice. But how much longer can he stay ahead of the manhunt?
Thanks for reading CBS NEWS.
Create your free account or log in
for more features.