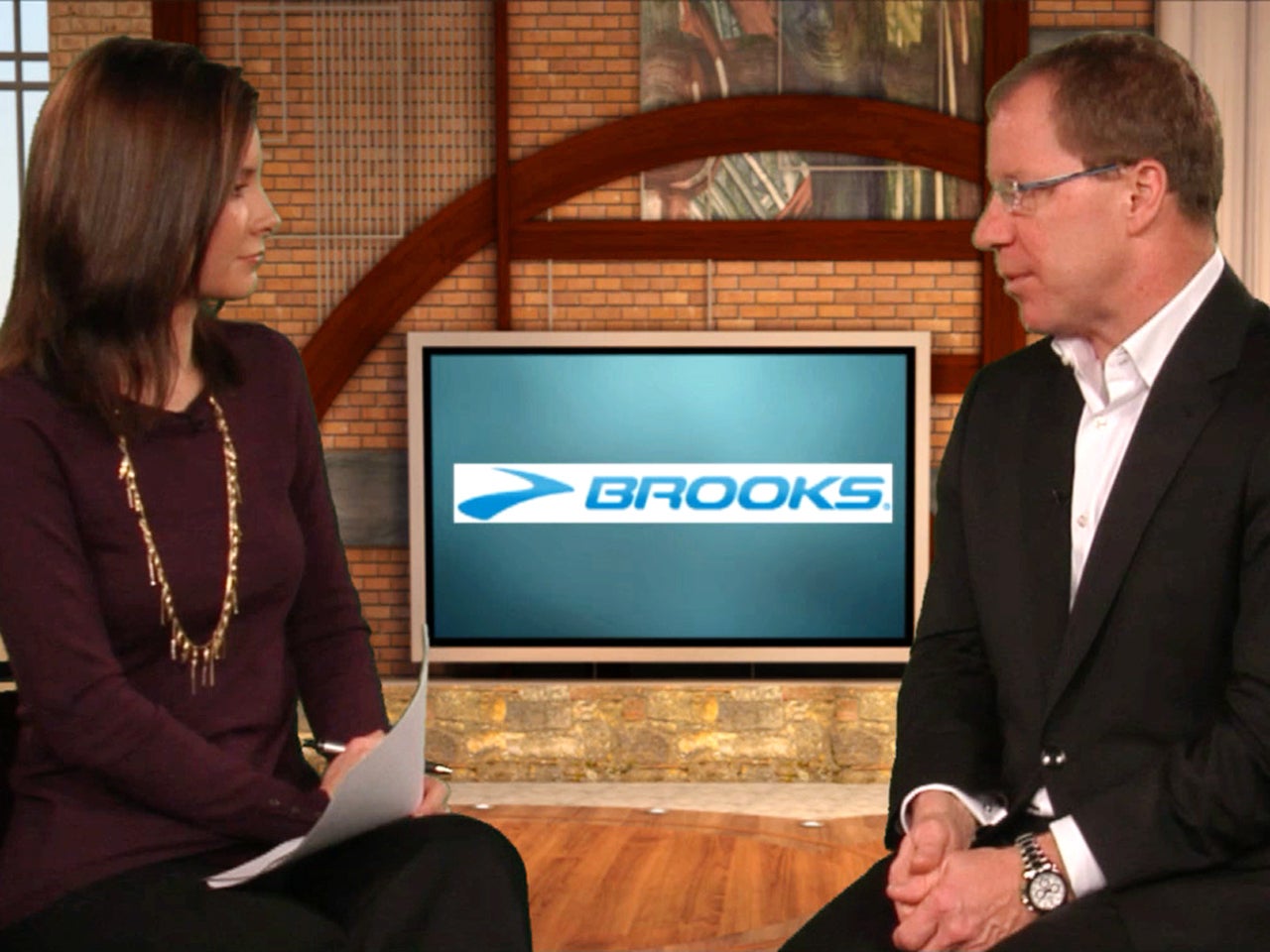 Brooks: Running toward success in a niche market
(MoneyWatch) When Jim Weber took over as CEO of Brooks Sports in 2001, the company was floundering. So the St. Paul, Minn., native, and son of a bowling alley operator decided to make a bold move: He dropped 40 percent of Brooks' footwear, re-focused the brand entirely on technical-performance running shoes and re-branded the company "Brooks Running Shoes." It was a risk, but one that paid off. In 11 years, Brooks has experienced 11 consecutive years of growth. Weber joined Rebecca to talk about tough decisions in business and going "all-in" on a big idea.
Rebecca Jarvis: What's your 30-second elevator pitch?
Jim Weber: Brooks Running Company's mission is to inspire everyone to run and be active. We do this by creating performance footwear and apparel that keeps people running longer, farther, faster and healthier year in, year out.
RJ: What drove you to reposition Brooks as a running company?
JW: It was clear that Brooks couldn't succeed at trying to be all things to all people. When I joined we refocused efforts on our successful heritage in running and making technical footwear and apparel for runners. Running was (and still is) by far the biggest game in sporting goods, and we had been watching the market deliver steady year-over-year growth, so we knew there was incredible opportunity in the space.
RJ: Did you consider any other alternatives?
JW: I had a clear vision...connect with runners and enhance the running experience. We built a formula for success: Taking a closer look at the biomechanics and investing in the science of running. All of our products are tested in our lab and with runners on the road to assure great fit, ride and comfort mile after mile. With our promise of performance we have also worked hard to dial up Brooks' aesthetic and design language, which is resonating with runners.
RJ: How big of an investment did it take to reposition? How long before the investment started paying off?
JW: Once the decision was made to refocus our brand and business, it was an all-in, total commitment from our team. We focused the entire sales organization on specialty running retailers, jettisoned 40 percent of our footwear line by eliminating all non-performance running styles and ceased doing business in price point footwear distribution channels, reducing company revenue by 30 percent. We began to rebuild the Brooks brand within the running community with a mission of inspiring everyone to run and be active. Since that time Brooks has experienced 11 consecutive years of record growth. In 2012, we cracked $400 million and I expect we'll crack $500 million in 2013.
RJ: Celebrity sports figures play a major role in selling athletic wear. Who are yours and how did you choose them?
JW: Brooks partners with professional athletes dedicated to our sport who embody our Run Happy brand ethos and help inspire and create opportunities for the future superstars of our sport. We partner with record-holding professionals like ultra-runner Scott Jurek and triathlete Chrissie Wellington to incorporate their experiences and running insight into future generations of product while fully supporting their professional aspirations. The Hansons-Brooks Original Distance Project helps successful college athletes continue training beyond their college years. This unique, team-centered program, which provides an environment in which training can be the focus for these elite athletes, has produced a number of notable runners. The most recent, Desiree Davila, finished second in the 2012 Olympic Marathon Trials in Houston and represented the United States of America as part of the U.S. Women's Marathon team at the 2012 London Olympic Games.
RJ: What's your number one piece of advice to entrepreneurs?
JW: Focus, focus, focus. Strong brands are built over decades, not years. If you keep changing what you stand for, no one will really know and trust your values, philosophies, spirit and point of view.
RJ: If you could ask one person for advice, who would it be and what would you ask?
JW: I am in a very unique and wonderful position: I work for Warren Buffett. I have had the pleasure of regular interaction with him and the opportunity to discuss his philosophy on building strong brands and how Brooks can deliver on its potential. Warren empowers people to pursue their missions, shares his insights and supports strong plans with the resources required to succeed.
RJ: Are you hiring? How do you get hired by a company like yours?
JW: Yes! Brooks is experiencing tremendous growth both financially and within our walls. Our employee base has nearly doubled in the past three years and we plan to hire well over 100 people in 2013. We are always looking for talented people who enjoy working with others, competing every day, playing as a team, leading thought and connecting with the active lifestyle.
For more on Brooks Running Company visit their website.
Thanks for reading CBS NEWS.
Create your free account or log in
for more features.