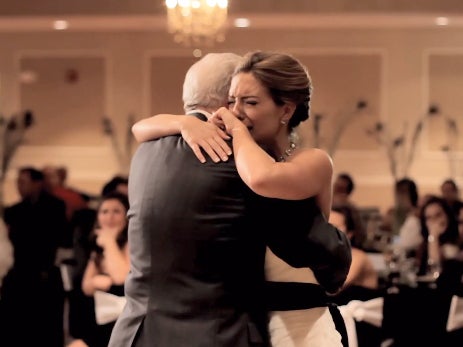 Bride's special dance will probably make you cry
(CBS News) Be warned in advance: this is an emotional roller coaster ride and will probably make you cry (or at least get teary-eyed). If it becomes too much, and you need a quick break, I'd recommend clicking here to watch a kitten meet a hedgehog.Okay, with all that said, you really need to see this amazing, uplifting, heart-breaking and everything in-between moment of a bride's family and friends stepping up in a big way at her wedding after her father passed away.
The truly beautiful video was posted byphotographer Michael LaFrance who writes:
Andrea had a very special dance with some very close family and friends at her wedding. Her father passed away so her brother [recorded] "butterfly kisses" and she danced with with all of them during her Father and Daughter dance. it was a truly touching moment not a dry eye in the house. Her dad, Mark, died earlier in the year from pancreatic cancer. Andrea's first dance is with Mark's father, followed by her brother Luke, then brother Nick and finally her new father-in-law Scott.
There are no words to describe just how amazing this wedding dance is to behold. Thanks go out to photographer Michael LaFrance for sharing this with us and the world. We'd like to wish Andrea and her husband all of the best on their new life together. And a big triple-rainbow salute of wonder and awe goes out to all of the family and friends who came together in order to make this special dance happen from all of us here at The Feed! And if you'd like to check out more work by photographer Michael LaFrance, be sure to visit his website by clicking here.
UPDATE: Andrea's brother, Luke Middleton, wrote the following comment on the video that provides more context: "The photographer posted this right after the wedding in December 2011 after asking approval from the bride(my sister). He simply thought it was a touching video. None of us thought it would get this much attention but we're all glad it's touching so many people."
Thanks for reading CBS NEWS.
Create your free account or log in
for more features.