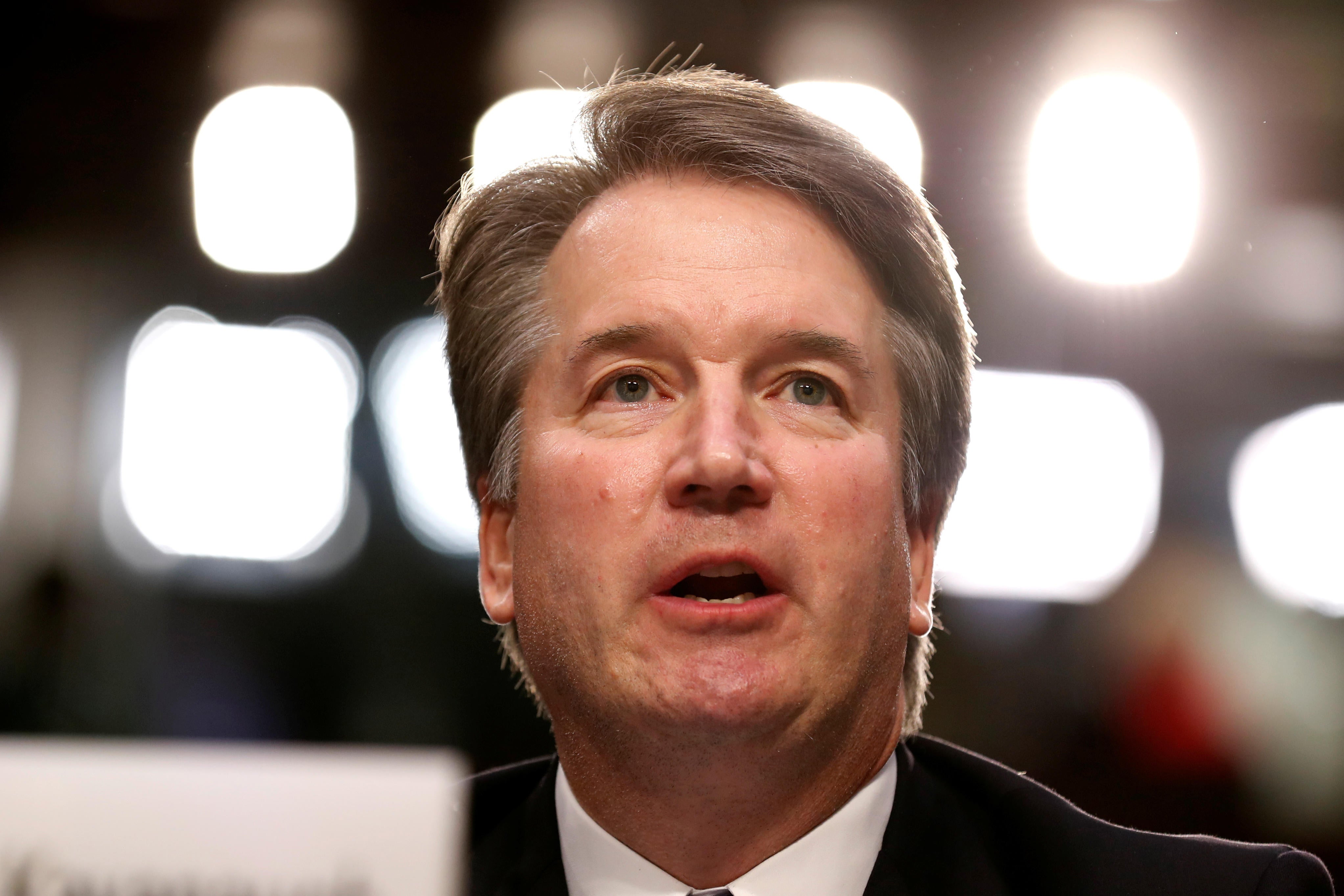 Reopened FBI Brett Kavanaugh probe: Who's been interviewed so far?
The FBI is interviewing individuals this week about sexual misconduct claims related to Supreme Court nominee Brett Kavanaugh to update its background check. The White House ordered the FBI to expand the original scope of its reopened check to include anyone it deems necessary to vet the misconduct claims, within its allotted week-long timeframe. In a news conference Monday, President Trump said the FBI should interview "anybody" it wants "within reason."
The agency expects to meet the one-week deadline, even with the expanded scope of the revived investigation, but is working under lots of pressure. Some media reports say the FBI could wrap up its job even sooner. There's dread at the FBI that this will become a political storm again, reports CBS News correspondent Jeff Pegues.
A former top FBI official who's been in contact with those involved in the renewed probe described a "war room" atmosphere around the case. Agents have been talking to the people at the core of the allegations, then working their way out to try to corroborate the information.
Who is the FBI Interviewing?
Mark Judge
Dr. Christine Blasey Ford has accused longtime Kavanaugh friend Judge of being in the room with Kavanaugh during the alleged sexual assault. Judge, an alcoholic who has memorialized his drinking in a book, has publicly said through his lawyer he has no recollection of the incident described by Ford.
On Oct. 2, Judge's lawyer, Biz Van Gelder, said in a statement the FBI had finished interviewing Judge. The FBI's interview took place over the course of at least two days.
Leland Keyser
She is a friend of Ford and was identified by Ford as a person who attended the party where Ford alleges she was assaulted by Kavanaugh. Keyser's lawyer, Howard Walsh, said in a statement Keyser has "no recollection of ever being at a party or gathering where he was present, with, or without Dr. Ford." He went on to say, however, "Notably, Ms. Keyser does not refute Dr. Ford's account, and she has already told the press that she believes Dr. Ford's account."
Walsh says Keyser met with the FBI on Sept. 29.
Patrick "PJ" Smyth
Smyth was a close friend of Kavanaugh's from Georgetown Prep, and was also identified by Ford as having been at the gathering. She recalled during her testimony "he was a tall and very nice person," who was "downstairs," and not involved in the attack on her.
On Oct. 1, Smyth's lawyer, Eric Bruce, said Smyth has "fully cooperated with the FBI investigation in this matter."
"[C]onsistent with the information he previously provided to the Senate Judiciary Committee, he indicated that he has no knowledge of the small party or gathering described by Dr. Christine Blasey Ford nor does he have any knowledge of the allegations of improper conduct she has leveled at Brett Kavanaugh," Smyth said.
Deborah Ramirez
She is the second person to accuse Kavanaugh of sexual misconduct. A Yale classmate, Ramirez accused Kavanaugh of exposing himself to her during a drinking game.
The FBI interviewed Ramirez on Sept. 30, a source with direct knowledge of the interview confirmed to CBS News. She reportedly also gave investigators the names of others who could corroborate her account.
Christopher "Squi" Garrett
A close friend of Kavanaugh and now a middle school teacher in Atlanta, Ford says she dated him for a couple of months. A Republican lobbyist at one point theorized Ford had made a mistake, and it was Garrett who had assaulted her. Ford said during her testimony it was not a mistake she would have made -- Garrett had introduced her to Kavanaugh.
His lawyer issued a statement late Oct. 2, saying, "Mr. Garrett has voluntarily cooperated with the FBI inquiry, and has completed his interview. I will have no further comment."
Timothy Gaudette
Another Kavanaugh friend from Georgetown Prep, he now lives in Centennial, Colorado. Gaudette's attorney, Ken Eichner, confirms he was interviewed by the FBI on Oct. 2.
Senate Democrats have a list, too
In addition to the individuals who have already been interviewed by the FBI, Senate Judiciary Committee Democrats have called on the FBI to include these others:
Christine Blasey Ford

The first Kavanaugh accuser hadn't heard from FBI investigators as of Oct. 2, according to a member of her legal team. Her lawyers wrote to the FBI on Oct. 2, saying there had been "no response to our offer for Dr. Ford to be interviewed."
Lynne Brookes
The chief operating officer of Synchrony Group was a friend of Kavanaugh's in college. She told CNN she was disappointed in "the way that he evaded his excessive drinking questions," and accused him of lying to the Senate Judiciary Committee.
Russell Ford
Ford's husband, a mechanical engineer. He said his wife talked about the alleged assault in 2012 during a therapy session, and he told The Washington Post she mentioned Kavanaugh by name at the time.
Adela Gildo-Mazzon
Ford friend who lives in Palo Alto, California.
Sean Hagan
Georgetown Prep classmate who was a friend of Kavanaugh's, a senior cybersecurity adviser for the Social Security Administration and lives in Bethesda, Maryland.
Jeremiah Hanafin
D.C.-area polygraph examiner, former FBI special agent who conducted Ford's polygraph. His finding was her responses were "not indicative of deception."
Thomas Kane
Georgetown Prep friend of Kavanaugh's who says the allegations are false. He has also, according to the Weekly Standard, confirmed their friend Christopher Garrett, aka "Squi," did date Ford, as Ford told the Senate Judiciary Committee.
Brett Kavanaugh
Supreme Court nominee.
Keith Koegler
Close friend of Ford and her husband. He lives in Palo Alto. Koegler said Ford told him of her accusation about Kavanaugh days before the president nominated him.
Mark Krasberg
Assistant professor of neurosurgery at University of New Mexico.
Bernie McCarthy
A Georgetown Prep classmate of Kavanaugh's, McCarthy appears in his high school calendars.
Richard Oh
Lives in Santa Clara, California, and is an emergency room physician. He was Kavanaugh's classmate at Yale.
Potomac Village Safeway
This is where Ford said she saw Judge several weeks after the alleged assault. He has said he had a job at a local market.
Elizabeth Rasor
Judge's ex-girlfriend and college classmate. She told the New Yorker Judge told Rasor in high school he and other boys took turns "having sex with a drunk woman."
James Roche
CEO of Helix; was Kavanaugh's freshman roommate at Yale.
Julie Swetnick
She's the third Kavanaugh accuser -- though she does not claim he assaulted her, she alleges he and Judge were present when she was gang-raped at a party. Mr. Trump said Oct. 1 he's open to having the FBI investigate her claims.
Elizabeth Swisher
A Seattle physician who is a friend of Kavanaugh's from Yale.
Rebecca White
Friend of Ford who lives in California.
Thanks for reading CBS NEWS.
Create your free account or log in
for more features.