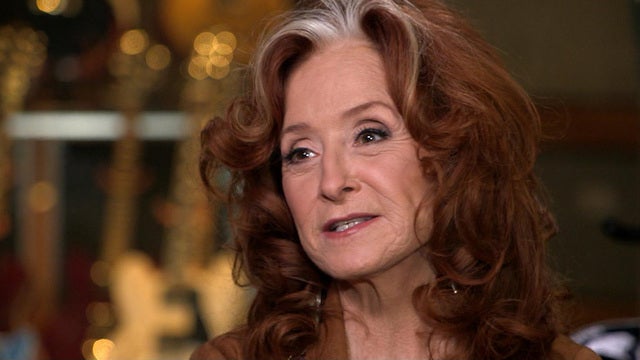 Bonnie Raitt is back with her 20th album and plans to "keep going"
Bonnie Raitt is a true American original. The daughter of a famous Broadway star, she made a career of her own by singing the blues.
Over 45 years, she's racked up 10 Grammys, been inducted into the Rock and Roll Hall of Fame and been named to Rolling Stone's list of all-time top 100 singers and guitarists.
Now, Raitt is at it again, indulging the gypsy in her, touring behind her 20th album, "Dig in Deep," reports CBS News correspondent Anthony Mason.
For a time, after the deaths of both her parents and her brother -- who lost a long battle with cancer -- Raitt found it hard to write.
"And I took a hiatus in 2010 to process all that grief," Raitt told Mason. "And when I came back, I was really excited not to have that cloud over me and that pain."
Raitt knows a good song when she hears it, and she knows it'll stay good, like the Mike Reid and Allen Shamlin song "I Can't Make You Love Me," off her 1991 "Luck of the Draw" album, which she still regularly performs in concert.
"It's a holy bond with your audience. It's just hands down the greatest gift I've been given to sing it," Raitt said. "It's like holding a space for all of us that have been through that terrible heartbreak, and it's fresh every night. I don't care how many times they might've seen me sing it. It's new every time."
Raitt's commercial breakthrough came late with 1989's "Nick of Time," which won the Grammy for album of the year. She returned to the Grammys this year to pay tribute to blues legend B.B. King with this year's breakout artist, Chris Stapleton.
"I really relate to his rise because 'Nick of Time' for me was very similar," Raitt said. "And the public at large didn't know who I was, and then I won all these Grammys. My record went to number one, and people are like, 'Who's this 40-year-old singer?'
In fact, she called Stapleton a week before their collaboration and told him, "I know just how you feel."
Raitt's new album features five songs she wrote herself.
"I have to find some new songs to play or else I feel like I wasn't growing," Raitt said.
And she plans on doing it for a long while.
"I hope I can do it at least till I'm 85, 90. I hope I can keep going like B.B. King, Tony Bennett or my dad. All my heroes lasted a really long time if they were blessed with good health," Raitt said. "'Why would you retire?' Paul McCartney said that. 'What're you going to do, play golf?' At night, when you get off the road after about two weeks of being home -- it's 7 or 8 o'clock -- you go, 'This is it? Dinner and a movie? Where is the excitement?'"
At 66, she treats every gig the same.
"Opening night every night. Yeah, I don't coast. I think the people that last don't coast," Raitt said. "I wouldn't respect myself in the morning. I am playing for my peers and for my fans and for the people who write reviews. And I want to be respected and thought of as somebody that's continuing to bring it."
She's survived, she said, with a little help from the radio stations who still play her music.
"And American format has saved legacy artists like John Hiatt and John Prine and myself," Raitt said. "That's assisted living for me."
Thanks for reading CBS NEWS.
Create your free account or log in
for more features.