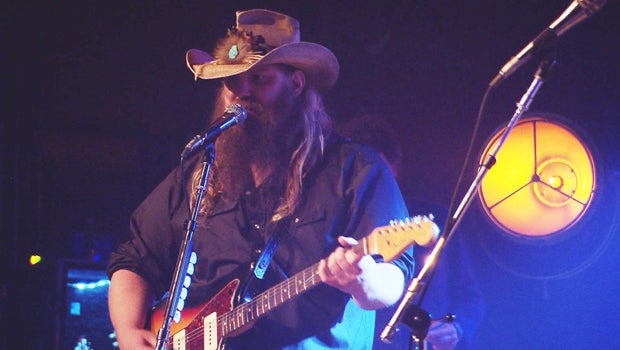 ​Chris Stapleton: A blazing star
Chris Stapleton... a respected country songwriter -- who's suddenly a bona fide country STAR. With the Academy of Country Music Awards tonight here on CBS, we asked our Mark Strassmann to make some introductions:
In Paintsville, Kentucky, a local-boy-made-good had a homecoming recently good enough to sing about.
"I'm so happy to meet you," said one fan. "Love to hear you sing!" said another.
Country singer Chris Stapleton's breakout year has given Paintsville plenty to celebrate.
Stapleton, now 37, has won two Grammys ... three Country Music Awards ... and has seven nominations at tonight's Academy of Country Music Awards.
"Traveller," his first solo album, went platinum.
To hear the title track from the Chris Stapleton album "Traveller" click on the player below.
His career has been the epitome of "gradually, then suddenly."
But you could say his overnight success was more than a decade in the making.
"I'm new to a lot of people, and that's true," he told Strassmann. "I'm not new to a lot of people in Nashville. They're like, 'Man, I've known that guy for years. He's been buggin' everybody!'"
"Bugging" people in a good way.
Since 2001, Stapleton has been one of Nashville's most consistently successful writers of hit songs -- for other performers. He has had six Number Ones on the country charts. Artists as varied as Tim McGraw ("Whiskey and You"), Sheryl Crow ("Homesick") and Adele ("If It Hadn't Been for Love") have recorded his music.
Strassmann asked, "Any time somebody sings one of your songs, it's cool?"
"Very cool. Extremely cool," he replied. "I think it's the highest compliment."
When asked how many of his songs have been recorded by other people over the years, Stapleton replied, "Probably pushing 200, something like that. I don't know."
"That's a lot of songs."
"It's a lot of songs, yeah. But I've written a lot of songs, too. Like, I don't know, I think close to a thousand or more."
Stapleton grew up in eastern Kentucky, an area that has produced many big names in country music. Like Loretta Lynn, Stapleton came from a coal mining family. Both singers attended local high schools. (Chris was a valedictorian at his.) "Apparently I sang for the governor!" he said, perusing his yearbooks.
In what might be a cool country boy's worst nightmare, or fondest dream, Johnson Central High has Stapleton's teenage years on public display.
"It looks like we have a bunch of embarrassing pictures of me," he groaned.
"I'm noticing in all these photos you're neatly groomed," said Strassmann. "At some point we made a hair decision?"
"Or a hair laziness kicked in!" Stapleton laughed. "At some point I think I lost my razor and decided it was cheaper to not get a haircut. And it just kinda went."
After high school, he met some local songwriters and had a revelation: "I didn't know they would pay you money to sit in a room and write songs for other people," Stapleton said. "I always thought that George Strait was singing a song, he made it up, and that was the end of it. But the instant I found that out, that that could be a job, I thought, 'That's the job for me. I gotta figure out how to do that.'"
For a country artist, there was only one place for that. He moved to Nashville. "Four days later I had a publishing deal. Which is not -- that is not anybody's story, but that's mine."
"It's a good story to have."
"It's a good story. I did all of my starving artist things -- not in Nashville."
Such as? "You ever had somebody stick, like, a pizza coupon on your windshield in a parking lot? I did that. I was a car salesman, if you can believe it."
In Nashville, the work was as steady as the hits he wrote. But Stapleton was also transitioning from a name in the liner notes on other artists' records, to front man.
Last year, he released "Traveller," the first album all his own.
"I thought this might be the last record I ever got to make," he laughed. "So I was just like, 'I'm just gonna do whatever I want to. And we're gonna make it fun and we're gonna have fun playing music.'"
Watch Chris Stapleton perform "Sometimes I Cry":
Critics hailed "Traveller," and it sold respectably. But then he and Justin Timberlake took to the stage at the Country Music Awards to perform "Tennessee Whiskey."
Sales soared. Six months after its release, the album reentered the Billboard charts at number one -- in all genres.
By his side throughout was his wife of nine years, Morgane. They met at his music publisher's office when he caught her eye.
Strassmann asked, "Back in the day when you were smitten with him, waiting for him to notice you -"
"For the record, I am still very smitten," she laughed.
"But did you imagine a day when so many people would also be smitten with him?"
"Yeah, I can't believe it took so long," Morgane said.
"She has an unwavering belief in me that I don't even have," Chris laughed. "So it really helps. She has enough belief for both of us."
It's a sentiment shared back in Paintsville, where one teacher told Stapleton, "I use you as an example all the time of how a kid from eastern Kentucky can be successful if they just work at it. It's OK to dream big, and to go for it."
Stapleton thanked his hometown for all their support by performing two free concerts.
"We get to go all over the world," he told the crowd, "but this is one of the best places to be right here."
For a day or two, this traveler's winding road has brought him back home to coal country. Soon he'd be off again.
Sounds like a country song.

For more info:
Thanks for reading CBS NEWS.
Create your free account or log in
for more features.