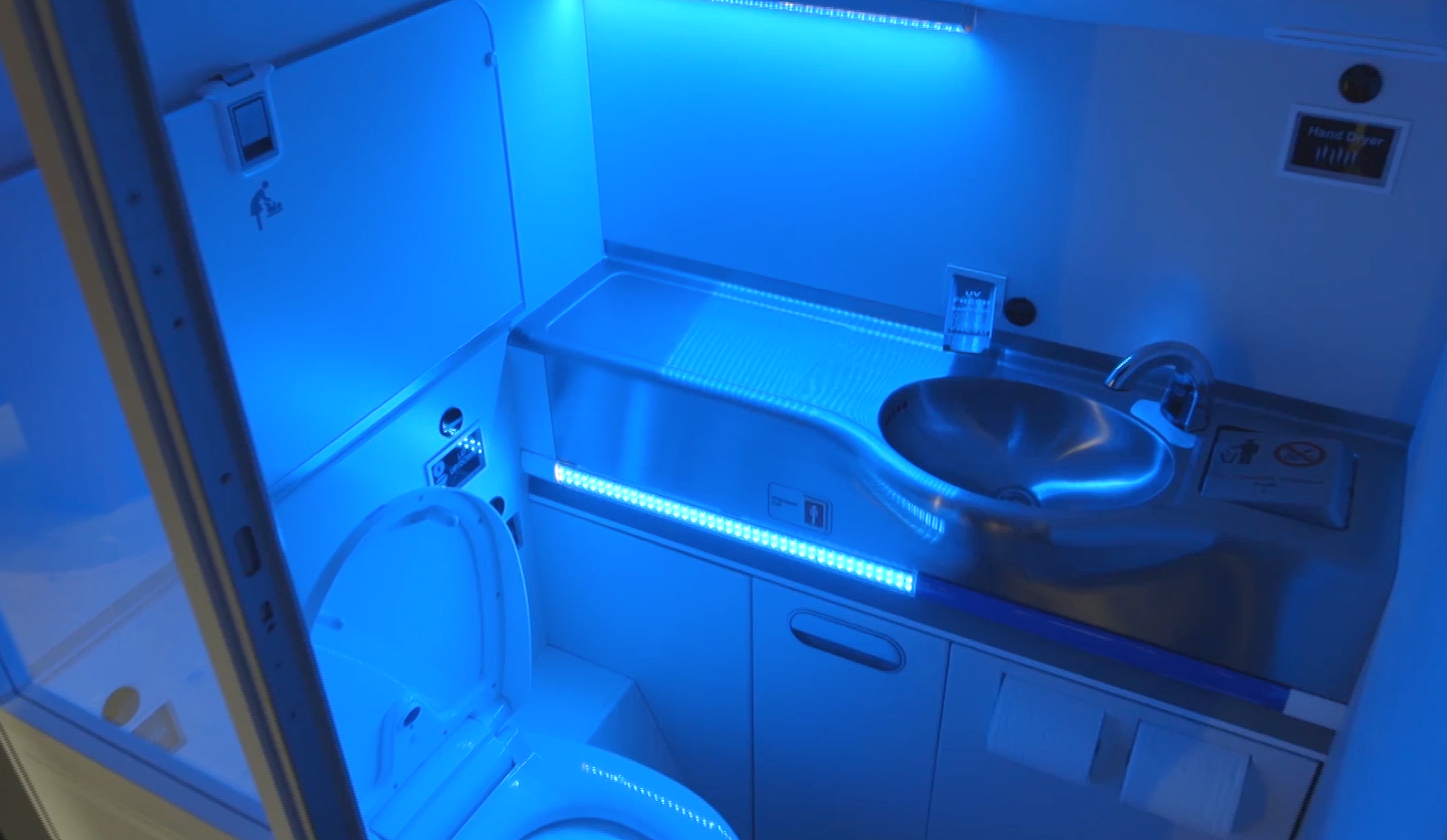 Boeing's self-cleaning lavatory zaps germs with UV light
For those who are worried about the cleanliness of airplane bathrooms (and who isn't?), Boeing is working on a solution. This week it unveiled a prototype of a self-cleaning lavatory that zaps germs with UV light.
The company says it uses far ultraviolet light to kill 99.9 percent of germs on the toilet, sink and other surfaces where bacteria can lurk. It claims three seconds of exposure to far UV light is enough to disinfect all the surfaces in the room.
Far UV is not the same wavelength as the potentially damaging UVA or UVB light that you might find in a tanning bed, for instance. The company has filed a patent for their concept.
"We're trying to alleviate the anxiety we all face when using a restroom that gets a workout during a flight," Jeanne Yu, director of environmental performance for Boeing Commercial Airplanes, said in a press release. "In the prototype, we position the lights throughout the lavatory so that it floods the touch surfaces like the toilet seat, sink and countertops with the UV light once a person exits the lavatory. This sanitizing even helps eliminate odors."
Similar technology is being used in some hospitals, where robotic cleaning systems move from room to room emitting UV light to kill germs.
The Boeing system also features toilet seats that lift and close by themselves, making sure all surfaces are exposed to the cleaning light. Everything is pretty much hands-free, with the faucet, trashcan flap, toilet lid and seat, hand dryer, and soap dispenser all operating without a passenger's touch. Boeing is currently testing a hands-free door latch as well as a vacuum vent system for the floor.
"Some of the touchless features are already in use on some Boeing airplanes today," Yu added. "But combining that with the new UV sanitizing will give passengers even more protection from germs and make for an even better flying experience."
Don't expect to see these new bathrooms in the sky anytime soon, though. The system will need more tests before the company can offer it to airlines.
The self-cleaning lavatory is in the running for a Crystal Cabin Award, which will be unveiled at the Hamburg Aircraft Interiors Expo on April 5.
Thanks for reading CBS NEWS.
Create your free account or log in
for more features.