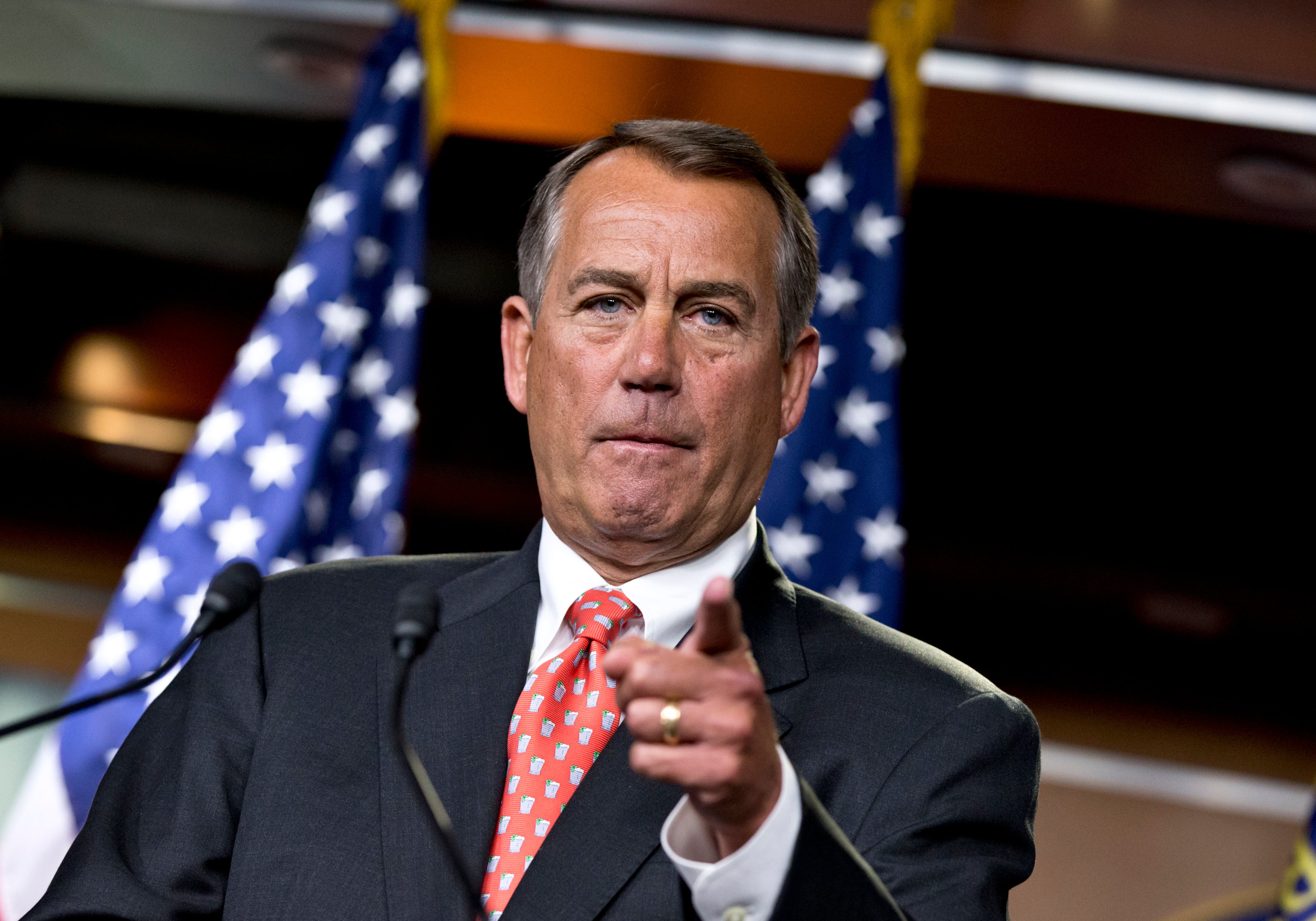 Boehner punishes disobedient Republicans
After House Speaker John Boehner removed four Republicans from key committees, a move that has caused consternation among some in the GOP, he reportedly addressed the issue for the first time at a closed-door Republican meeting Wednesday.
"The Steering Committee this week decided to remove committee assignments from four members, and replace them with other members. This was not done lightly. This is something the committee took seriously and hopes never to have to do again," Roll Call reported Boehner told the caucus.
Rep. Tim Huelskamp, R-Kan., was one of the members removed from a committee. He told The Hill newspaper that Boehner said the move "had nothing to do with their conservative ideology, but had to do with their voting patterns."

The decision by the Republican Steering Committee, which is heavily influenced by Republican leadership, to remove four Republicans - Reps. Tim Huelskamp, R-Kan., Justin Amash, R-Mich., Walter Jones, R-N.C., and David Schweikert, R-Ariz. - from the Budget and Financial Services committees caused uproar in Republican circles.
Conservative blogger Erick Erickson's Red State blog derided the move, writing "It's becoming clear that there is only one faction that demands ideological purity. And it's not the faction that upholds the ideology of the party."
Huelskamp and Amash attended an event at the conservative think tank the Heritage Foundation earlier this week to discuss their removal.
"We haven't been told officially. I've had to read it in the newspapers," Amash said yesterday. "I have not received a single call from anyone in leadership."
"It's not about principles, it's about blind obedience," Huelskamp said at the same event.
But Boehner reportedly denied the lawmakers' removal because of ideology when he addressed his caucus today.
"The committee's decision had nothing to do with ideology. For those suggesting otherwise, I'd respectfully suggest that you look at some of the people the Steering Committee put in charge of committees. I'd also suggest you look at some of the members who were added to the committees by the Steering Committee. If you do that and come away with the conclusion that there was a 'conservative purge,' I'd be interested [in] hearing the rationale," Boehner said, according to Roll Call.
The conservative group, Club for Growth, wrote in a statement that Republican leadership should publicly post its criteria for ranking members' votes. The group's president Chris Chocola added, "The Club for Growth PAC stands ready to make sure that Republican primary voters are also watching the voting patterns of the big government crowd in the House GOP."
Thanks for reading CBS NEWS.
Create your free account or log in
for more features.